Formula 1: How Williams blew chance to win British GP

By Allan McNish
BBC F1 analyst
Last updated on .From the section Formula 1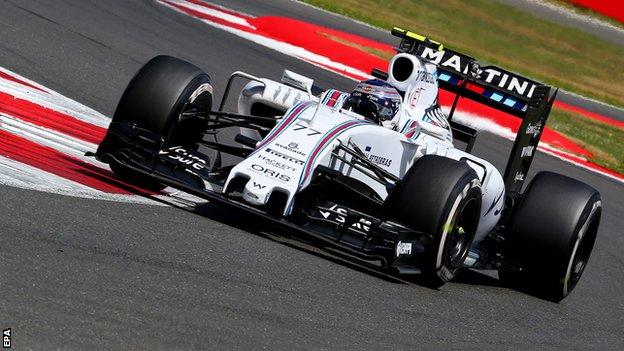 Williams have re-established themselves as the next best team behind Mercedes as the Formula 1 season reaches its midpoint around the two races in July.
At last weekend's British Grand Prix they were clearly the second quickest car, decisively ahead of the Ferrari, until the rain came - and that puts them back where they were at the end of 2014.
They were leapfrogged over the winter by Ferrari, after the Italian team made a major improvement to their engine and a more subtle one to their car.
But a significant upgrade package introduced by Williams in Austria, the race before Silverstone, and then developed further for Silverstone, has put Williams back in the game.
Considering the resources they are working with - a budget of no more than half of that of Mercedes and Ferrari - that is a remarkable achievement.
And it gives them a strong foundation to head to the next race in Hungary on 24-26 July with every confidence that they can finish at least third in the championship again, if not potentially think about challenging Ferrari for second.
That will put them in a much more comfortable position financially going into 2015 and give them the chance to keep building on the revival they have been going through since the start of last season.
Team orders - the right call in the wrong way
That's the positive. The negative is that Williams will have come away from Silverstone a little bit disappointed about both their result and their handling of the race on the way to it.
They were running one-two for the first 19 laps but they ended up finishing fourth and fifth, having been leapfrogged not only by the two Mercedes cars but also Sebastian Vettel's Ferrari.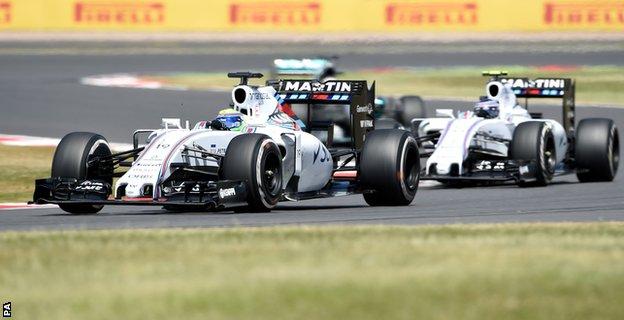 The rain at the end of the race did not help them, as the Williams car does not work that well in the wet. But I feel they would have given themselves more of a chance if they had run the start of the grand prix differently.
The key aspect to this was their decision, after a bit of discussion, to let Felipe Massa and Valtteri Bottas race in that first stint, rather than release Bottas into the lead to see if he could build a gap to the Mercedes cars.
I suspect Williams were a bit surprised to find themselves in that position of being one-two.
They had started third and fourth, and they almost certainly expected to finish there behind the two Mercedes and would have mainly outlined their race that way in the pre-race briefing.
So when Massa and Bottas made such good starts, and then Bottas benefited from Lewis Hamilton's error at the safety-car restart, and they found themselves running one-two, they were in a bit of a quandary, having already agreed with both drivers that they would receive equal treatment.
The message they ended up giving their drivers was that they could race for position as long as they did not put themselves under extra pressure from the Mercedes behind them.
But I can't help but feel they should have ordered Massa to let Bottas through into the lead.
You have to be in it to win it
It was clear Bottas was quicker at that stage of the race and he could have built a gap that would have ensured a Williams was still in front after the first pit stops.
Massa would not have liked it, but they could have told him that, if it did not work out, and Bottas had not ended up being faster, they would switch them back later in the race.
In some ways, they were damned if they did and damned if they didn't, because if they had switched there would have been criticisms about team orders, and when they did not switch, they were questions about why they had not.
But if you look back through the stats from the race, they clearly had a chance to keep the lead at least through the first pit-stop period if they had released Bottas.
In racing, you have got to stay in the fight as long as you can.
If you're behind a faster car, you won't beat it unless it has a problem.
If you're ahead, you've always got a chance, because they have to find a way to get past you, you keep the pressure on them to take an alternative strategy.
By Williams not releasing Bottas, it was very easy for Hamilton to stay close, stop a lap early and jump both Williams cars.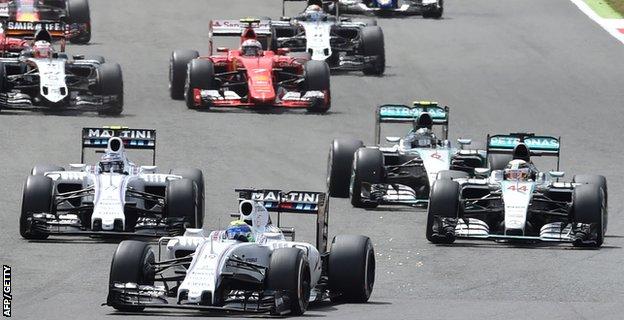 If Williams had swapped their drivers, Bottas could have, and I am sure would have, built a few seconds' lead, and would have been able to cover Hamilton's stop by coming in on the next lap and still come out ahead - by about four seconds by my reading of the data.
As it was, Williams had to pit Massa to cover Hamilton, as he was leading the race and had priority.
That meant Hamilton passed both Williams cars and Bottas would have lost fourth to Nico Rosberg had he not muscled back past straightaway when Rosberg passed him at Turn Four as the Finn emerged from the pits.
In the end, it probably didn't matter, because once the rain came, Williams were always going to be in trouble, because their car does not work very well in the wet where they struggle to switch on the tyres.
But the general point remains. In Williams' position, you don't get opportunities such as those that arose at Silverstone very often, and when you do, you have to grab them.
Williams could have reacted differently. Their actions smacked a little of conservatism, when they could have been thinking: 'We can win this - let's give it a go'.
Allan McNish was talking to BBC Sport's Andrew Benson