Formula 1 gossip: Bottas, Palmer, Kvyat & Hamilton's new tattoo
Last updated on .From the section Formula 1
Friday, 17 July
Williams driver Valtteri Bottas has reached a deal with Ferrari to replace Finland countryman Kimi Raikkonen from 2016, according to Italian media reports. (inautonews.com)
Hockenheim owner Georg Seiler admits the long-term future of the German Grand Prix still remains in doubt, despite its return to the calendar in 2016 after being dropped for this season. (motorsport.com)
F1 champion Lewis Hamilton paid a visit to a tattoo parlour in New York and he tweeted an image of the artwork being started on his left shoulder.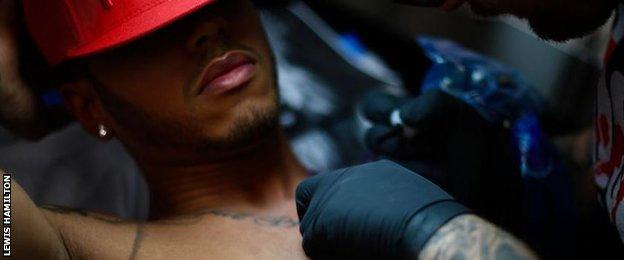 Current GP2 champion Jolyon Palmer has been told by Lotus there may be a full-time race seat for him in the 2016 season. (Sky Sports)
Formula One legend Juan Manuel Fangio's body will be exhumed for DNA testing in a paternity case brought in 2013 by a man claiming to be his son, despite a suspension order now being granted in the name of a rival claim. (Daily Mail)
Russian driver Daniil Kvyat, 21, may have secured his place at Red Bull Racing after receiving the backing of team boss Christian Horner and team adviser Dr Helmut Marko after the British Grand Prix. (Grandprix.com)
Thursday, 16 July
Mercedes have escaped punishment over the British Grand Prix 'fake' pit-stop controversy. (Mirror)
Lotus do not believe the decision to give Jolyon Palmer several Friday outings is having a negative impact on Romain Grosjean's performances. (Planet-F1)
Claire Williams says her team did the right thing in not ordering Valtteri Bottas and Felipe Massa to swap places at the British Grand Prix. (Motorsport.com)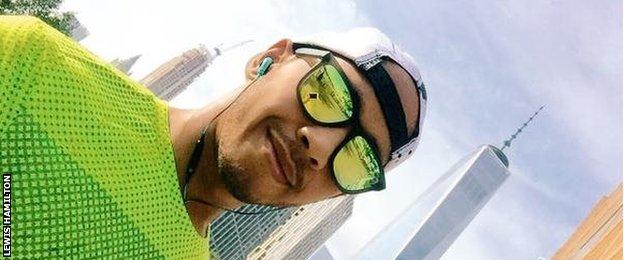 Lewis Hamilton's dress sense may have been criticised after his appearance at Wimbledon, but the Telegraph's Oliver Brown thinks the Mercedes driver being turned away from the Royal Box proves the All England Club is more draconian than Buckingham Palace.
However, the Mirror feels Hamilton is making up for his fashion faux pas by stepping out in a rather understated look in New York.
Wednesday, 15 July
The German Grand Prix will return to the calendar in 2016 after being dropped for 2015, says Mercedes team principal Toto Wolff. (Independent)
Jenson Button says his future at McLaren is uncertain - despite claims from team boss Ron Dennis that the Briton will still be racing for the team in 2016. (Mirror)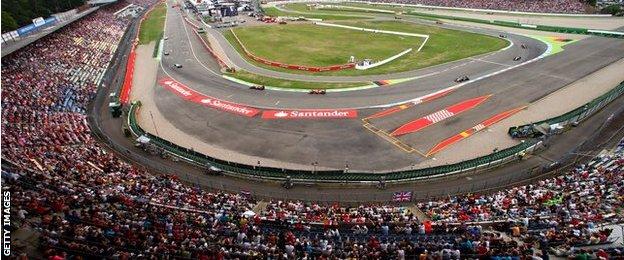 Kevin Magnussen, McLaren's reserve driver, or GP2 driver Stoffel Vandoorne could partner Fernando Alonso if Button leaves McLaren. (Daily Mail)
There could be two North American-based teams in Formula 1 in 2016. (Motorsport.com)
World champion Lewis Hamilton has been filmed apparently flying a helicopter. (Daily Mail)
Hamilton's dress sense, meanwhile, has received mixed reviews. The Telegraph says he may be "the world's most stylish sportsman" but the Daily Mail wonders if he is "the worst dressed man in Britain".
Tuesday, 14 July
Lotus driver Romain Grosjean is not sure the forthcoming "driver aids" clampdown from August's Belgian Grand Prix will "improve the show". (Inautonews)
Mercedes' Lewis Hamilton will be invited back to Wimbledon's Centre Court Royal Box next year despite being refused entry after failing to meet the dress code this time around. (Daily Mail)
The floral shirt Hamilton wore when he was refused entry at Wimbledon has become a trend setter. (The Financial Express)
Hamilton took time out from the controversy surrounding his weekend Wimbledon appearance to wish his dog Coco happy birthday on Twitter.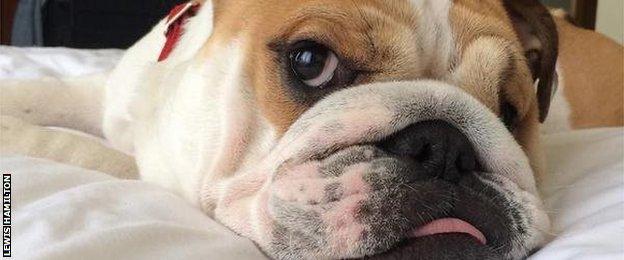 Former Red Bull driver Mark Webber has urged compatriot Daniel Ricciardo to weather the storm and remain patient with his battling Formula 1 team. (The West Australian)
This year's GP2 series points leader Stoffel Vandoorne and McLaren driver Jenson Button have found themselves in competition for the same Formula 1 race seats for 2016. (Finnish newspaper Turun Sanomat, via Autoweek)
Three-time F1 champion Niki Lauda has denied lacking respect for Ferrari. (Fox Sports)
F1's governing body is proposing a cost-cap plan for the sport, along the lines of the idea floated recently by former FIA president Max Mosley. (Inautonews)
An Argentine court has ordered that F1 legend Juan Manuel Fangio, who died 20 years ago, be exhumed for a paternity test. (Fox Sports)
Monday, 13 July
Williams performance chief Rob Smedley says the team are targeting Ferrari for second place in the constructors' championship following their promising performance at the British Grand Prix. (Autosport)
The Manor Marussia F1 team's founder John Booth is "over the moon" with drivers Will Stevens and Roberto Merhi this season. (NBCsports.com)
Honda is unsure whether to use tokens, which allow engine manufacturers to develop their power units during the season, prior to the Hungarian Grand Prix.(F1i.com)
McLaren racer Jenson Button was taking part in a triathlon set up by his Trust and the 2009 world champion posted a picture of him finishing the event in Derby.