McLaren will make 'major steps' once engine problems resolved

By Andrew Benson
Chief F1 writer
Last updated on .From the section Formula 1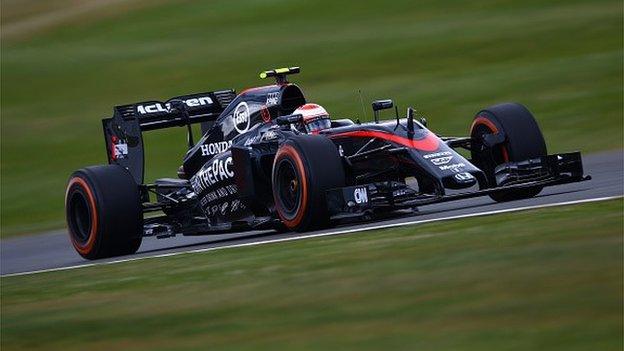 Struggling McLaren say they will be able to make "major steps forward" once reliability problems with their Honda engine are solved.
The former champions are ninth overall after nine races this season, having managed to score points only twice.
Racing director Eric Boullier said: "We know our cars have not tenths but seconds of potential to be unlocked.
"We can't use it because of reliability issues but if we overcome those issues we will make major steps forward."
Boullier, speaking to the official Formula 1 website, said the fragility of the engine meant it could not be used to its full potential for fear it would break.
He said the main problems were in the hybrid system of the Honda engine - the parts that recover energy from the rear axle and the turbocharger to be reapplied under acceleration.
"We're not able to unlock the full recovery potential because if we do it creates reliability issues - and that hurts us in terms of performance," Boullier said.
"But it is there. We just have to find the right remedies to unlock it."
He added that one of the symptoms of this was the car lacked performance in races compared to qualifying.
Who will be driving for McLaren in 2016?
"The only way Alonso will not be in a McLaren-Honda next year is if he decides that they will still be running around in 15th place in 2016 and he just cannot face it any longer.
"As to who will be Alonso's team-mate, McLaren have a choice of three drivers, on all of whom they have some form of contractual hold."
Read more of Andrew Benson's McLaren analysis.
This is because, in qualifying, a driver can do a 'recovery' lap to boost the energy storage system of the engine, but this is not possible in races.
Boullier added the hybrid system problems were also affecting how the engine behaved on a normal lap.
"It is not completely down to only power - it has also to do with the driveability of the engine, which has proved very difficult and complex to manage so far," Boullier said.
Insiders believe the Honda engine is responsible for at least 80% of the lap-time deficit of the car to pace-setters Mercedes - which was 2.9 seconds in qualifying at the last race, the British Grand Prix.
But Boullier acknowledged the McLaren also needed more downforce to be competitive with the Mercedes.
"The car is pretty well balanced," he said. "We are working to bring more downforce like everybody in the pit lane. We are missing speed on every part of the track."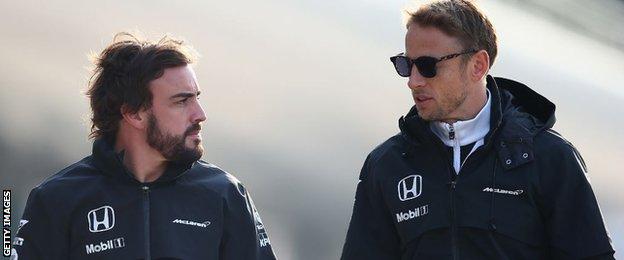 But he said the lack of power from the engine also meant the chassis was compromised.
"If you tell me tomorrow that we can run full downforce, then we will be seconds faster," Boullier said.
He said McLaren's target was to be qualifying in the top 10 and fighting for top-six finishes by the end of the season.
And he said the progress made by Mercedes and, particularly, Ferrari between 2014, their first year with the turbo hybrid engines, and 2015 proved Honda could do the same.
Boullier said: "We have seen that Ferrari and Mercedes were able to do major steps between their first and second years. We also expect that in our case."