Jules Bianchi: Sebastian Vettel dedicates win to Frenchman

By Andrew Benson
Chief F1 writer
Last updated on .From the section Formula 1
Sebastian Vettel and Ferrari dedicated their Hungarian Grand Prix victory to the memory of the late Jules Bianchi, the team's former reserve driver.
Bianchi died on 17 July, nine months after suffering severe head injuries in a crash at the Japanese Grand Prix.
Vettel had been one of many active drivers to attend the Frenchman's funeral on the Tuesday before the race.
"We all did the race today for him, trying to race our hearts out from beginning to end," Vettel said.
"If you recap the week we have gone through it is hard to find the right words.
"So it is the least we can do... dedicate this weekend and race to Jules and his family.
"For all of us who were on the grid in Suzuka last year and are on the grid this year, Jules will always remain a part of us when we jump in the car when we race."
A minute's silence was held for Bianchi on the grid before the start of the race. The drivers stood arm in arm in a circle around their helmets, with Bianchi's placed in the centre.
Bianchi's mother and father attended the race and joined the drivers in their tribute to their son.
On his slowing down lap after the race, Vettel said in French: "Merci, Jules. Cette victoire est pour vous (This victory is for you)."
He added in English: "You will always be in our hearts. We know sooner or later you would have been in this team."
That remark is a reference to the revelation by former Ferrari president Luca Di Montezemolo and ex-team boss Stefano Domenicali last week that the team had decided before his accident that Bianchi would be their replacement for Vettel's team-mate Kimi Raikkonen, whenever the Finn came to the end of his relationship with the team.
Raikkonen was on course to finish second to Vettel in the race before a late hybrid system failure forced Ferrari to retire his car.
Ferrari's new president Sergio Marchionne said in a statement after the race: "We dedicate this victory to the memory of Jules Bianchi, a fantastic guy whom we all miss terribly."
Red Bull drivers Daniil Kvyat and Daniel Ricciardo, who completed the podium, also dedicated their results to Bianchi, along with many other drivers including McLaren's Fernando Alonso.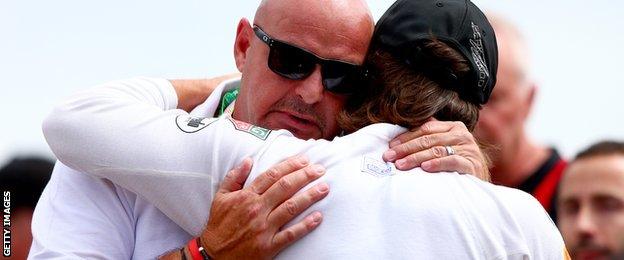 The Spaniard, who finished fifth, was among those closest to Bianchi. Alonso was the last driver to leave the circle on the grid and spent time embracing Bianchi's parents before getting into his car.
He said: "It was not an easy weekend especially the minute of silence that was very emotional and very tough to go in the cockpit.
"We are 20 very lucky people working in our passion and we are privileged to drive those cars. Respecting him and the sport, I think we put on a good show."