Hungarian GP was an epic race that will be remembered for years
By Alan Jewell & Gary Rose
BBC Sport
Last updated on .From the section Formula 1
Following a week when hearts were heavy as Formula 1 said goodbye to Jules Bianchi, the Hungarian Grand Prix was a race to lift spirits. It will be remembered for years to come.
Daring moves from start to finish, nearly as many collisions as a rugby match, penalties galore and surprise results right through the field. It had nearly everything.
This race was a reminder why drivers and fans are so in thrall to a sport that can offer such excitement and thrilling endeavour.
Hamstrung Hamilton
Perfect in practice and perfect in qualifying, everything pointed towards a dominant Lewis Hamilton victory on Sunday.
"I'm concerned because I think Lewis could lap the field," admitted BBC F1 chief analyst Eddie Jordan before the race.
If Felipe Massa hadn't lined up incorrectly at the start and they got away first time, maybe that's what would have happened.
But Eddie didn't need to worry because what unfolded was arguably the most chaotic, dramatic and thrilling race this year.
Sebastian Vettel won, Hamilton finished sixth after a number of uncharacteristic errors and Nico Rosberg suffered a puncture just as he looked on course to take a significant bite out of Hamilton's world championship advantage.
That, though, does not even scratch the surface of what was a breathtakingly brilliant grand prix.
'No regrets' Ricciardo 'leaves it all out there'
There were bumps, barges and a smashed front wing for last year's Hungary winner Daniel Ricciardo as he had contact with three different drivers but battled his way to a third-place finish that could easily have been another victory.
There was a coming together with Valtteri Bottas on lap one, Lewis Hamilton understeered into him and, four laps from the finish, Nico Rosberg drove across his front wing as the Australian tried to take second position.
At that stage Ricciardo's Red Bull looked to be the fastest of the leading three and he had race leader Vettel in his sights. However, the damage forced a trip to the pits to replace the wing and ended his victory hopes.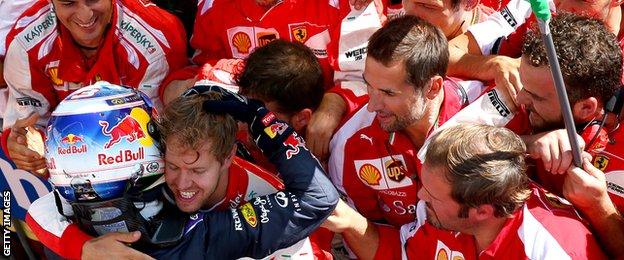 Ricciardo wasn't upset afterwards. He was in a racey mood and was going for it whenever an opportunity arose, channelling the spirit of Jules Bianchi.
"I made some moves on the track and don't have any regrets on the outcome of today. I gave it everything and I owe my race to Jules. I gained extra strength today and I owe that to him," he said.
"It's a shame that Nico and I made contact but I wore my heart on my sleeve and left everything I had on the track."
Teenage dreams so hard to beat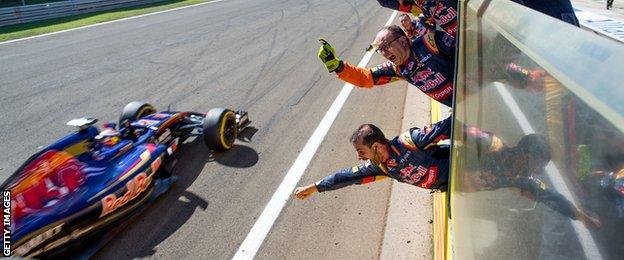 Almost unnoticed, a 17-year-old finished fourth and with a little more luck Max Verstappen could have been on the podium.
It continues an impressive debut season for the Toro Rosso driver, who is now up to 11th in the drivers' championship.
A drive-through penalty for speeding under the safety car may have shown his youth but, ultimately, the Dutch teenager's talent matters more than his inexperience.
So how is he going to celebrate during the four-week summer break? By taking driving lessons, of course.
"I've already taken the theory test. Now it's just the practical."
We think Max may just be OK...
McLaren score points shock...
What must Fernando Alonso must have been thinking as he valiantly attempted to push his hulking McLaren back towards the pit lane after it came to a sudden stop in qualifying on Saturday?
With the season they have had surely it will have been along the lines of 'here we go again'.
It was a surprise, then, to many when both the McLarens cropped up inside the top 10 on Sunday.
While all the chaos was unfolding at the front of the race, Alonso and Button minded their own business, tootling along contently in midfield.
Suddenly, as the dust settled from the manic scenes up ahead, the McLaren pair found themselves on course for double points finish - their first of the season.
As the chequered flag came down, Alonso crossed the line in fifth to secure McLaren's highest finish of the season, while Button took ninth, giving the team the chance to celebrate a trouble-free and successful day - something that has been all too absent this season for the once dominant team.
...but Williams have a shocker
For a team who arguably could have finished one-two at the British Grand Prix three weeks ago, it was quite a fall for Williams as Felipe Massa finished 12th and Valtteri Bottas 13th.
It didn't bode well when Massa could not find his yellow starting line on the grid and stopped his car out of position. The start was aborted and the Brazilian was given a five-second penalty.
When they did get away at the second time of asking, Bottas jumped from sixth to fourth on the first lap but damaged his car in contact with Ricciardo.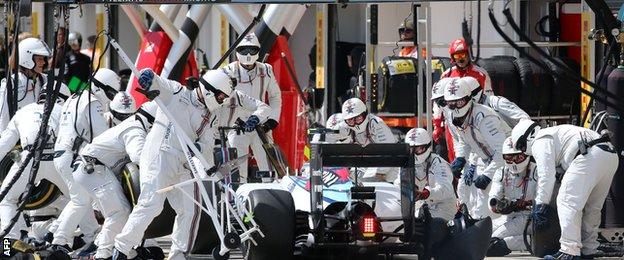 Massa struggled with his tyres all afternoon, especially when he was on the harder compound, and dropped back through the field.
Bottas should have finished in the points but picked up a puncture via contact with Verstappen when running sixth on the resumption after the safety car.
Williams expected to find it difficult at the Hungaroring, a circuit that doesn't suit their car, but this was a miserable afternoon for the third-strongest team on the grid.
The next two races at Spa and Monza should allow them to make better use of their Mercedes power. At least, that's what they're hoping.
Pastor paying the penalty...again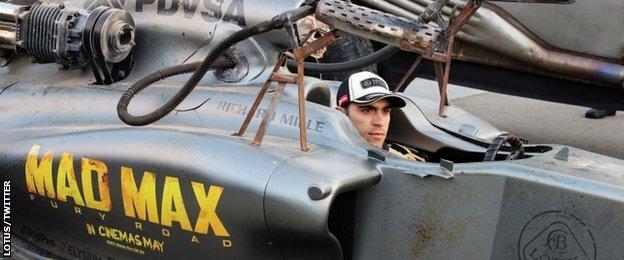 Race control had a busy day on Sunday, as five drivers were given penalties, and it was Pastor Maldonado who worked them hardest.
The Lotus driver was handed three penalties. His first came after he clashed with Sergio Perez before he picked up another for speeding through the pit lane under the safety car.
Before the race had even restarted he was hit with a third, this time overtaking Will Stevens while the safety car was still out.
The result was two penalty points being slapped on his super licence, taking his total for the year to six and halfway towards a one-race ban.
Ten races down, nine to go. Can Maldonado keep out of trouble in the second half of the season? At this rate, he might be watching the Abu Dhabi Grand Prix at the end of the season from the stands.
What you thought
Pretty conclusive...