Hungarian GP: Ferrari serve up win for Jules Bianchi

By Andrew Benson
Chief F1 writer
Last updated on .From the section Formula 1
Sometimes, it feels as if things are just meant to be.
Jules Bianchi would probably not have made it to Formula 1 had it not been for Ferrari.
It was the Italian team who saw his promise and picked him up for their driver development programme.
They gave him testing experience, made him their reserve driver and then facilitated his grand prix debut with the Marussia team, for whom he was driving when he suffered the terrible injuries that led to his death nine days before the Hungarian Grand Prix.
On Tuesday, many of the current grid attended Bianchi's funeral in Nice, among them Ferrari's new team leader, Sebastian Vettel.
On the sides of the cockpits of the cars of Vettel and team-mate Kimi Raikkonen in Hungary were the words: "Jules nei nostri cuori" - "Jules in our hearts".
And on Sunday - after the most chaotic and thrilling race of the season so far, after the drivers had linked arms with each other and Bianchi's parents and bowed their heads in remembrance of their lost colleague - Vettel crossed the line to win. And then, with impeccable style, dedicated the win to Bianchi on his slowing down lap, speaking French.
"To think about Jules again on the grid," Vettel added, "it was certainly very emotional and difficult to get back in the rhythm.
"But then you find yourself back in the car, visor down and there are so many things you have to think about there's not really much space for other things. I guess we do what we love to do, what we have to do.
"Today is for Jules and his family. I think that's bigger than everything else."
To a man, the grand prix drivers spoke in Hungary with composure, class and sincerity about their respect and admiration for Bianchi - his talent, his fighting spirit and his sunny personality.
It was only after the race that many of them acknowledged just how hard the weekend had been for them. And yet they went out there and fought like the racers they are and did themselves and Bianchi's memory proud.
How the race fell into Ferrari's lap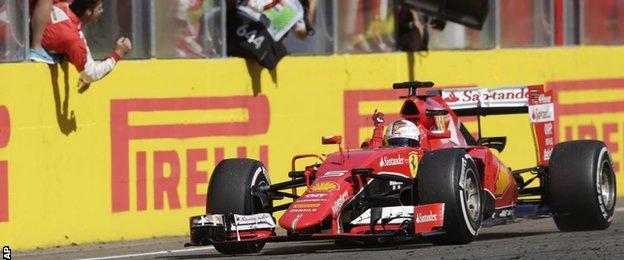 Vettel's win was a surprise, to say the least, and at a superficial level it gave the impression that Ferrari had literally overnight turned a significant deficit to Mercedes into a pace advantage. But that impression was wrong.
The result turned on two, inter-related circumstances: the blistering start made by both Ferraris, and an uncharacteristically ham-fisted performance by Lewis Hamilton.
On pace, the world champion was in a league of his own all weekend, but after he found himself down in fourth place by the second corner his race fell apart.
A few corners further on, he ran wide at the chicane, and dropped to 10th, and that was him out of the fight for victory, until a late-race safety car gave him another chance, only for Hamilton to mess that up as well by colliding with Daniel Ricciardo's Red Bull.
With Hamilton out of the picture, the only opposition to the Ferraris was his team-mate Nico Rosberg, who could not keep up.
Rosberg had been out of sorts all weekend, never happy with the balance of his car. He set it up with some understeer in qualifying, hoping that would protect the delicate rear tyres in the race, but, by his own admission, went too far.
While Hamilton was 0.719 seconds quicker than third-placed Vettel in qualifying, Rosberg's advantage was only 0.144secs. Ferrari scented an opportunity.
"Had Lewis had a more normal getaway this would have been a more normal proposition," Ferrari technical director James Allison said the race, "but we were pretty close to Rosberg in qualifying and we are normally closer in the race. So we were hopeful of giving Rosberg a run for his money."
Vettel had a small but significant pace advantage of in the region of 0.2-0.4secs a lap over Rosberg in the first stint of the race. But Allison was right - the evidence is that, had Hamilton not sabotaged his own afternoon, the race would have been very different.
Hamilton had only a brief period of running in clear air at the same time as Vettel during the race - from lap 30 when he finally cleared Daniel Ricciardo's Red Bull to lap 33, when he started to come up to lapped traffic.
His pace advantage over Vettel on consecutive laps was 0.79secs, 0.936secs, 0.828secs and 0.942secs, while Rosberg was still dropping time to the Ferrari at the same rate as in the first stint.
And when both Mercedes were in clear air during the race, Hamilton consistently had an advantage over his team-mate of up to a second lap.
In other words, if Hamilton had made a decent start, he would have walked it. But he didn't.
Hamilton's horrible day
Hamilton seemed as confused after the race as to what had happened as those of us who watched it unfold were at the time.
A bad start can happen, although that is now three in a row for Hamilton and two consecutively for both Mercedes, which team boss Toto Wolff admitted was a concern.
From Hamilton's point of view, though, it was what happened afterwards that was so strange. Normally so strong in racing situations, he got it wrong time and time again.
He described it as "one of the worst races of my career," adding that he was "a bit wobbly", and he wasn't wrong.
In many ways it was reminiscent of 2011, when he allowed personal troubles to affect his professional life and suffered what was undoubtedly the worst season of his career.
What provoked it this time is a mystery and even the fact that he had somehow ended up extending his championship lead over team-mate Nico Rosberg on a day when by rights he could easily have seen it eradicated altogether was no consolation.
"I don't feel relieved at the moment," he said "I just feel I had a bad day at the office. A very bad day. Sometimes you are allowed those."
Had Bianchi's death affected him more than he allowed? We may never know. But it was a race he will want to forget in a hurry - and never repeat.
Rosberg's missed opportunity
After Hamilton's collision with Ricciardo sent him into the pits for a new front wing and dropped him out of the points with 20 laps to go, it looked as if Rosberg would finish the afternoon leading the championship.
Had he held on to second place, he would have reduced his deficit to Hamilton to five points. As it is, it has grown to 21.
No blame was apportioned by stewards for the collision between Rosberg and Ricciardo that punctured the Mercedes' rear tyre and dropped the German to eighth place at the flag.
But, knowing Ricciardo's aggressive reputation, Rosberg might have been wise to give the Australian just a little more room on the exit of the corner, especially as he is fighting for the title and has more to lose.
As for the apparently conservative choice of 'medium' tyres when Rosberg stopped under the safety car, Wolff explained that the team had no choice but to fit them as they were the only ones that were ready. Another lap, he said, and it would have been into the window for the 'softs'.
Whether by the team or the driver, though, it was undoubtedly an error - for nearly all the drivers behind him who stopped did put on the softs. And with them, Rosberg would have had a decent shot at a win.
A friend who works in F1 remarked recently how lucky Hamilton was to have as his team-mate in the dominant team Rosberg - rather than Fernando Alonso.
After a weekend like this, when Rosberg's limitations were exposed while Alonso, in the midst of McLaren-Honda's dire season, finally had a chance to show his class and hauled his car to an excellent fifth place, you can see what he meant.
'This one's for Jules'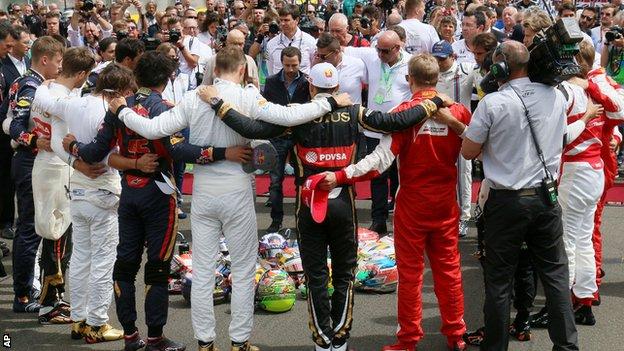 Rosberg bit his tongue afterwards but was clearly not happy with Ricciardo's lunge down the inside that led to their contact. But the Australian, who was close to Bianchi, was unapologetic.
"This race was for Jules," he said, as he celebrated his third place in Red Bull's double podium finish. "I left everything on the track. Whether some competitors like it or not, that's how I wanted to do it and that's how I'll always do it.
"And watching Jules grow up, that was how he did it. He had amazing race craft and made some pretty impressive lunges.
"I drove inspired today and I'm happy to be standing up here. It's been an emotional week. This one's for him. I don't regret anything I did on the track. I thought I drove with a heavy but a strong heart, and that makes me happy."
A final thought
F1 is going through a period of deep introspection at the moment, with senior figures pondering changes they could make in the future to make it more exciting.
One of the ideas being considered is to make races shorter, the thinking being that the younger generation - the sport's future fans - have shorter attention spans than those who grew up in a world before YouTube and smartphones.
But that's two races in a row now that have produced thrillers - and they did so specifically because a grand prix runs as long as it does.
Two hundred miles takes varying amounts of time depending on the average speed of each track.
But however long it takes, it provides space for a race to ebb and flow, for a narrative to develop, for the unexpected to happen. It gives a grand prix depth and nuance that would be lost if they were shortened.
For this writer, Hungary was a perfect demonstration of why that aspect of F1, at least, should be left well alone.