Sebastian Vettel: Ferrari will try to 'make the impossible possible'

By Andrew Benson
Chief F1 writer
Last updated on .From the section Formula 1
Sebastian Vettel says Ferrari will try to "make the impossible possible" and beat Mercedes to the Formula 1 title.
"There is still a lot of work to do to catch up but you never know," said Vettel, who remains "realistic" about his chances of winning the title.
"I am sure we will try absolutely everything and try to make the impossible possible," he added.
"The best way to do that is remain calm and try to do your best and then we see where the journey takes us."
Ferrari started the season strongly, Vettel winning in the second race in Malaysia and his team-mate Kimi Raikkonen finishing second between Hamilton and team-mate Nico Rosberg in the fourth race in Bahrain.
But they have slipped backwards since then, after governing body the FIA made a rule clarification that prevented Ferrari exploiting a feature of their engine.
Vettel's win came three weeks after a disappointing showing by Ferrari at Silverstone, where they were out-paced by the Williams team throughout the weekend until a late-race shower of rain and a clever strategic call from Vettel promoted him to third behind Hamilton and Rosberg.
Ferrari technical director James Allison said: "We've had a run of below-par performances and this is a very welcome bounce back to form.
"We go into the summer break now with two weeks off where we can sit on the beach and remember this and hope for good things in the future.
"It's unlikely we can have this level of performance in all the races to come but we have been not really showing what we are capable of in the last few races so hopefully we will be a bit more competitive as the season unfolds."
Ferrari team principal Maurizio Arrivabene said he expected the battle to ebb and flow through the season, but admitted that Mercedes would be tough to beat.
Arrivabene said: "They are the strongest team. I recognise that. The Mercedes car is good everywhere and we are expecting to have good and bad races through the course of the season but the direction we are going is good.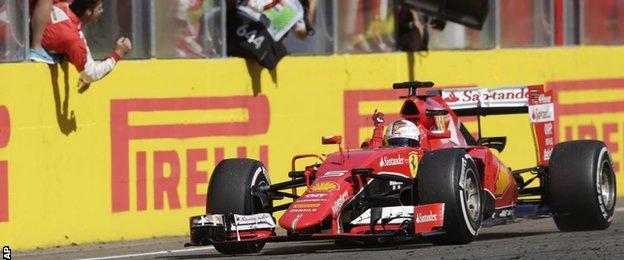 "At the beginning of the season the gap was quite big, then we were able to nearly catch up, then they flew away again. The story of this season is going to be that one."
Arrivabene took advantage of Vettel's win to have a thinly veiled dig at Mercedes non-executive chairman Niki Lauda following critical comments by the Austrian.
Lauda, who won championships for Ferrari in 1975 and 1977, had blamed Ferrari's lack of competitiveness when confronted with accusations that Mercedes' dominance was making F1 boring.
"How is it Mercedes' fault if Ferrari mucks about with spaghetti rather than improve their car on the track?" Lauda said.
After the race on Sunday, Arrivabene said: "I am Italian but I don't like spaghetti, I prefer pizza all'arrabiatta - that means angry [spicy] pizza. This is my favourite dish.
"We demonstrate that with feet on the ground and head down, we can study and do very, very well."