F1 stats: Lewis Hamilton's 'grand slams' & Maldonado's penalties
Last updated on .From the section Formula 1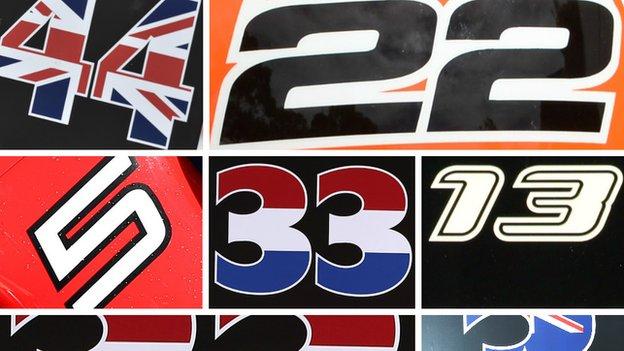 The summer holidays are almost over and the second half of the 2015 Formula 1 season is upon us.
But before the beach reading comes to an end, it might be worth taking a look at who has clocked up what during the season so far.
And yes, there is another driver who has as many penalties as Pastor Maldonado...
Hungry Hamilton
Reigning world champion Lewis Hamilton has scored 81% of the maximum 250 points available (202). After 10 races last season he had scored 176 points (70%).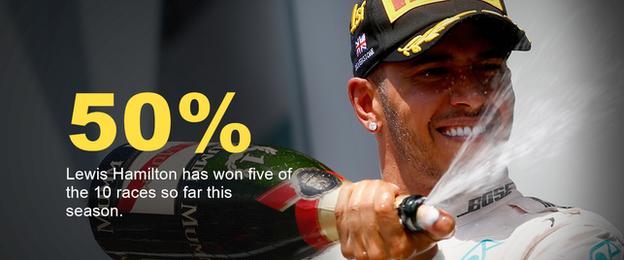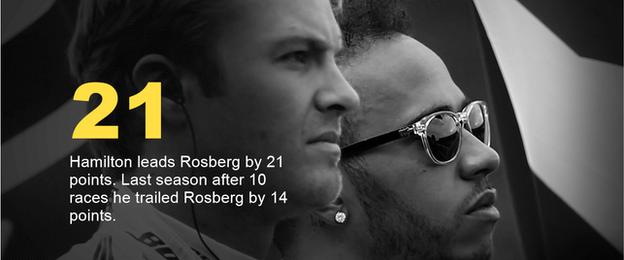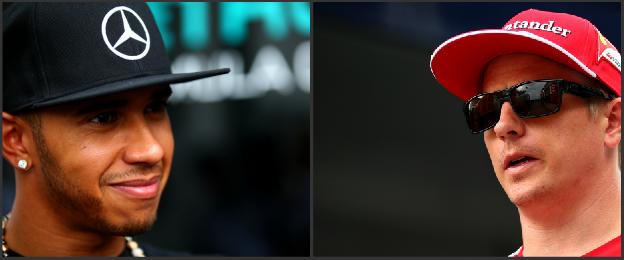 Moving to Moscow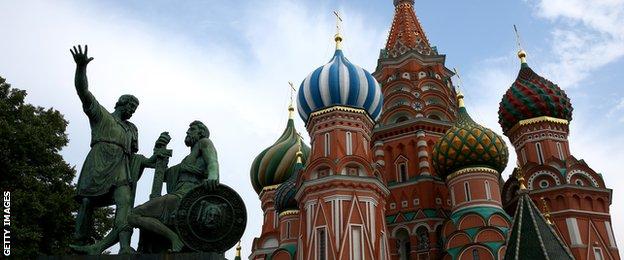 Only Hamilton, team-mate Nico Rosberg and Ferrari's Sebastian Vettel have completed every lap of every race this season (633). It means the trio have driven a total of 1,876 miles - the equivalent of driving from London to Moscow (with a few miles to spare).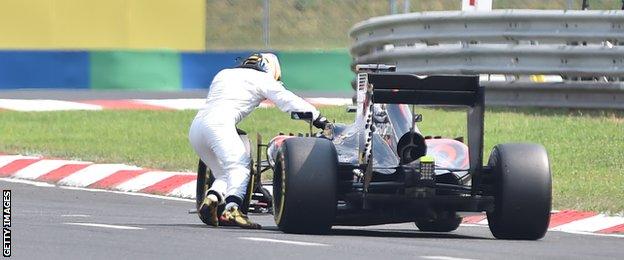 In contrast, Fernando Alonso has completed the fewest laps of any driver this year with 363. At this stage last season, the Spaniard led the way with 698, during his last season with Ferrari.
'Crashtor' Maldonado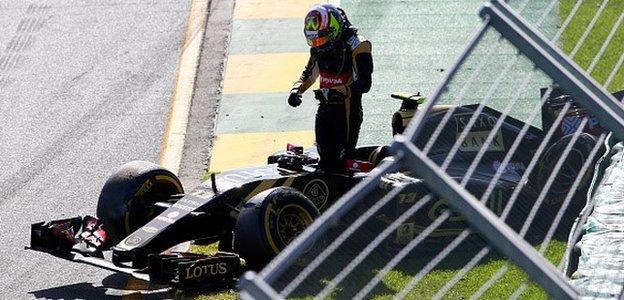 Perhaps no surprises here as Lotus's Pastor Maldonado has retired on the most occasions in 2015, failing to finish in six races.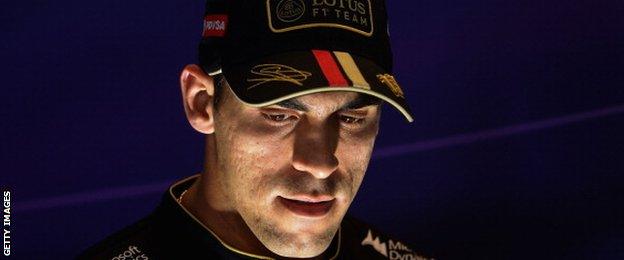 Maldonado and team-mate Romain Grosjean have earned six penalty points each in the past 12 months. Any driver who receives 12 points during a 12-month period will get an automatic one-race ban.
Qualifying kings
Hamilton has out-qualified his Mercedes team-mate Rosberg in nine of the 10 races so far. He also has secured the F1 'grand slam' of pole, fastest lap and victory on three occasions this season - in Australia, China and Britain.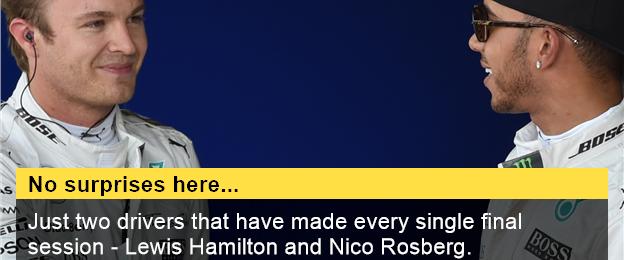 Plenty for McLaren to mull over
It has been a season of struggle for McLaren so far and the chance to celebrate both their drivers completing a trouble-free race has been rare.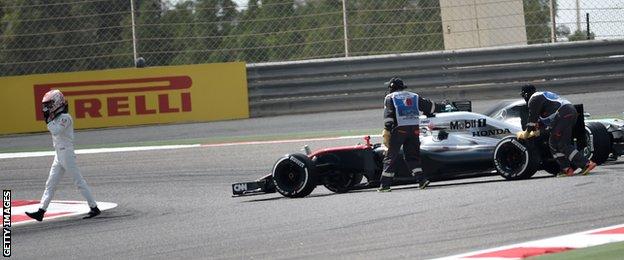 The rookie taking it to the max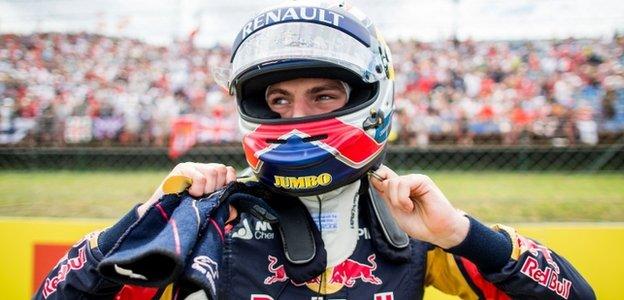 Max Verstappen's 22 points makes him the top-performing rookie so far in 2015. All the more impressive when you consider the 17-year-old is yet to pass his driving test.
When it all goes wrong...
Races featuring the most retirements: Six, in Austria and Britain.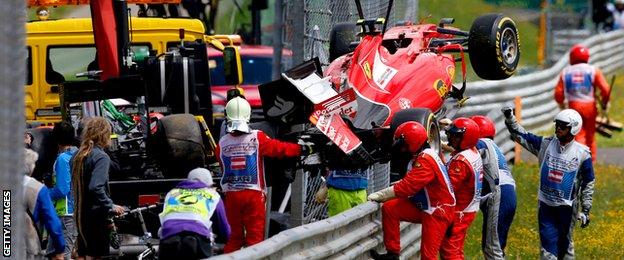 ...when it all goes (mostly) right
Races featuring the fewest retirements: Two in Bahrain and Spain.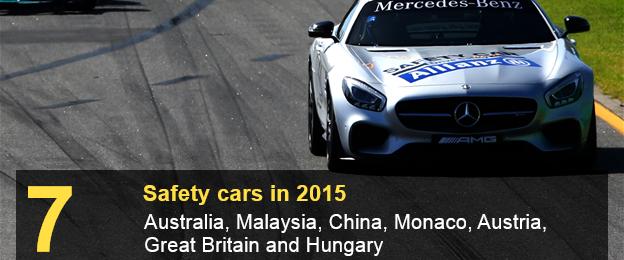 In 2014 after 10 races, the safety car had been deployed in five - Australia, Bahrain, Monaco, Canada and Great Britain.
Miles apart
After 10 races this season, the biggest winning margin was the 17.551secs Rosberg led Hamilton in Spain. The narrowest margin was the 0.714secs Hamilton led Rosberg across the line in China.
After 10 races in 2014, the biggest margin was the 30.135secs Lewis Hamilton put between himself and Valtteri Bottas at Silverstone. Hamilton was also on top for the closest finish of 2014, pipping Nico Rosberg in Spain by just 0.636secs.