Formula 1 gossip: Red Bull, Renault, Pirelli, Rosberg, Button
Last updated on .From the section Formula 1
Sunday, 23 August
Red Bull are considering terminating their contract with engine supplier Renault at the end of the season. (Autosport)
Formula 1 team bosses have defended tyre supplier Pirelli in the wake of Nico Rosberg's tyre failure during practice for the Belgian Grand Prix. (Motorsport.com)
Jenson Button could leave Formula One because his salary increase for a second year is reportedly more than his McLaren team can afford. (Daily Telegraph)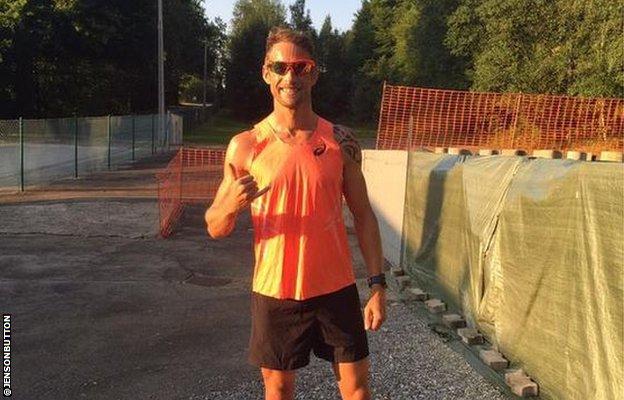 Saturday, 22 August
The Italian Grand Prix in Monza is likely to be dropped from next season's calendar, according to F1 chief executive Bernie Ecclestone. (Autosport)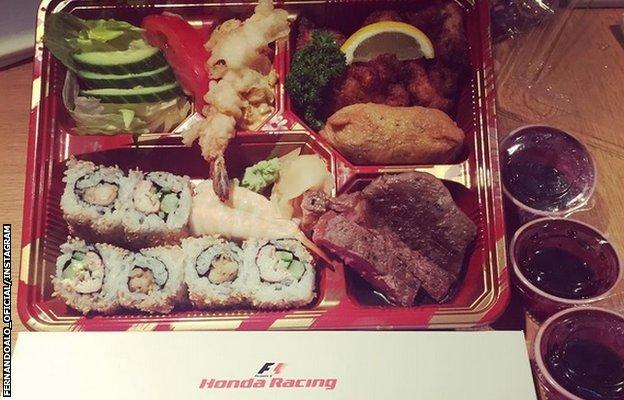 A Pirelli investigation suggests Nico Rosberg's tyre failure in practice at the Belgian Grand Prix was caused by a cut - but it is not clear how it happened.(Motorsport.com)
Sauber driver Marcus Ericsson has apologised for his crash during practice in Belgium on Friday. (Planet F1)
McLaren's Fernando Alonso says it is too early to judge the team's new Honda power unit. (ESPN)
Friday, 21 August
McLaren's Jenson Button says he will now only use social media when at home in Monaco, through fear of disclosing his location. The 35-year-old was burgled while on holiday earlier this month. (Daily Telegraph)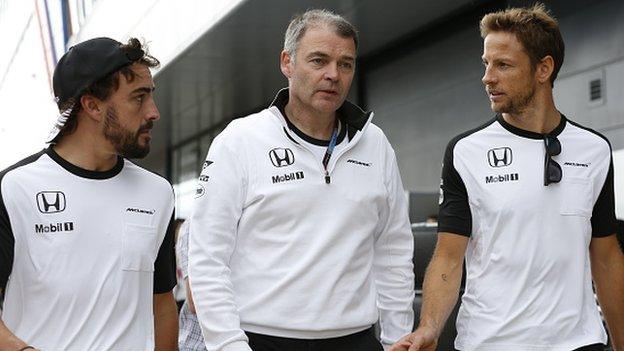 After hanging out with movie and music celebrities in Barbados, New York and The Hamptons over the August break, Lewis Hamilton is raring to get back on track. (Cyprus Mail)
Nico Rosberg may be 21 points behind drivers' championship leader Hamilton, but his toughest task to date has been to fit a baby car seat. (Daily Express)
Williams' Felipe Massa is enjoying the corporate side of the Belgian Grand Prix, tweeting a picture of himself about to board a helicopter.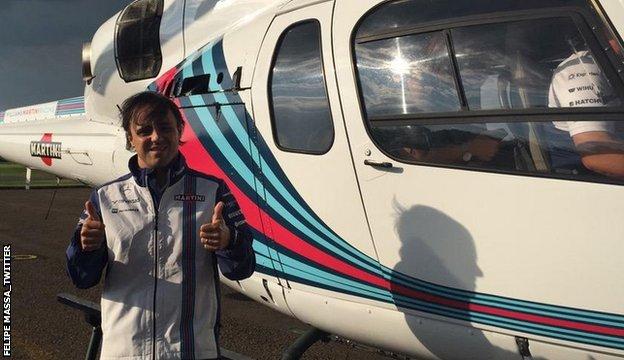 Championship leaders Mercedes are still pushing hard to improve their 2015 machine, with the rear wing resembling a 'spoon'. (Inautonnews)
Fernando Alonso says McLaren will take the grid penalties in order to use the new power unit at Spa-Francorchamps this weekend. (Autosport)
Thursday, 20 August
Mercedes's Nico Rosberg says it is up to him to take chances and "also to make them for myself" as he tries to overhaul team-mate Lewis Hamilton's 21-point lead in the drivers' championship in the second half of the season. (Crash.net)
Valtteri Bottas's manager Didier Coton says "positive" discussions remain ongoing with Williams with regard to the Finn's future with the team. He had been linked with a move to Ferrari in 2016 but that option is now closed after the Italians opted to retain Kimi Raikkonen. (Autosport)
McLaren's Jenson Button posted a picture of himself and wife Jessica as he prepared to fly to this weekend's Belgian Grand Prix and wrote: "Lovely weather in the south of France, will it be the same in Spa?!"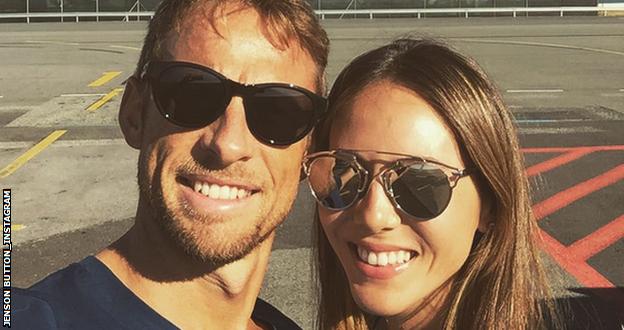 Button's team-mate Fernando Alonso posted a picture of Spa-Francorchamps' most iconic corner and posed the question: "Eau Rouge, one of the most special corners of the championship. Which is your favourite?"
Lotus can deliver better results in the second half of the season, says deputy team principal Federico Gastaldi. (Motorsport.com)
Manor's Roberto Merhi prepared for the race by running a lap of the Spa track and then completing five laps on a bicycle.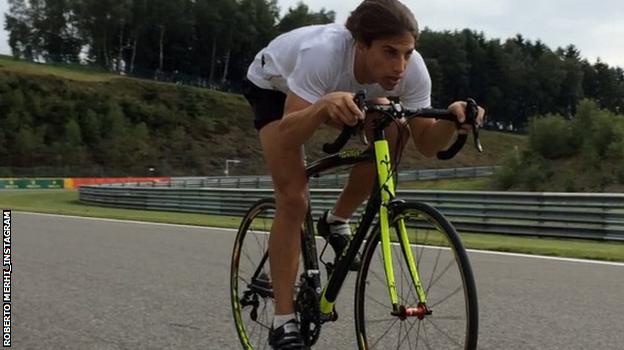 Wednesday, 19 August
Red Bull driver Daniel Ricciardo is convinced his difficult season will not hinder his future prospects in Formula 1. (Autosport)
Force India principal Vijay Mallya feels the team has what it takes to bounce back from two non-finishes in the last race at Hungary at this weekend's Belgian Grand Prix. (Planet F1)
Jenson Button says he is looking forward to kick-starting the second half of the 2015 season at a Spa-Francorchamps circuit he rates amongst the best in the world. (Crash.net)
F1 appears poised to switch to running a form of modern ground-effect car from 2017 following a meeting of technical chiefs on Tuesday. (Autosport)
The Red Bull team have posted a picture of the train taking the strain on their way to Spa-Francorchamps.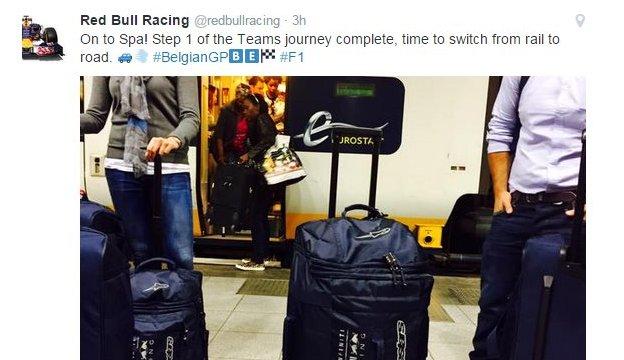 Tuesday, 18 August
World champion Lewis Hamilton cannot wait to resume his title challenge at Spa this weekend as he looks to make amends for his sixth-place finish at Hungary before the mid-summer break. (Daily Mail)
Mercedes team-mate Nico Rosberg admits he cannot allow any more chances to pass him by as he looks to close the gap on championship leader Hamilton. (ESPN)
Sebastian Vettel's victory in the Hungary Grand Prix has not made Ferrari' suddenly think they are "brilliant", according to head of communications Alberto Antonini. (Grand Prix Times)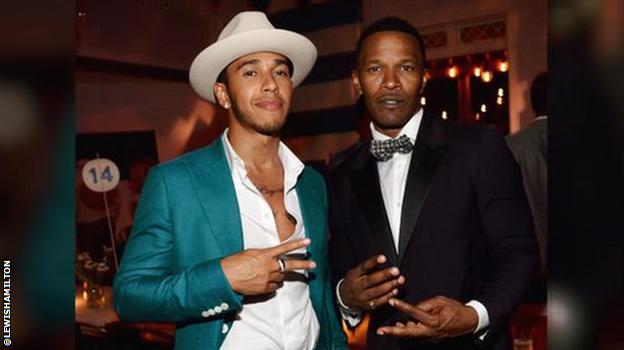 McLaren team boss Eric Boullier is not expecting their work with Honda to pay immediate dividends with the track at Spa for the Belgian Grand Prix unlikely to play to their strengths. (Sky Sports)
Williams will be well prepared for the potential impact the weather could have on the Belgian Grand Prix on Sunday, according to head of performance Rob Smedley. (Fox Sports)
Sauber driver Felipe Nasr believes an engine upgrade in Belgium and a planned aerodynamic update for next month's Singapore Grand Prix will be vital for the team's progress. (Motorsport.com)
Monday, 17 August
McLaren's car is "a big gap" behind the best in Formula 1, according to engine partner Honda, as the Japanese manufacturer claims that a re-design will bring its power-unit up to a level "similar to Ferrari" at this weekend's Belgian Grand Prix. (Autosport)
Lotus deputy principal Federico Gastaldi believes a tie-up with engine supplier Renault would improve the fortunes of both parties. (Motorsport.com)
Red Bull may have finished second and third at the Hungarian Grand Prix but team boss Christian Horner expects the next two races at Belgium and Italy to be "much more challenging". (Crash.net)
Williams has to admit it has problems before overcoming their weaknesses, according to the team's head of performance engineering Rob Smedley. (ESPN F1)
Part of McLaren driver Jenson Button's training regime to get ready for the rest of the Formula 1 campaign after the season break appears to be to drink beetroot juice. "I've been told that drinking beetroot juice is good for you when you've been training hard, I'm not so sure!! #yuck #roadtoSpa," he posted on Instagram.