Jenson Button: Burglary ordeal 'behind us now'

By Andrew Benson
Chief F1 writer at Spa-Francorchamps
Last updated on .From the section Formula 1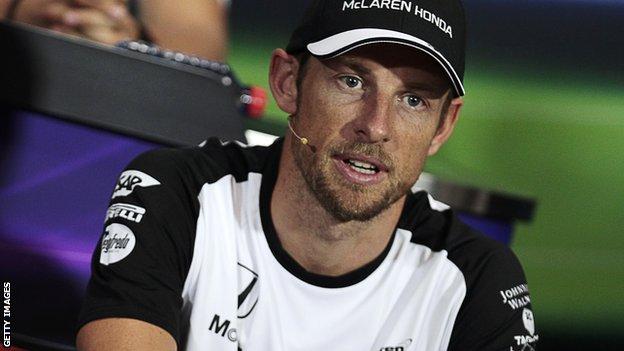 Jenson Button has spoken for the first time about what he described as the "ordeal" of being burgled while asleep on holiday earlier this month.
Button was robbed while holidaying in France with friends and wife Jessica, whose engagement ring was stolen.
"You never want anyone in your house that you haven't invited when you're there. And asleep as well," he said.
The McLaren driver said he hoped the publicity surrounding the incident had raised awareness of the issue.
"It is what it is," the 2009 world champion said. "I am sure it is not the last time it is going to happen to someone.
"But with all the reports hopefully it will make people aware and that's the most important thing so it doesn't happen as often in the future."
The whole party slept through the incident, which Button's spokesman claimed may have involved the use of anaesthetic gas.
Button, who is racing at the Belgian Grand Prix this weekend, said that following the end of his holiday in France he and Jessica had travelled to her home country of Japan.
"I've been in Japan the last week, which has been lovely, with Jessie's family and enjoying Tokyo with some friends," he said.
"It has been a lot of fun after the ordeal of the week before. But it's behind us now. We're healthy, well and both looking forward to this weekend."