Nico Rosberg tyre failure: Hamilton and Alonso raise concerns

By Andrew Benson
Chief F1 writer in Spa-Francorchamps
Last updated on .From the section Formula 1
Belgian Grand Prix on the BBC
Venue:
Spa-Francorchamps
Dates:
21-23 August
Coverage:
Live on BBC TV, BBC Red Button, BBC Radio 5 live, online, mobile, the BBC Sport app and Connected TV.
Full details here
Leading drivers raised concerns about tyre safety following the high-speed blow-out suffered by Nico Rosberg at the Belgian Grand Prix.
Lewis Hamilton and Fernando Alonso were among those who raised the issue in the drivers' briefing on Friday evening.
Hamilton's Mercedes team-mate suffered a tyre failure at 190mph but came to a halt without hitting the barriers.
Race director Charlie Whiting defended F1 tyre supplier Pirelli's record to the drivers in the meeting.
Pirelli said that following an investigation it could find "no issue with the structural integrity of this or any other tyre" and that the damage was "consistent with an external source".
Mercedes executive director (technical) Paddy Lowe said the failure "appears to have been a puncture caused by a foreign body", adding that the failure was "unusual".
Sources inside the meeting said that during a discussion about the drivers' concerns about tyre safety, Hamilton asked whether governing body the FIA was going to look at using a different tyre supplier.
Pirelli's contract runs out at the end of 2016 and it is facing competition from Michelin for the new contract from 2017.
In addition to Hamilton and two-time champion Alonso, other top drivers to express their concerns were four-time champion Sebastian Vettel, multiple race-winner Felipe Massa and Red Bull's rising star Daniil Kvyat.
Whiting reminded the drivers that Pirelli had suffered no other failures of this kind since they had changed the construction of their tyres following a series of failures during the 2013 season.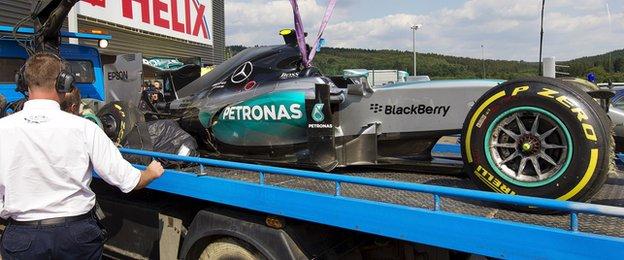 The drivers have fresh memories of the worrying events of the 2013 British Grand Prix, when several drivers suffered major tyre failures during the course of the race. Alonso was right behind Sergio Perez's McLaren when the Mexican's rear tyre failed and was lucky to escape being injured by flying debris from the tyre carcass.
The race led to a crisis and forced Pirelli into immediate changes to their tyres.
The issue is particularly sensitive this weekend as Spa-Francorchamps is one of the most demanding circuits on the calendar, with a succession of high-speed corners that put high demands on the tyres.
The failure on Rosberg's car happened as he was travelling at 190mph approaching the flat-out Blanchimont corner at the demanding Spa-Francorchamps track, one of F1's most challenging.
Rosberg spun to a halt without hitting anything.
He admitted the incident was "quite a shock" and added that the fact he had not crashed "wasn't down to my skill. It was just luck that I stayed out of the wall".
Governing body the FIA had earlier issued a directive to teams warning them on safety grounds to stay whiten the stipulated parameters for tyre pressure and wheel camber at the race meeting.