David Coulthard column: Vettel right to tackle Pirelli on tyres

By David Coulthard
BBC F1 co-commentator and former F1 driver
Last updated on .From the section Formula 1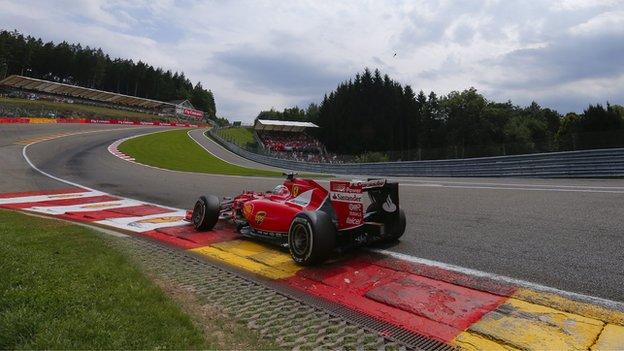 Sebastian Vettel's outburst following his 200mph tyre failure during Sunday's Belgian Grand Prix was the result of an underlying dissatisfaction among the drivers and teams with the product Pirelli has produced for Formula 1.
The spotlight has turned fully on Pirelli in the aftermath, but this episode is not merely about these two tyre failures.
Why was Vettel so tough on Pirelli?
Drivers' emotions run higher at Spa than they do at any track other than Suzuka in Japan as they grew up watching the greats drive there.
Spa and Suzuka are the two mighty race tracks on the F1 calendar: they have taken lives; they take drivers right to the limit of their risk profile; they touch the fear gene in a way no other track will.
Monaco engenders ultimate respect and raises your anxiety levels but any accident there is relatively low energy. If you crash at Spa or Suzuka, the impact is potentially very high-energy and could be fatal.
So to have - as Rosberg and Vettel did - a tyre failure close to Blanchimont or Eau Rouge, the two fastest corners on the track, the immediate thing a driver will think is: "If that had happened just a few metres the other way, it would have been a very different situation."
Vettel voiced this fear in his remarks after the race.
Why are the drivers unhappy?
Spa was, by some margin, not the worst weekend for Pirelli during its five years in F1, either in numbers of failures or in terms of having a tyre with excessive degradation.
But there is an underlying unhappiness among the grand prix drivers with a whole range of aspects of the Pirelli tyre - its performance profile, its grip level, how you have to deal with it, its general robustness.
In Vettel's case, the tread came off the tyre and then the tyre failed. This is not the first time we have seen this with Pirelli, and its tyre does seem to be particularly sensitive to cuts or touches from front-wing endplates and so on.
You cannot use that failure on its own as an argument against the tyre manufacturer, but Vettel's remarks - and similar, if more measured, comments from Rosberg and Lotus driver Romain Grosjean - represent a boiling-over of the drivers' general unhappiness in the relationship between the drivers and Pirelli.
It was the straw that broke the camel's back as far as Vettel was concerned.
Drivers right to speak their minds
We don't yet know what caused the failure on Vettel's car.
Pirelli blamed wear, despite there being no evidence from his lap times that this had become excessive. But it is also possible that his tyre, like Rosberg's, had a cut, perhaps from exploring the limits of the track and running over kerbs, as all drivers do.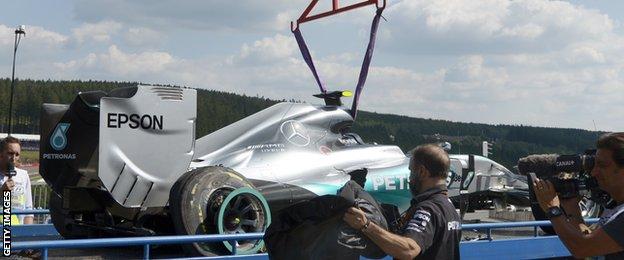 Vettel was not wrong to say what he did. A driver of his stature and experience should say what he feels and we should applaud anyone in the public eye taking a position based on passion and emotion as long as there are hard facts to back it up.
That is what creates personality, and it is what we crave in sport. The sportsmen and women who become household names and inspire people are the ones with that X-factor as well as their skills.
In F1, that means drivers like Vettel, Lewis Hamilton and Fernando Alonso, who are also among those unhappy with the Pirelli tyres, even if they are not saying so publicly.
Beside that, the drivers have a point. F1 deserves the very best. Pirelli deserves to produce the very best. And the current F1 tyres are not that. Which is, as it happens, a point rival Michelin is making in its bid to take over the supply contract in 2017.
Pirelli in a difficult position
Pirelli has been requested to do something to make up for other regulation failures in F1.
The sport's governing body, the FIA, therefore has to take some responsibility, along with the other individuals with voting rights who requested these high-degradation tyres in the first place.
The teams and the FIA seem to be their own worst enemies when they get together. Individually, they will point the finger and blame someone else, but collectively they bear some responsibility for where they are with the Pirelli tyres.
The drivers are also unhappy about the fact that Pirelli always seems to blame external factors for tyre failures.
But I can't accept that the FIA would allow Pirelli to knowingly put out misinformation.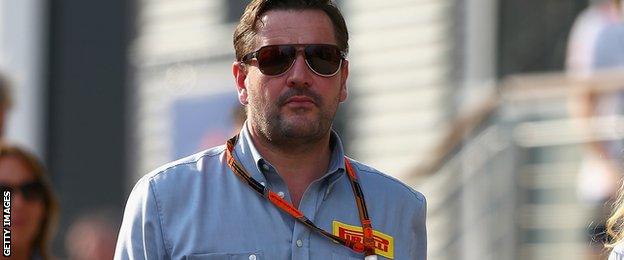 It's absolutely understandable that companies like that will analyse the data and, if they do not find a clear failure they can't hide from, will always say it is a cut or some other external factor.
Pirelli is an international business, which is respected across motorsport worldwide. It has been able to produce quality tyres for many different championships over many years.
But it has taken on a thankless task in becoming F1's tyre supplier under the requirement to produce high degradation tyres so pit stops are a decisive factor in a grand prix.
You have to presume, given its experience, that Pirelli could quite easily produce a more durable tyre that lasted for an entire grand prix, if that was its aim.
On a public relations level, I just don't get why Pirelli would put itself in the situation in which it currently finds itself in F1.
Nobody says what a brilliant tyre manufacturer Pirelli is as a result of its involvement in F1.
It is the only company that is guaranteed to win every race, but it is not developing tyres at the F1 track that it can use for either marketing or technical reasons in its road-car business - nobody wants a high-degradation tyre on their family car.
If you were to compile all the non-paid-for media during Pirelli's time in F1, I would be amazed if there was not more negative publicity than positive.
Why would Pirelli allow themselves to be put in that position?
How will this crisis be solved?
Pirelli put out a statement late on Sunday night pointing out that two years ago it had suggested maximum mileage limits for each type of tyre used in a grand prix weekend.
These were not adopted by F1, it said, and had they been, Vettel's accident would not have happened.
Just as was the case when Pirelli initially blamed the teams and circuit for the series of tyre failures at the 2013 British Grand Prix, some will view that as quite an aggressive stance.
Vettel's tyre was well within Pirelli's maximum recommended life limits and Ferrari say they had been given no warning from their Pirelli engineer that they were taking any risks in running a one-stop strategy.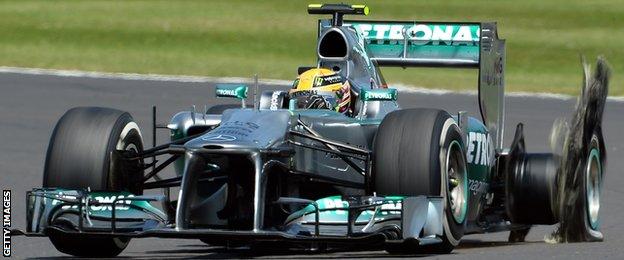 But perhaps tyre-mileage limits will end up being part of the solution that moves this situation on from the very sensitive impasse it has reached following Spa.
Certainly the FIA will get involved, and something has to be done on one level or another to mollify the drivers and reassure the teams.
The cause of the failure has to be analysed. If Pirelli feels there is an integrity issue with the tyre, they will have to set mileage limits.
If it feels there is no fundamental problem with the tyre, then it will have to ride out this storm like it has ridden every other storm, because quite frankly Vettel and Rosberg have no choice.
Pirelli is the single tyre manufacturer and the drivers either race or boycott and see what happens. And I doubt very much there will be a boycott.
David Coulthard was talking to BBC Sport's Andrew Benson