Pirelli relaxes tyre limits after Lewis Hamilton & Alonso complaints

By Andrew Benson
Chief F1 writer at Monza
Last updated on .From the section Formula 1
Pirelli has responded to complaints from drivers and teams and relaxed limits imposed on tyre usage following high-speed failures at the last race.
Formula 1's tyre supplier had given strict operating guidelines to teams for this weekend's Italian Grand Prix.
This followed an investigation into 200mph failures for Nico Rosberg and Sebastian Vettel in Belgium.
Pirelli has backtracked after Lewis Hamilton said the plan was a "disaster".
His criticisms were echoed by McLaren driver Fernando Alonso, who said imposing the limits was "strange".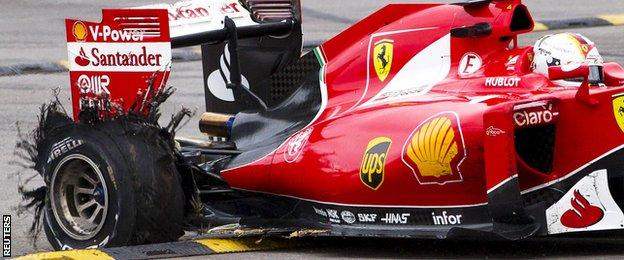 Initially, Pirelli had demanded that teams run tyres with pressures more than 20% higher front and rear and with wheel camber - or lean - reduced by 30%.
But after talks with teams, the company has ruled that tyre pressures should increase by 4psi - 22% - at the front and 3psi - 17% - at the rear.
World champion Hamilton had said: "I don't think any of us have tried 5psi more because they are not designed to have that much more; they work in a range.
"So we will be moving out of the optimum range of the tyre. We'll be using a different part of the tyre, which means more wear, less grip.
"It's going to be a disaster. So I hope they don't put 5psi more in. A couple is OK."
Two-time champion Alonso added that he was "confident" Pirelli had addressed safety concerns, but that he felt the move was out of step with F1's pursuit of high technology in other areas.
"To be in F1 with the technology we have in our cars, to have these kinds of limits, is quite strange," the two-time champion said.
"It is something we never race or test with these kinds of pressures or camber limitations. But they are probably necessary."
Ferrari driver Vettel had described his blow-out as "unacceptable" after the race in Belgium, but said he had been reassured by tyre supplier Pirelli's initial response to the failure.
Pirelli said the German's problem was due to debris on the track and prolonged tyre usage.
Vettel said: "The investigations are still ongoing and the most important thing is we make progress. Long-term, we need to understand properly what happened."
Governing body the FIA said it was "satisfied" with Pirelli's investigation into the failures.
Pirelli has proposed the FIA studies how to clean circuits more effectively in future.
The Italian manufacturer insisted its internal investigations had "confirmed the absence of any structural problems" with the tyres used in Belgium.
Vettel said on Thursday: "It has been very professional, they are taking it very seriously and obviously our target is to improve the situation.
"We want to make progress and keep making progress. The feeling I got when I spoke to the Pirelli engineers is more important than any press release."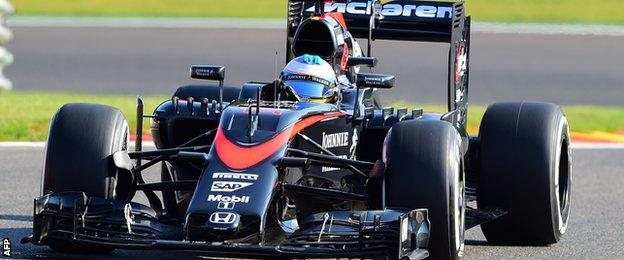 Rosberg added: "It is being handled with extreme precision and a lot of energy is going into it, and I am happy to see that, of course, because it requires it. I am confident we will be driving safely here."
But Williams driver Felipe Massa said that the tyres should be strong enough to withstand cuts.
The Brazilian said: "Debris we have every race, some races more than others. For sure the tyres should be strong enough to accept the debris we have on the track."
An FIA statement summarised Pirelli's investigation into the failures, saying that Vettel's tyre had "approximately 30%" of its tread remaining at the time of the failure, which made it "more susceptible to damage from even small pieces of debris".
The statement added that following an investigation of tyres used by different teams in Belgium:
none showed any signs of delamination, which would point to a fatigue-related failure
a "highly unusual" number of cuts were reported by Pirelli over the weekend, one of caused Rosberg's failure
one other tyre showed a cut down to the belt similar to the one which caused Rosberg's failure, but the tyre had not failed
The Grand Prix Drivers' Association, of which Vettel is a director, later demanded an end to the high-speed blow-outs of Pirelli tyres in F1.
A statement from Formula 1 Management - the company run by Bernie Ecclestone, who has a lucrative commercial deal with Pirelli for trackside signage - praised the company and stressed it had been asked to produce tyres with performance limitations to make the racing more exciting.
Pirelli is facing opposition from Michelin for the next F1 tyre supply contract, which starts in 2017.