F1: Tyre criticism forces bosses to reconsider policy

By Andrew Benson
Chief F1 writer
Last updated on .From the section Formula 1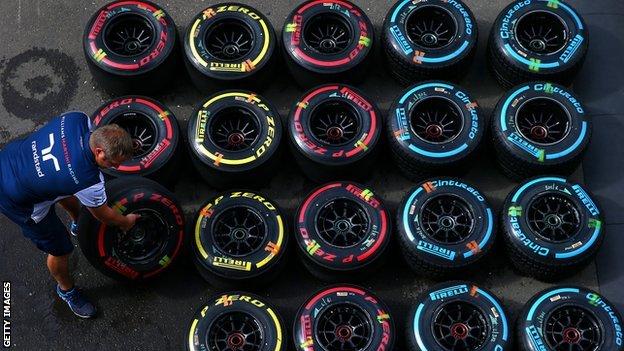 Drivers' dissatisfaction with Formula 1 has forced bosses to reconsider the sport's current philosophy.
F1 has, for five years, been following an approach pioneered by commercial boss Bernie Ecclestone of deliberately fragile tyres that promote multiple pit stops.
But, following consistent criticisms by leading drivers of the tyres provided by Pirelli, bosses are to discuss whether F1 should head in a different direction.
The debate will form part of ongoing talks about plans for faster cars in 2017.
What do the drivers want?
Red Bull team principal Christian Horner said: "The drivers want consistent tyres on which they can push every lap."
Their dissatisfaction is combined with concerns about tyre safety, which re-emerged following two high-speed failures at last month's Belgian Grand Prix.
Outspoken criticisms of Pirelli from multiple world champions Sebastian Vettel, Lewis Hamilton and Fernando Alonso, as well as Mercedes driver Nico Rosberg, led to the four being called to a meeting at last weekend's Italian Grand Prix with Ecclestone, Pirelli, Horner and the bosses of the Ferrari and Mercedes teams.
Ecclestone said the drivers were told at the meeting to keep their concerns about the tyres out of the public eye in the future.
Pirelli motorsport boss Paul Hembery said: "It is pointless some drivers wanting this, the sport wanting something else and the public wanting something altogether different again.
"That needs to be an open discussion while we are defining what is going to happen in 2017.
"Somebody might not like what has been decided but if that is the way we are going then you have to buy into what F1 is."
What is the current F1 philosophy?
Since Pirelli's entry into the sport in 2011, it has provided tyres with a deliberately limited life, with the intention of forcing drivers to make at least two pit stops in each race.
Ecclestone believes this is the right approach to keep the audience interested throughout a grand prix.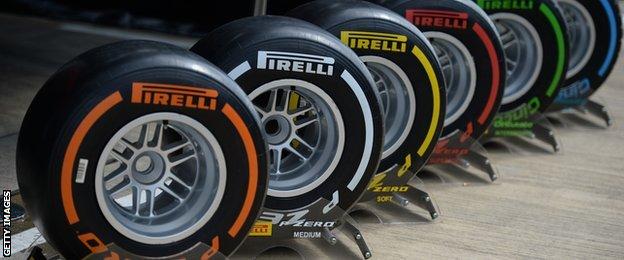 But drivers have complained that they can hardly ever push to the limit in races - the need to manage the tyres to ensure they last for the optimum amount of laps for the best strategy means they are rarely driving as fast as possible.
Even with the harder tyres that have accompanied the more conservative approach Pirelli has taken this year to choosing rubber compounds for races, which has led to a decrease in the number of stops, the drivers still have to manage the tyres, lapping within the car's ultimate performance.
Horner said: "One-stop races are not particularly exciting. So you have to have that balance of two to three stops and with a variance of strategies being able to work.
"But it is finding that balance. It is not an easy job for Pirelli."
What will happen next?
A leading driver who did not want to be identified confirmed they had agreed to keep talking to Pirelli about whether to change the design and behaviour of the tyres.
However, he said there was scepticism about whether Pirelli was technically capable of designing a tyre on which the drivers could push flat out throughout a race stint even if it was asked to do so.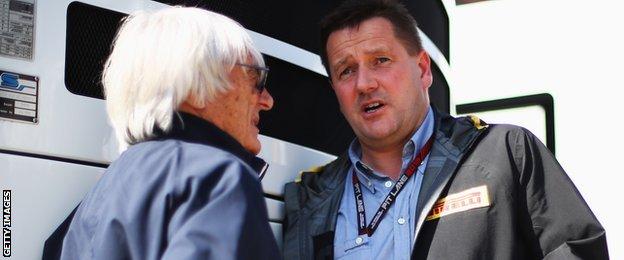 But Hembery insisted: "If you go back to when they were doing, let's say, qualifying sessions (in races), they were doing fuel stops, so you had tyres that lasted 15 laps flat out.
"If you tell me we are going to do 15 laps, change, 15 laps, change, we'll give you tyres they can do that with.
"We can do that and we're happy to, but then the comment came back: 'That was the most boring F1 we ever had; there were two overtakings per race.' So the important thing is we all need to agree."
Will there be a new tyre supplier?
Many drivers and senior team insiders believe that the only way to have tyres durable enough for drivers to race flat out at all times would be for Ecclestone to choose Michelin rather than Pirelli as the sport's next tyre supplier from 2017.
The 84-year-old is currently weighing up the commercial aspects of bids from both manufacturers, after governing body the FIA approved both companies on technical and sporting grounds.
However, Ecclestone expressed strong support for Pirelli over the Italian Grand Prix weekend and insiders believe the company is almost certain to be chosen to continue into a new contract.