Jenson Button wants McLaren future sorted 'in next few weeks'

By Andrew Benson
Chief F1 writer
Last updated on .From the section Formula 1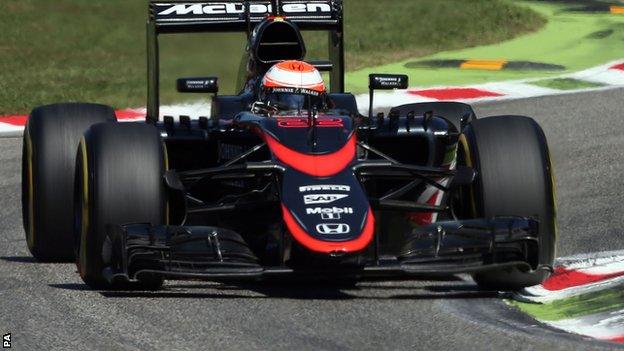 McLaren driver Jenson Button wants his Formula 1 future to be decided "in the next few weeks".
The 35-year-old Englishman was last year kept waiting until December before being retained.
He has a contract with McLaren for next year - but the team must decide whether they exercise their option to keep him.
Asked if he was keen to stay as Fernando Alonso's team-mate, Button said: "That is something we need to discuss away from the circuit."
The 2009 world champion added: "It's always in your hands. Hopefully in the next few weeks we can decide either way."
Alonso has a firm contract with McLaren until the end of 2017 and they will partner the Spaniard with either Button, Dane Kevin Magnussen - who raced for them in 2014 - or Belgian rising star Stoffel Vandoorne.
McLaren racing director Eric Boullier said: "We have two world champions and we do intend to keep them, so far."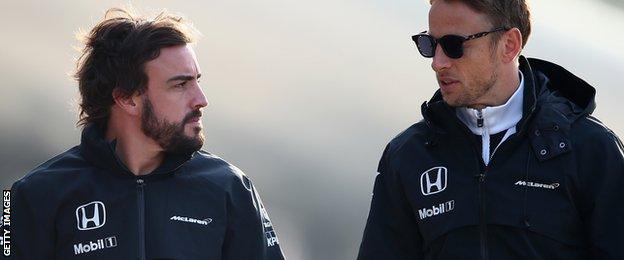 McLaren have not revealed when the option on Button's contract expires, but traditionally the date for McLaren options has been at the end of September.
The decision is complicated by finance.
Insiders say Button's contract for 2016 guarantees him a pay rise of $5m (£3.3m), after he took a $5m pay cut to $10m (£6.6m) to stay with the team this year. Alonso is earning $40m (£26.2m) a year.
McLaren have been without a title sponsor for two years, there is no obvious prospect of them finding one for next year and there have been reports they are to lose substantial backing from drinks giant Diageo next season.
In addition, they are set to lose about $20m (£13.1m) in prize money because of their poor form this season following their switch to Honda engines.
They lie ninth in the constructors' championship, which defines pay-outs to teams, after finishing fifth last season.
That means they face a cash shortfall that might make it harder to afford Button's salary.
If they try to renegotiate Button's salary, McLaren would be in breach of contract, which would mean the driver could leave if he chose to.
Sources close to Button say he would prefer to stay at McLaren, as he is enjoying testing himself against Alonso, with whom he has been closely matched this season.
He would prefer to stay in F1 but beyond McLaren his options are limited.
If he did choose to stay in the sport but not at his current employers, his options are limited.
Top teams Mercedes, Ferrari and Red Bull already have two drivers in place for next season, as do Williams, who were interested in Button before they confirmed Valtteri Bottas and Felipe Massa.
Force India announced a new two-year deal with Nico Hulkenberg last week, and say they expect to imminently confirm Sergio Perez as his team-mate.
That would leave Lotus - whose future is up in the air as Renault try to finalise a takeover - and the new Haas team as his only realistic options.
However, Lotus, who are struggling financially, already have contracts with both Romain Grosjean and Pastor Maldonado for 2016.
Magnussen is one of the leading contenders for a seat at Haas, where Ferrari reserve driver Esteban Gutierrez is considered a shoo-in for one of the drives.