Lotus to 'survive season and beyond' - Federico Gastaldi
Last updated on .From the section Formula 1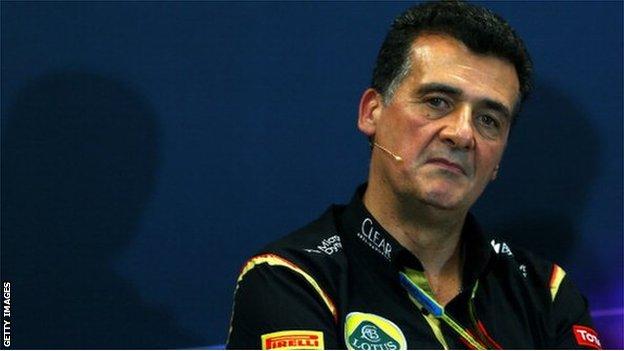 Lotus will survive "this season and beyond" despite financial troubles, according to their deputy principal.
British-based Lotus, who hope former owners Renault will retake control, have faced numerous legal obstacles.
Last Monday, an HM Revenue and Customs application to put the team into administration was adjourned to next Friday, 18 September, when practice for the Singapore Grand Prix starts.
"Don't believe the negative rumours you hear," said Federico Gastaldi.
"We believe in the team, we believe in Formula 1 and we believe we'll still be here fighting for the rest of this season and beyond."
Lotus previously had their cars impounded by bailiffs after the Belgian Grand Prix on 23 August, where Frenchman Romain Grosjean finished third, and blamed a banking error for Pirelli withholding tyres before practice in Hungary.
"They say what doesn't kill you makes you stronger. I can confirm that the team is very much alive but we have been going through a very strenuous workout programme this season," added Gastaldi.
"Things have certainly been tight and we've embraced the Japanese 'just-in-time' philosophy a little too literally on occasions. All this has been necessary, but we keep fighting the good fight."