Jenson Button will only drive for McLaren in Formula 1 in 2016

By Andrew Benson
Chief F1 writer
Last updated on .From the section Formula 1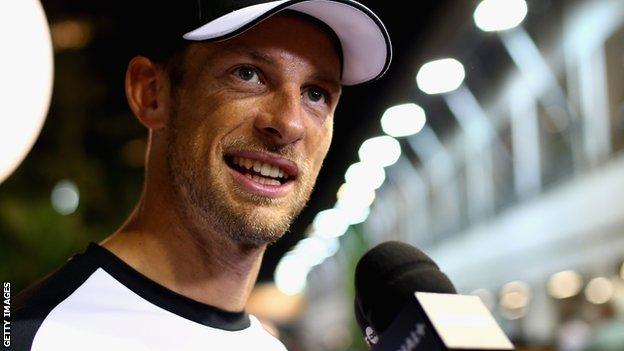 Singapore Grand Prix on the BBC
Venue:
Marina Bay Circuit
Date:
18-20 September
Coverage:
Highlights on BBC TV, coverage on BBC Radio 5 live and sports extra, online, mobile, the BBC Sport app and Connected TV
Great Britain's Jenson Button says he will quit Formula 1 altogether if he does not stay at McLaren-Honda in 2016.
McLaren are yet to decide whether to retain the 35-year-old next season.
But Button said on the eve of the Singapore Grand Prix that he was not interested in moving to another team.
"If I'm in F1, it will be with this team," he said. "I have had some tough times here but I have a lot of respect for them and for Honda. This is the team for the future."
McLaren have been uncompetitive this year, largely because of the lack of performance of the Honda engine on the Japanese company's return to the sport after a six-year absence.
The team have a contractual option on the 2009 world champion, and racing director Eric Boullier says they "intend" to exercise it - but McLaren have made no final decision on whether to keep Button.
Their other option is to promote one of their young drivers - Dane Kevin Magnussen, who drove for McLaren in 2014, or Belgian Stoffel Vandoorne.
Button's options have narrowed so far that his only realistic choice in F1 for 2016 if McLaren did not keep him would be to hope for a move to the new US-based Haas team.
But Button said he was not interested in going anywhere else and that he hoped to have a decision on his future "in a couple of weeks".
He admitted that McLaren's uncompetitiveness had made it a difficult year.
Speaking in a separate interview with BBC World, Button said: "It's been a very tough season mentally for the whole team.
"For everyone that's working at Woking and (Honda's base in) Sakura in Japan, it's been a really tough season. But everyone's stayed positive and got their heads down. We're all focusing on improving.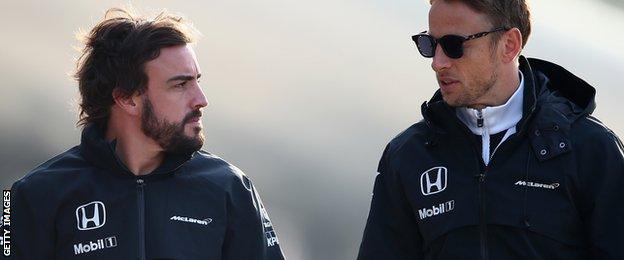 "I do rant, in private. I get a lot of journalists asking me 'You're so calm, you're so smiley at the circuit'.
"When I'm at the circuit, I enjoy it. Away from the circuit, when I'm at the factory, of course you have to push hard. You have to tell the team what you think. When you speak to the Japanese guys at Honda, you've got to push them hard.
"It's positive criticisms. You've got to help them with direction but you've also got to tell them 'We've got to move forward now. We can't wait any longer, it's taking too long.' I push hard, I'm definitely not a guy who sits back and hopes for the best."
Button and team-mate Fernando Alonso have hopes of one of their most competitive weekends of the year in Singapore, because the tight and twisty nature of the circuit does not expose the Honda engines lack of performance as much as other tracks.
Button said he thought finishing in the points was "definitely" possible and that McLaren would be in "a gaggle of cars" fighting for seventh place behind Mercedes, Ferrari and Red Bull.