Singapore Grand Prix track invader arrested

By Andrew Benson
Chief F1 writer
Last updated on .From the section Formula 1
A 27-year-old man who invaded the Formula 1 track during the Singapore Grand Prix has been arrested.
A statement from F1's governing body the FIA said the man gained "unauthorised access" to the circuit.
The FIA said: "We are awaiting a full report from the clerk of the course in order to determine the circumstances surrounding this incident."
Race winner Sebastian Vettel said: "Fortunately nothing happened to us or him. It's not what you want to see."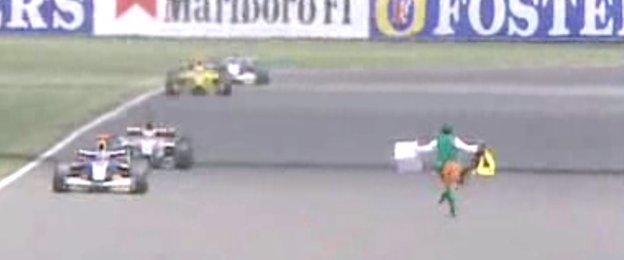 It is the second time this year someone has gained access to a track during a grand prix weekend, with a spectator running across the circuit during practice at the Chinese Grand Prix in April.
It is also the third time in recent history that a track invader has disrupted a grand prix.
In 2003, a man wearing a kilt ran across the track during the British Grand Prix.
And a disaffected former Mercedes employee invaded the track during the 2000 race in Germany.
'He was on his phone taking pictures'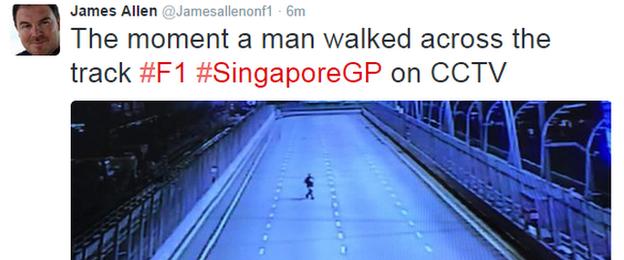 Vettel, who drives for Ferrari, made a joke about this incident, which has been reported to involve an English tourist.
"When I was watching F1 there was a scene in Hockenheim and then a couple of years later in Silverstone," he said.
"This guy was fairly boring. He could have dressed a little funny or something.
"Now we are joking about it, but it is fairly serious."
Red Bull's Daniel Ricciardo, who finished second, added: "He was on his phone taking pictures, probably for Instagram or something.
"I hope he got some more followers because it's got to be worth a night in prison."