Pastor Maldonado: Lotus driver stays with team for 2016
Last updated on .From the section Formula 1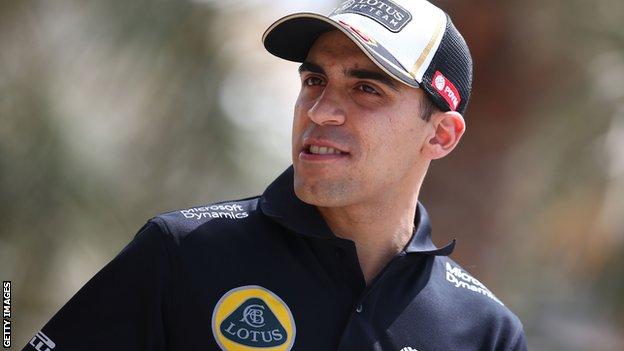 Lotus have extended Pastor Maldonado's contract, keeping the Venezuelan at the team for a third season.
The 30-year-old brings with him significant sponsorship funds from the Venezuelan state oil company PDVSA, which paid £30m a year for him to drive at Williams between 2011 and 2013.
Maldonado, who won the 2012 Spanish Grand Prix, is currently 14th in the drivers' championship with 12 points.
"It is positive to know that my future is confirmed," he said.
Maldonado has earned the nickname 'Crashtor' after being involved in a series of on-track incidents, including a coming together with McLaren's Jenson Button during Sunday's Singapore Grand Prix.
After the incident, in which Button's front wing was damaged, the 2009 world champion said: "I don't know what he was trying to do - maybe put me in the grandstands. He gave me no room. You can't do that in F1, especially around a circuit like this - but it's not the last time he'll do it."
French manufacturer Renault is currently in the process of trying to negotiate a takeover of the cash-strapped Lotus team.
Lotus F1 team principal Gerard Lopez said: "Everyone at Enstone will testify that Pastor is a terrific person to work with and we all know the performances he is capable of on track.
"We hope to be able to make further positive announcements regarding the team in the near future."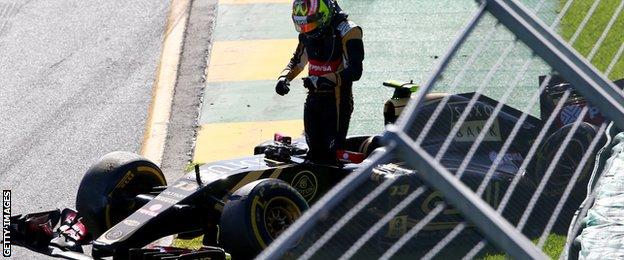 BBC chief F1 writer Andrew Benson on Maldonado:
"Jenson Button called him 'mental' during the Singapore Grand Prix - a view to which many in Formula 1 would subscribe - but Maldonado's millions in Venezuelan sponsorship have kept him in a grand prix car for at least one more year.
"'Crashtor'. 'Malfunctionado'. Take your pick from any number of disparaging nicknames Maldonado has earned through his antics during his five years in F1. There is even a satirical website dedicated to him.
"Why have Lotus signed him? The answer is almost certainly to do with money, rooted in the team's well-documented financial struggles this season.
"Quite what Renault - who will take over the team assuming a deal that has been in the offing for months can be finalised - make of it remains to be seen.
"Who will be Maldonado's team-mate? Renault/Lotus are short of options.
"Romain Grosjean is under contract to stay but seems to be heading for the exit to join the new US-based, Ferrari-linked Haas team.
"If that is confirmed, contenders include McLaren reserve driver Kevin Magnussen, ex-Toro Rosso driver Jean-Eric Vergne and possibly even Force India's Sergio Perez, despite his and his team's insistence he will stay."