Formula 1 gossip: Lotus F1, Alonso, Hamilton, Rosberg, Perez
Last updated on .From the section Formula 1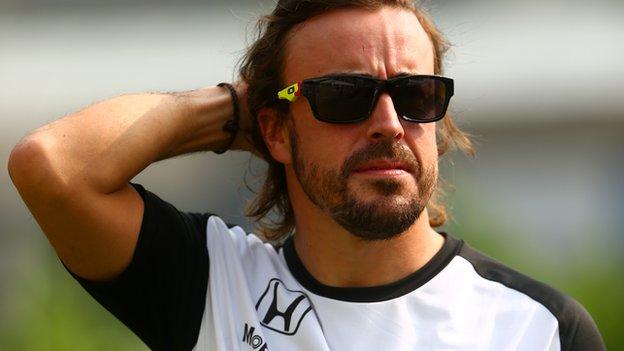 Friday, 25 September
Financially-troubled Lotus F1 are one of three teams whose Formula 1 future is in doubt, with Red Bull and sister team Toro Rosso also considering an exit. (Daily Mirror)
The poor performance of Mercedes at the Singapore Grand Prix is likely to remain a mystery, according to McLaren's Fernando Alonso. (Autoweek)
But Mercedes driver Lewis Hamilton has dismissed suggestions that the drop in speed was caused by a change in tyre pressure after they were found to be below the minimum limit at the Italian Grand Prix. (Adam Cooper's F1 blog)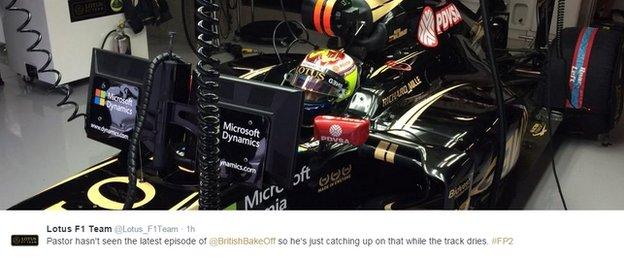 Alonso has acknowledged that McLaren deserve criticism for underperforming this season. (ESPN)
Nico Rosberg believes he can catch Mercedes team-mate Hamilton to win this season's drivers' championship. (Crash.net)
Kimi Raikkonen has promised to help Ferrari team-mate Sebastian Vettel if the German becomes a serious challenger to Hamilton in this season's title race. (Motorsport.com)
Sergio Perez has confirmed that he was approached to drive for Renault in 2016, but feels that staying with Force India will be better for his career. (Crash.net)
Formula 1 teams will have greater choice over the tyres they use under new rules to be introduced for next season. (Autosport)
Thursday, 24 September
Great Britain's Will Stevens says it will be an "emotional weekend" as his Manor team aim for a top-10 finish at the Japanese Grand Prix to honour Jules Bianchi. The Frenchman died in July aged 25, nine months after a crash at last year's race. (Mirror)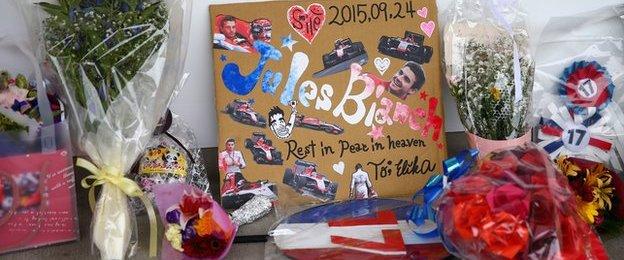 Lotus driver Romain Grosjean, who helped carry Jules Bianchi's coffin during his funeral, tweeted: "Raining over Suzuka. It does bring back the worst memory of my career with Jules's crash. We miss you a lot my friend. #neverforget #jb17. A lot of people thinking for Jules in Suzuka. Thank you, it means a lot to his family and to the F1 family."
Sergio Perez said moving to Renault was a serious option before he committed his future to Force India. (Motorsport.com)
McLaren's Fernando Alonso is not expecting a good weekend for his team at the Japanese GP, saying: "It will be difficult to beat our competitors". (F1i.com)
Ferrari's recent results are "wonderful for Formula 1" after so much Mercedes dominance, says former world champion Nigel Mansell. (Motorsport.com)
Mercedes will "think about" using team orders for the rest of the season to protect Lewis Hamilton's lead at the top of the drivers' championship, says boss Toto Wolff. (Bild, via F1 Today)
McLaren's Jenson Button may have to get used to a slower pace of life if he retires at the end of the season. He travelled around Honda's headquarters on a Uni-Cub mobility scooter, which has a top speed of 6km per hour. (Daily Mail)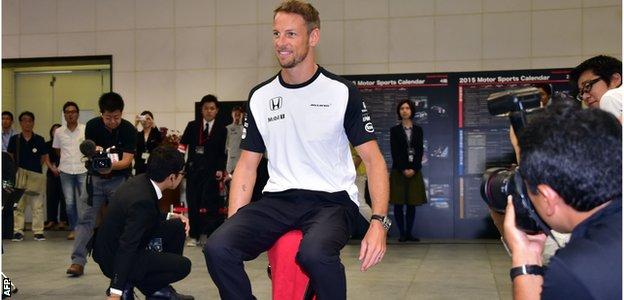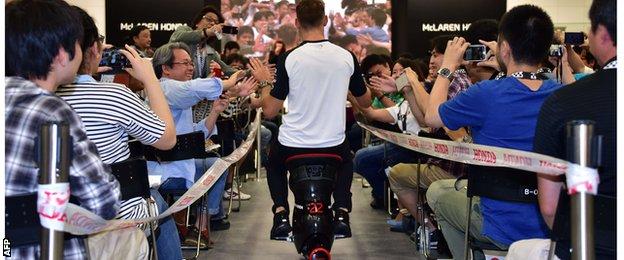 Closed cockpits require "a considerable amount of research" before they are implemented in F1, says former world champion Sir Jackie Stewart. (Top Gear)
McLaren and Honda have held "crisis talks" over the performances of their engines this season. (Telegraph)
Red Bull and Toro Rosso can expect an upgraded engine for next month's United States Grand Prix, says supplier Renault. (Eurosport)
Wednesday, 23 September
Mercedes pair Lewis Hamilton and Nico Rosberg are worried the team will still be affected by the pace problems they suffered in Singapore at this weekend's Japanese Grand Prix. (Telegraph)
Formula 1 will be "a poorer place" if Jenson Button, 35, retires from the sport, says former McLaren driver John Watson. (Sky Sports)
Red Bull have warned they will pull out of F1 at the end of this season if they do not have a competitive engine. (Fox Sports)
Force India's Sergio Perez has been linked with a potentially vacant seat at the Lotus F1 team, following Romain Grosjean's rumoured move to the Haas F1 team for 2016. (Formula Spy)
Audi are prepared to withdraw from the FIA World Endurance Championship in 2017 in order to enter Formula 1 in 2018. (Car Magazine)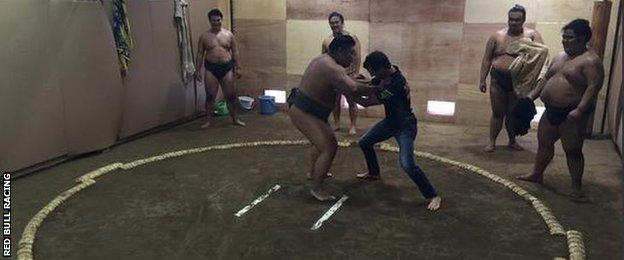 Red Bull post pictures on Twitteras Daniel Ricciardo prepares for the Japanese Grand Prix by trying sumo wrestling.
Lotus driver Romain Grosjean also gets in the Japanese spirit by trying some local food, although he is not sure what is in front of him. He writes on Twitter: "I've no idea what we have just eaten... Idea/Help? Let's call it full immersion into the city."
Tuesday, 22 September
McLaren driver Jenson Button, 35, smiled and said his "head knows, but my mouth and tongue don't know" when asked if he will retire after the Japanese Grand Prix this weekend. (Times - subscription required)
Button said the "joy" he got from racing was "about fighting at the front" and the "possibility of standing on top of the podium" in light of McLaren's declining fortunes. (Daily Mirror)
Button is already "demob happy", according to former F1 world champion Damon Hill amid rumours he plans to quit the sport. (Guardian)
Red Bull team principal Christian Horner has played down speculation linking them to a potential buyout by the VW Group, but did not entirely deny the talk of a collaboration from 2018. (Crash.net)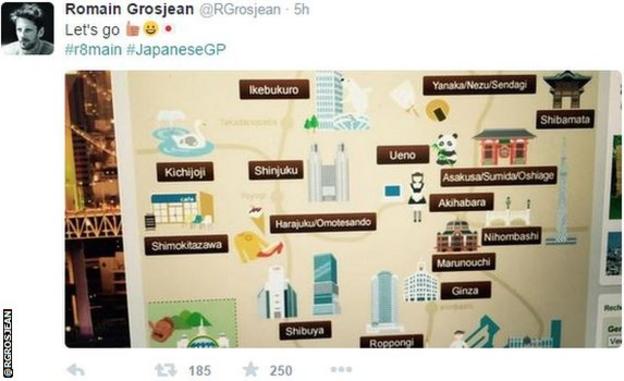 Mercedes chief Toto Wolff says the constructor will not panic despite their slump in performance at the Singapore Grand Prix. (Crash.net)
McLaren racing director Eric Boullier has conceded that constructor could face a financial shortfall as it heads into 2016 and they are "working hard" to improve their sponsorship portfolio. (Fox Sports)
Monday, 21 September
McLaren driver Jenson Button, 35, is to retire from F1, and could make an announcement before this week's Japan Grand Prix.(Telegraph)
The 2009 world champion has held talks with Porsche about competing in the World Endurance Championship. (Mail)
Ferrari will send an "unconditional apology" to Singapore Grand Prix officials after some of the team's staff pushed through security barriers.(Autosport)
Force India's Nico Hulkenberg does not understand why he was punished for a collision with Felipe Massa in Singapore. (Autosport)
Max Verstappen joked that his dad would have "given me a kick in the nuts" had he obeyed orders to let Toro Rosso team-mate Carlos Sainz pass in Singapore.(Crash.net)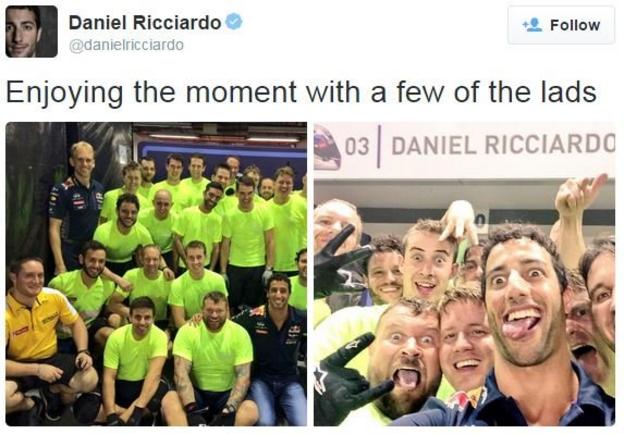 But Verstappen will not be in trouble with his team for disregarding the orders. (Motorsport)
The deal that will see the Lotus F1 team acquired by Renault has been completed.(PaddockTalk)
Red Bull's Daniel Ricciardo says his second-place finish in Singapore was the best he could have achieved in the circumstances. (The Checkered Flag)