Jules Bianchi crash: Formula 1 'too difficult' to watch, says father

By Dan Roan
BBC sports editor
Last updated on .From the section Formula 1
The father of late Formula 1 star Jules Bianchi has said it is still "too difficult" to watch the sport, as the one-year anniversary of his son's fatal crash at the 2014 Japanese Grand Prix approaches.
In an exclusive interview, Philippe Bianchi told BBC Sport: "Perhaps in a few months, a few years, I can see again a grand prix, I don't know, but for the moment, it is too difficult."
F1 returns to the Suzuka circuit this weekend for the first time since the 25-year-old French driver suffered severe head injuries when his Marussia car skidded off the wet track in poor light and collided with a recovery crane last October.
Bianchi became the first F1 driver to succumb to injuries sustained in a grand prix since Ayrton Senna in 1994 when he died in hospital in France in July having never regained consciousness.
"It's a difficult moment because it marks one year now that Jules had his crash, and this week is not a good week for the Bianchi family," said his heartbroken father from his home in France.
"Jules is missed a lot by all his family, all the fans, all his friends, it is very difficult."
Having suffered a diffuse axonal injury, Bianchi's fight for life ended when his family announced his death this summer. He had been in a coma for nine months and showed little progress while in hospital in Nice.
"When the months pass and you see Jules every day the same and you understand at that moment that it's not possible for him to come back because the damage is too important," said Philippe.
"The problem when Jules had this crash, I think that his head and his brain were finished, because he had too much damage in his brain.
"You have two things - the neurological and the physical - and Jules had a very big physical presence, and I think he stayed in life because physically he is very strong.
"I think that Jules is with me now but it's difficult because he phoned me and his mother every day, and now it is one year that I can't speak with Jules and his mother can't speak with him.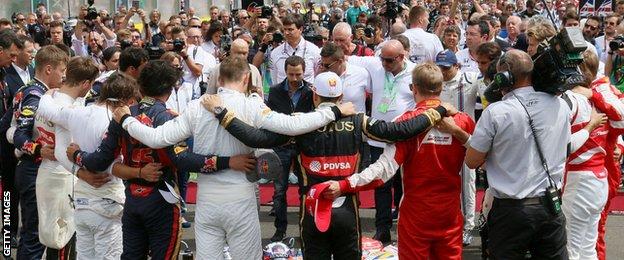 "And for nine months I can't touch him and can't give him a kiss. But Jules was a very good boy, he was very near his family, and it's terrible."
In December, Formula 1's governing body, the FIA, published a report into the tragedy.
An accident panel - an expert group including former Mercedes and Ferrari team bosses Ross Brawn and Stefano Domenicali - felt there was no single cause, but rather the crash had been the result of an unfortunate set of circumstances, which included the difficult conditions, the speed Bianchi was going, and the presence of a recovery vehicle on the circuit.
The report concluded Bianchi "did not slow sufficiently to avoid losing control" under double waved yellow flag conditions as the crane was recovering Adrian Sutil's Sauber from a gravel trap.
Philippe still cannot bring himself to watch replays of the crash, but when asked if speed had been a factor, he said: "Perhaps. For me it is strange when some people say he goes too fast, because he is a Formula 1 driver.
"I don't know what happened because for the moment I don't want to see the video of the incident. Perhaps in one month, two months, six months, I don't know.
"I can't see pictures of the crash of Jules. It's not possible for me to say something about the crash because it's too difficult for me to look at the video."
The FIA drew up a number of safety proposals in the wake of Bianchi's crash, including the introduction of a Virtual Safety Car, and a four-hour rule ensuring the start time of races would not be less than four hours before either sunset or dusk with the exception of night races.
However, the idea of a closed-cockpit, which some believe would have helped protect Bianchi, was dismissed.
"To close the cockpit, for me, is a very good thing," said Philippe.
"But for Jules's incident, it's not the same, because as a doctor explained to me, it's not that he took something on the head, the deceleration was too big and a closed cockpit wouldn't have changed anything.
"I have a lot of people who continue to see the grands prix and who tell me: 'If you look at the grands prix now, it has changed a lot, a lot of things have changed.' And I say: 'OK, but I don't want to look', because it's too difficult. Really, it is difficult.'"
The death of Bianchi has cast a long shadow over Formula 1.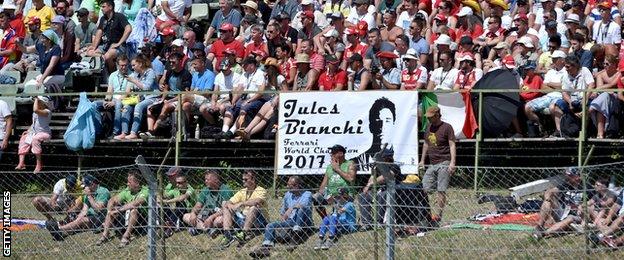 A week after his death the sport paid its respects at the Hungarian Grand Prix with a one-minute silence.
It is the only race Philippe has attended since his son's crash. He says he has been touched by the support his family has received from the Formula 1 community, and now wants to start a charitable foundation in memory of his son.
"He was in motorsport since he was three years old on my go-kart track, and all his life he loved motorsport.
"I want to make a foundation to help young drivers perhaps in go-kart who don't have money and who need some people to give them experience.
"When F1 came for the funeral of Jules and made an ovation to Jules for me and all my family it was a very important thing, because it was a consecration for him and it touched all the family in their hearts.
"Everyone tells me for sure Jules would have won a grand prix and he could have won a world championship perhaps - but now nobody can know. But sure he worked for that, he had talent and I think with a very good car he could have made a battle to win the championship.
"I speak with a lot of drivers in Formula 1 and am sure that they want to help me because I think that all the drivers are very touched by this dramatic incident and I know that I have a lot of people beside me who want to help - the sponsors and the drivers of Formula 1.
"I'm sure I can make something good for Jules. It's important now because Jules is not here, but it's difficult because he is missed a lot."