Jenson Button denies McLaren money dispute over contract

By Andrew Benson
Chief F1 writer at Suzuka
Last updated on .From the section Formula 1
Japanese Grand Prix coverage: Live on BBC TV and radio, online, mobile, the BBC Sport app and Connected TV. Full details
here
McLaren's Jenson Button has played down claims from three-time champion Niki Lauda that he wants to race next year.
And the 2009 champion denied the Austrian's claims that doubts about his future were to do with a money dispute with McLaren chairman Ron Dennis.
"The second one is not true," Button said, referring to the money claims.
"The first one. I never understand him anyway. I think I said yes being friendly. But we didn't really have a conversation as such."
Button, whose future has been the subject of intense speculation leading up to this weekend's Japanese Grand Prix (on BBC One and online from 05:00 BST), added: "It's nice that he's gone to the media and said that, though."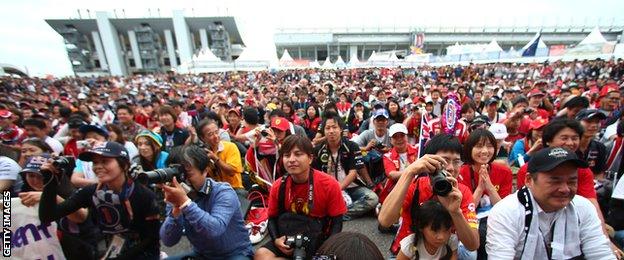 Lauda, the non-executive director of Mercedes F1, was talking to BBC One before qualifying for the race at Suzuka.
He said: "In the end, Jenson and Ron are clever enough to get it together. Jenson said to me yesterday he wants to drive there and doesn't want to retire."
Speculation has swirled around Button since newspaper reports last week that he was poised to announce his retirement at the Japanese Grand Prix this weekend.
Button himself has said he can give no further information about his future but that he was in "good talks" with McLaren.
He told BBC F1 co-commentator David Coulthard during an interview in Japan this weekend: "The stories haven't come from me.
"Last race I was disappointed and I said I haven't had the joy, which was true.
"Because I was so emotional, they took that as: 'Oh, he's going to retire this weekend'."
Lauda added on BBC One's qualifying show on Saturday: "I said to Jenson yesterday: 'Fight your fight with Ron over money.' Because it is always the same. But then stay, because if you go, one of the last quick, experienced guys has gone. So I say to Ron: 'Pay him the money.'"
Lauda's comments are a reflection of 35-year-old Button's standing as one of the most highly regarded drivers in F1.
Dennis is in Japan and has held talks with Button, but has so far not gone to the Suzuka track.
A McLaren spokesman said: "Ron has a virus, and has been confined to bed in a Tokyo hotel room for the past two days, but he intends to come to the circuit on race day."
Button has a contract with McLaren which states he will drive for them in 2016 unless they activate an option to release him by 30 September.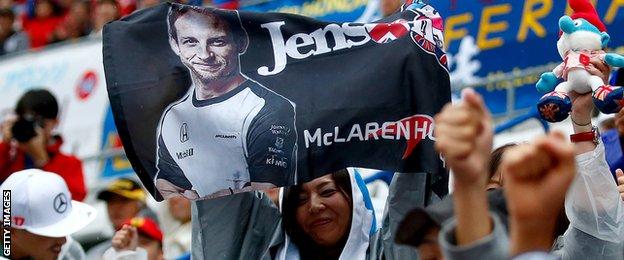 The contract dictates a pay rise of $5m (£3.2m) from his current salary of a reputed $10m (£6.6m).
Insiders say the two had been arguing over Dennis's desire to reduce that salary, but it is understood the McLaren chairman has now backed down.
But Button, whose relationship with Dennis is said by insiders to be cool, has not yet officially told the team whether he wants to retire.
Could Alonso go as well?
There have also been questions raised about the future of Button's team-mate Fernando Alonso, who is in the first season of a three-year contract worth $40m (£26.3m) a year.
Insiders at McLaren have expressed doubts about whether Alonso wants to stay in 2016 in the wake of a disappointing season in their first year of a renewed partnership with engine supplier Honda.
Alonso's manager Flavio Briatore was quoted in the Spanish newspaper El Mundo on Friday saying: "No one imagined it would be this disaster, but I know the people from Honda well and although they do things their way, they know engines. In 2016 they will be fighting for podiums."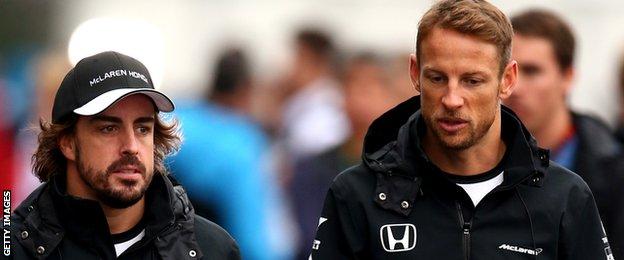 Briatore added: "If he cannot get a winning car in Formula 1, he will find it somewhere else."
Asked whether he would race next year and see out his contract, Alonso said: "Definitely I can tell you I will not go anywhere else."
Asked to clarify whether he would definitely race for McLaren in 2016, Alonso said: "I guess so."
He added: "I will hopefully win. I am in this project because I trust this project.
"McLaren and Honda, with the potential both companies have, it is just a matter of time that they will win again. They are one of the best in the business.
"Unfortunately we are in a difficult time and the starting point was quite low but we are making progress as fast as we can and hopefully we can make this tough time as short as possible."