Romain Grosjean: I would have raced for Renault next year
Last updated on .From the section Formula 1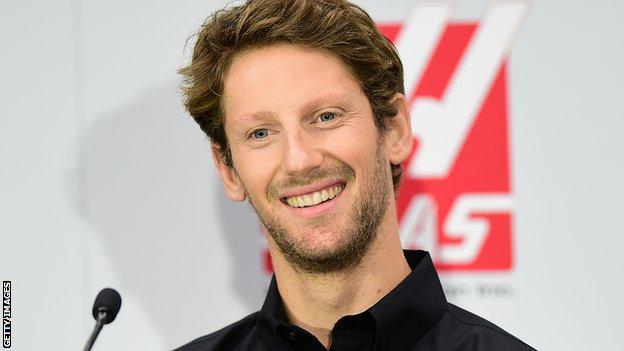 Romain Grosjean says he would have stayed with Lotus had Renault already concluded its takeover of the team.
Grosjean will instead leave Lotus for the new Haas Formula 1 team in 2016, a move he says was partly motivated by his desire to one day race for Ferrari.
"I was the first one who wanted to be part of the Renault project," the Frenchman told BBC World Service Sport.
"If they had come earlier I would have stayed, but I met with Haas, they made an approach and it was attractive."
The 29-year-old added: "The fact that Haas is close to Ferrari made it very appealing. Not because I'm thinking about Ferrari in one, two or three years, but it does bring me closer for sure.
"They'll look at what we do. The better job I do there the better chance I have of getting a seat with Ferrari one day."
Haas, powered by Ferrari engines, will be the first USA-owned F1 team since 1986.
The other Haas seat is expected to be taken by former Sauber driver Esteban Gutierrez, who is Ferrari's reserve driver this year.
Renault is trying to negotiate a takeover of the cash-strapped Lotus team.
The French manufacturer has been in talks to buy Lotus for several months but on Monday signed a letter of intent to buy a controlling stake to create a new F1 team for 2016.