Formula 1: Sauber's EU complaint 'aimed at Bernie Ecclestone'

By Andrew Benson
Chief F1 writer
Last updated on .From the section Formula 1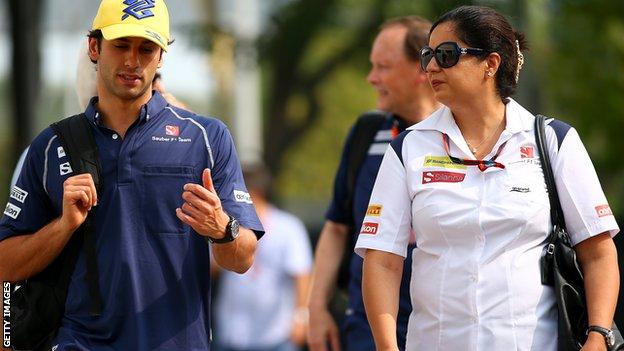 Russian Grand Prix on the BBC
Venue:
Sochi
Dates:
9-11 October
Coverage:
Live coverage on BBC TV and BBC Radio 5 live, online, mobile, the BBC Sport app and Connected TV.
Full details here
Sauber say their complaint to the European Union about Formula 1's "unfairness" is aimed at the sport's boss Bernie Ecclestone.
They and Force India have asked the EU's Competition Commission to examine the split of F1's revenues and the governance structures of the sport.
Sauber boss Monisha Kaltenborn said: "The complaint is against the commercial rights holder."
She said Ecclestone "knows why we are doing this; we explained it to him".
The teams' complaint is based on what they contend is a split of F1's income that is unfairly biased towards the leading teams and the exclusion of the smaller teams from the rule-making process.
They are particularly exercised about the so-called strategy group of leading teams, governing body the FIA and Ecclestone, which has replaced the previous structure.
Force India sit on the strategy group as the best-placed team outside those who have guaranteed places, which are Ferrari, Red Bull, McLaren, Mercedes and Williams.
Ecclestone has said he has no objection to the teams raising the issue with the EU, and has said the teams had previously agreed to the current structures when they signed their contracts binding them to the sport.
"All this was done whereby everybody knew what they would be getting and what would happen, and they all signed contracts which were very clear," Ecclestone told Autosport magazine.
"They've had a change of heart, I suppose, and I don't blame them, not at all."
But Kaltenborn said that was a misrepresentation of the situation the smaller teams were in when they signed their contracts.
"When it's said we knew what we were signing into, well, we knew some preferential terms, but the entire scope of these privileges we only recently got aware of it from the media," she said.
"And more important is it is beside the point whether we knew or not. We have to see the situation we were in - you get an offer and you take it or leave it, you sign or you leave F1, which is no choice."