Lewis Hamilton: Red Bull's threat to quit Formula 1 'really odd'
Last updated on .From the section Formula 1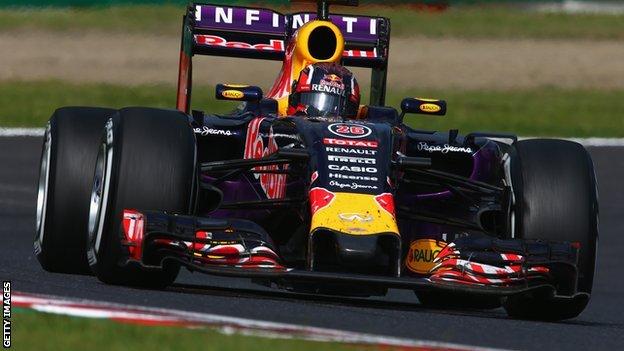 Russian Grand Prix on the BBC
Venue:
Sochi
Dates:
9-11 October
Coverage:
Live coverage on BBC TV and BBC Radio 5 live, online, mobile, the BBC Sport app and Connected TV.
Full details here
Lewis Hamilton has told Red Bull to "keep pushing" and not "give up" after they threatened to quit Formula 1.
Red Bull have said they will quit F1 at the end of the season if they cannot secure a competitive power unit.
Mercedes' Hamilton said their threats were "really odd", adding: "I have not seen that with any other team."
He added: "Growing up watching F1, when Ferrari lost the championship after having success, I don't remember hearing them complaining the next year. You have to keep pushing forward and there is no reason for them to give up."
Red Bull, who have not won a race this season, are hoping to use Ferrari engines next year but have been offered the 2015 specification rather then the 2016 upgrade, which they have described as an "insult".
The future of their sister team Toro Rosso is also in doubt.
World champion Hamilton is leading this year's title battle by 48 points from team-mate Nico Rosberg, while Mercedes have 506 points in the constructors' championship compared to Red Bull's 139.
"It seems really odd for me, having witnessed Red Bull's success, and then the moment that they don't have success, it is like they have been upset about it," Hamilton said.
"They have great drivers, great pedigree, they have had incredible success, and they still have a pretty awesome car.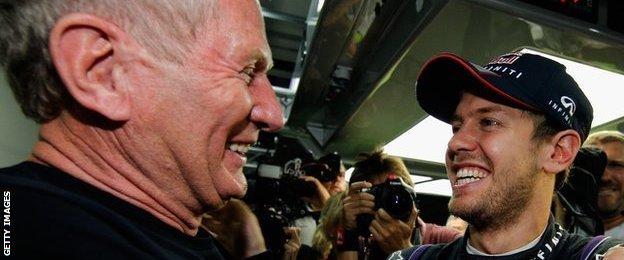 "All those people who have a job, you're saying you are going to get rid of all those people through something that is not the biggest thing? They can still have success. They just have to work hard at it."
Asked about the team's future at the pre-Russian Grand Prix news conference on Thursday, Toro Rosso driver Carlos Sainz said: "We just need to wait, be patient and trust Red Bull will take the right decision. They will do the best for the brand, both teams."
Mercedes team boss Toto Wolff said Red Bull pulling out of F1 would be a "big loss".
"But we have seen teams coming and going," he said. "I think F1 can survive [their departure] but it is not ideal."