Red Bull: Rivals' 'fear' may mean F1 exit – Adrian Newey
Last updated on .From the section Formula 1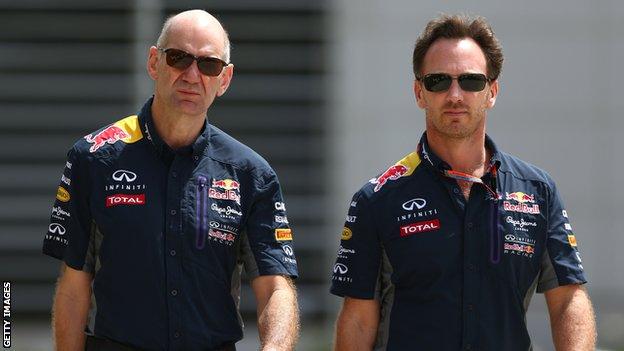 Red Bull could quit Formula 1 because rival manufacturers are too fearful of supplying them with engines, according to their chief technical officer.
Relations with current supplier Renault have broken down and Red Bull have been unable to find a new partner.
"We're possibly going to be forced out of Formula 1 - Mercedes and Ferrari have refused to supply us out of fear," Adrian Newey said.
Seven hundred jobs at the team's Milton Keynes factory are at stake.
He said the team would take a decision on whether to race in 2016 "well before" the end of the year "because design and manufacturing lead times are such that you need to know what you're putting in the car".
With Sebastian Vettel driving Newey-designed cars, Red Bull won four successive driver and constructor titles using Renault engines from 2010 to 2013.
But Renault have struggled to be competitive in the new V6 turbo hybrid era ushered in last year, and Newey described the "marriage breakdown" as "terminal".
Mercedes have taken over as the dominant team and clinched a second straight constructors' crown in Russia on Sunday, with Red Bull currently sitting in fourth.
With Renault determined to stop providing engines to F1, Newey says Mercedes and Ferrari have reneged on promises to step in and supply Red Bull because "they became concerned we would beat them with their own engine".
He added: "Red Bull should not be put in a position where they're only there to make up the numbers."
However, F1 chief executive Bernie Ecclestone told the BBC last week that Mercedes and Ferrari's stance was reasonable.
Ecclestone said that if Red Bull had the same engine they might "show up" their rival teams.
"I don't want [Red Bull] to stop. I honestly think any of the engine suppliers would be OK for them," Ecclestone said.
Currently, the only other engine provider in F1 is Honda, which supplies the McLaren team - but Newey says even that option is subject to a McLaren veto.