Formula 1 gossip: Ricciardo, Rosberg, Raikkonen, Button
Last updated on .From the section Formula 1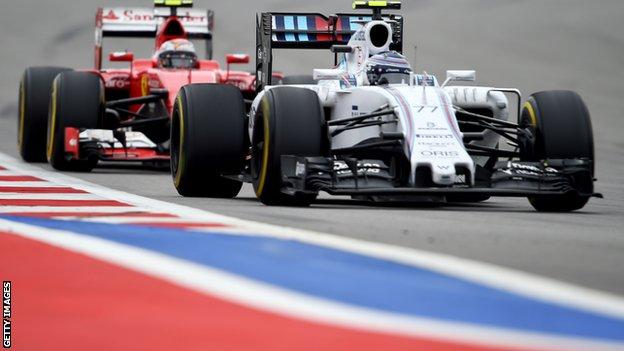 Friday, 23 October
Red Bull driver Daniel Ricciardo has indicated his team won't run Renault's new engines at the US Grand Prix. (Sky Sports)
Mercedes' Nico Rosberg says Ferrari will still be a threat in this weekend's Grand Prix despite both drivers incurring engine penalties. (F1i.com)
Ferrari's Kimi Raikkonen says he would attempt to overtake Williams driver Valtteri Bottas again, despite being punished for a collision at the Russian Grand Prix. (Motorsport)
Jenson Button is hoping to be "annihilated" by McLaren team-mate Fernando Alonso in Austin as it would prove Honda has finally made significant progress with its Formula 1 engine. (AutoSport)
American driver Alexander Rossi wants to beat team-mate Will Stevens in his home Grand Prix to put him in a good position to secure a full-time seat with the team next season. (Grand Prix Times)
Thursday, 22 October
More Formula 1 drivers should follow the example of Lewis Hamilton and work on raising their profile outside the sport, says the man in charge of this weekend's US Grand Prix, Bobby Epstein. (Guardian)
Red Bull's Australian driver Daniel Ricciardo has joined a new sports management company - whose founder previously worked with David Beckham - to develop his "commercial and brand partnerships". (James Allen on F1)
The future of two young British drivers - Will Stevens of Manor Marussia and Lotus test driver Jolyon Palmer - is in doubt, with places for next year's Formula 1 championship soon to be decided. (Telegraph)
The weather is not looking good for this weekend's US Grand Prix. The forecast for Austin, Texas predicts heavy rain from Thursday until Sunday. (Grand Prix Times)
British driver Jenson Button made his own tribute to the legacy of 1985 science fiction classic film Back To The Future by posting a picture of his wife posing with a DeLorean car on Instagram.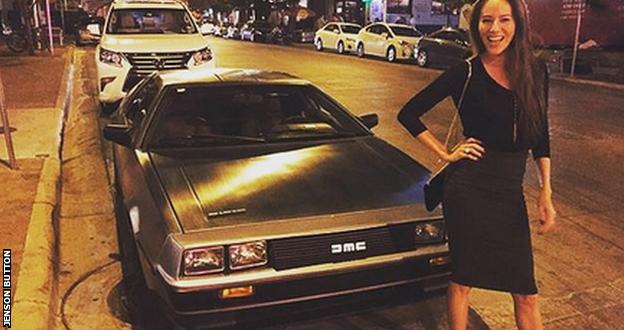 Wednesday, 21 October
Jenson Button says he still has "unfinished business" with McLaren as he prepares to embark on his seventh season with the team. (Autosport)
Red Bull's rivals Sauber and Williams say the Austrian team should "take what they can get" in their ongoing engine crisis. (F1i.com)

Mercedes F1 chief Toto Wolff says back-markers Manor can make big strides next season using the German manufacturer's power unit. (Autosport)
Lewis Hamilton has been hanging out with Will Smith, describing the actor on Instagram as "one of the most inspiring and wisest" people he had ever met.
Tuesday, 20 October
Mercedes driver Lewis Hamilton says he is "taking nothing for granted" in the drivers' championship, despite having a 66-point lead. (Crash.net)
Red Bull will have Renault's upgraded engine available for this weekend's US Grand Prix. (Autosport)
Mercedes principal Toto Wolff says there is no guarantee that DTM champion Pascal Wehrlein will make his F1 debut for Manor next season. (PaddockTalk)
Former FIA president Max Mosley says the sport needs to rethink its entire approach to technology rules. (F1i.com)

Monday, 19 October
Lewis Hamilton says a greater battle between Mercedes and Ferrari in 2016 would be good for Formula 1. (Autosport)
Former Formula 1 world champion Jenson Button had a productive weekend. He writes on Twitter: "P1 baby. Just not in a car yet. Won the Hermosa Triathlon today #dayatthebeachtri."
Nigel Mansell says he had a fight with "completely brainless" Ayrton Senna after "the red mist descended" at the 1987 Belgian Grand Prix. (Sky Sports)
Romain Grosjean's crash during last weekend's Russian Grand Prix was not the result of a mechanical failure on his car, says Lotus technical director Nick Chester. (NBC Sports)
Formula 1 boss Bernie Ecclestone says grand prix racing has become an "engineers' championship". (Motorsport.com)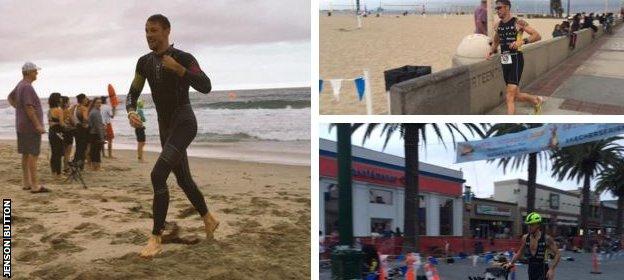 Three-time world champion Niki Lauda says drivers have to be fearless and take risks to make any money. (Handelsblatt)
Lotus have a "pretty good idea" of who will line up alongside Pastor Maldonado next season, says deputy team principal Federico Gastaldi. (Fox Sports Asia)
Team boss Toto Wolff believes it is not too late for Mercedes to enter a third car for 2016 should Formula 1 lose three teams over the next few weeks. (Autosport)
Great Britain's Will Stevens is optimistic he will remain with Manor in 2016 despite an increasing number of drivers competing for the seats. (Fox Sports Asia)
Lewis Hamilton took a ride on an electric unicycle as he walked his bulldog Roscoe in Miami. (Daily Mail)