Lewis Hamilton: World champion's refusal to conform is to be praised
Last updated on .From the section Formula 1412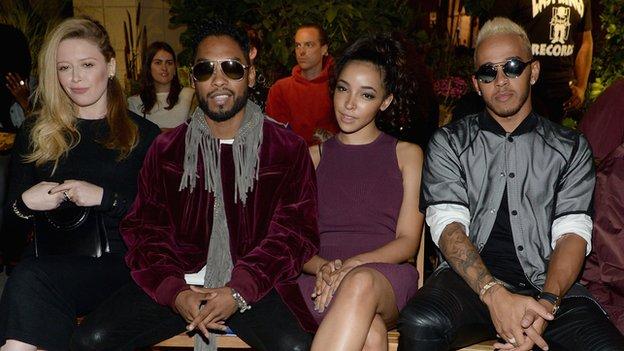 The day after I was charged with writing this feature about Lewis Hamilton, I stumbled across a documentary about Eric Bristow. And as I watched, a strange thought occurred: while Bristow had an attitude that has almost disappeared from modern sport, it is an attitude that still flickers inside Hamilton today.
Looking back from our sanitised times, it is remarkable just how authentic Bristow was. The 'Crafty Cockney', a five-time world darts champion in the 1980s, said pretty much what he wanted, when he wanted, the way he wanted. A world-class braggart who got a kick out of belittling opponents, Bristow was a one-man, fag-smoking, beer-swilling pantomime. And wasn't he great for his sport.
"People ask me how I handled Bristow," said former darts supremo Olly Croft, who oversaw darts' transformation from pub pastime to box-office juggernaut, with Bristow its thrusting figurehead. "Truth is, I didn't handle him at all."
If there is one thing there is too much of in modern sport, it is handling. Bristow couldn't be Bristow if he was playing nowadays. He couldn't afford to be. He would be handled into line - by an anxious agent and press officer, by a strict governing body, by terrified sponsors, by rules and threats and bans and fines - so that the Bristow the public saw was a diluted version of himself. 'Bristow-lite.'
Hamilton, who won his second straight Formula 1 drivers' championship in the United States on Sunday, and his third in total, is operating in a more stifling and judgmental environment than Bristow and other free sporting spirits of old. Which is why Hamilton's refusal to conform is braver.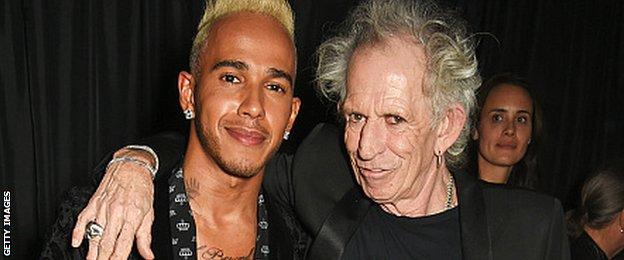 Fellow Englishman and F1 world champion James Hunt was celebrated for his outrageous public statements and love of fast women and booze in the 1970s. But Hunt was the last flowering of a less professional age. F1 today is a multi-billion pound, global industry - some would say only masquerading as a sport - meaning most of its practitioners are bland PR mouthpieces, out of necessity.
In May, after Hamilton finished second behind Mercedes team-mate Nico Rosberg in Spain, Damon Hill, a former British F1 champion from the more traditional mould, felt moved to criticise Hamilton's jet-set lifestyle.
"The impression Lewis gives is that he wants to enjoy life," said Hill, whose father Graham, a two-time world champion, was the epitome of the dashing racing driver back in the 1960s. "But his first task is to win races. It's whether you want to dedicate yourself to that task and play afterwards."
But Hamilton paid no heed. The hobnobbing with fashionistas, musicians and film stars continued, as did the piano playing, the spins in his beloved Shelby Cobra and surfing holidays in Miami, all meticulously catalogued and disseminated on social media. But still some sneered, because, well, this isn't really how a racing driver - and a British one at that - is supposed to carry on.
"He can be more of a pop idol than a racing driver," Sir Stirling Moss, often described as the best driver never to win an F1 world championship, told the Telegraph last year. "He was one of the racing crowd before, and now he's whatever you call those superstars. That's not really the way we English go."
But others in F1 think Hamilton is exactly what the sport needs. As Hill has also pointed out, F1 "exists in its own bubble, more so than it did in the past, making it more difficult for drivers to appeal to the public". And a phrase often bandied about is that F1 is "a sport for people who don't really like sport" - in other words, "car people", people more turned on by engineering than other human beings.
As such, Bobby Epstein, the man in charge of the United States Grand Prix, believes F1 should do more to promote itself as an entertainment industry, making personalities such as Hamilton, rather than hunks of metal, its main selling point.
"People pay attention to celebrity and fans relate to human beings, not metal," Epstein told BBC Sport. "Lewis is crossing that line into mainstream appeal and doing us all a favour."
Allan McNish, a former F1 driver and BBC pundit, agrees with Epstein while disagreeing with Hill's assertion that Hamilton's break-neck schedule could prove detrimental to his driving.
"Hamilton is living a motor racing life in a different way and breaking the mould of what a European F1 driver is supposed to be," says McNish. "But it's a pressure release valve for him. Some drivers are focused and dedicated on that one thing but if Hamilton doesn't have that balance, he can get unstable.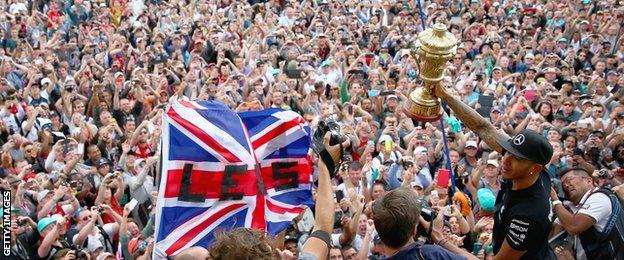 "His outside interests make him smile and if you're smiling, you're enjoying your job. And if you enjoy your job, you do it 100% better than if you don't."
Despite the smiles, plenty of people find Hamilton difficult to stomach, a bit of an oddity, whether because of his ceaseless self-promotion, his decision to become a tax exile in Monaco, his riding of an electric unicycle. Or perhaps because of his hats, because hats often seem to irk people.
Even his announcement that he is pretty much tee-total and celebrated last year's world title win with watermelon juice was greeted with dismay by the British media. Winston Churchill's quote about Labour rival Stafford Cripps sprang to mind: "He has all the virtues I dislike and none of the vices I admire."
But the assertion that Hamilton is largely "unloved" in Britain seems to be a media construct. A trawl through motorsport forums, social media and comments sections - underneath various articles proclaiming Hamilton to be unloved - reveal that the 30-year-old Englishman is actually rather popular, especially among the younger generation, both as a driver and a person.
Hamilton was also Sports Personality of the Year in 2014, winning 33% of the votes and almost 90,000 more than major-winning golfer and pre-event favourite Rory McIlroy. Don't bet against him doubling up this year. And what about that reception when Hamilton won the British Grand Prix at Silverstone in July? Your eyes did not deceive you, that was a whole lot of love emanating from 140,000 Union Jack-waving faithful.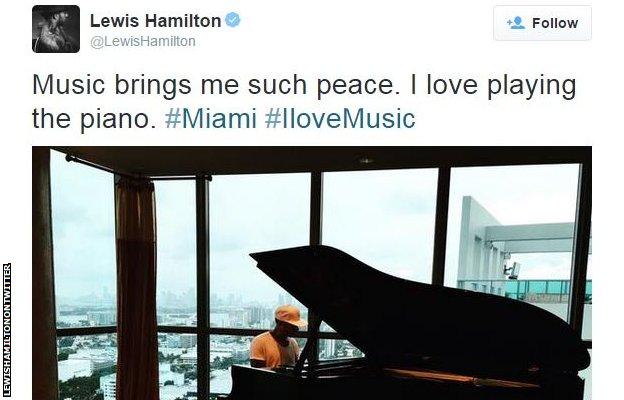 It is sometimes lazy to label critics of a successful person as envious, but in Hamilton's case it makes sense. After all, the working-class kid from Stevenage is now Britain's richest sportsperson; he drives a racing car for a living; he dates pop stars; he hangs out with Rihanna and Jay-Z. And he still finds time to play the piano better than you. For certain people, that's gonna sting like hell.
Then there are those who question Hamilton's authenticity and motives, as if his hobbies are part of some meticulously planned plot to annoy as many people as possible. But maybe he just likes going to fashion shows? Or playing the piano? Just like you like pub quizzes or pottering around an allotment or getting steaming drunk at the weekend.
As the man himself often reminds us, Hamilton is wilfully unique. But without Hamilton, F1 would be a more monochrome world. More predictable, less spontaneous - more handled.
Lobbing a cap towards a disgruntled team-mate is hardly the stuff of a gripping biopic - Hunt, for example, ironed out a marshal at the 1977 Canadian Grand Prix - but in the scripted world of modern sport, it was spontaneous enough to generate plenty of frothy reaction.
Being yourself in modern sport looks different to how it did in Bristow's day. And takes more courage. Which is why Hamilton's determination to live life how he wants, rather than how anyone else thinks he should, is something to be applauded. As well as the fact he's a damn good driver.