Lewis Hamilton: Matching Senna's three world titles 'humbling'

By Andrew Benson
Chief F1 writer in Austin
Last updated on .From the section Formula 1
Lewis Hamilton said his World Championship win was the most important of his career after matching childhood hero Ayrton Senna's three titles.
Hamilton won the US Grand Prix in Austin, Texas, after a late error by Mercedes team-mate Nico Rosberg.
"The last two times were really climactic in the last race. This one still feels just as special if not more special," said the 30-year-old Briton.
"It has kind of topped last year for me - it's equalling Ayrton," he added.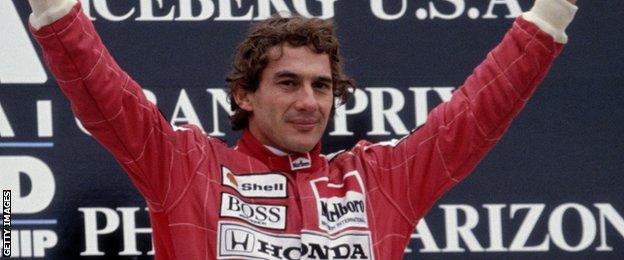 Hamilton said that his career aim had always been to match the achievements of the great Brazilian, who was killed in a crash in the 1994 San Marino Grand Prix.
Hamilton, who now has 43 career victories compared to Senna's 41, said: "It is a very humbling experience to equal Ayrton Senna who inspired me and still does today.
"For me the target was always to get the three Ayrton had. I don't know what's coming next. There is no-one else I want to equal or emulate.
"I feel like I have the baton now for myself and Ayrton and I will carry it as far as I can and see where I can build it.
"As a driver you want to win everything you compete in, to perform at your best and hopefully better than everyone else. When you win a title that signifies I guess your greatness and the people around you."
Hamilton also dedicated his third world title to his family.
"I'm just overwhelmed," Hamilton said. "It's really difficult to find the words.
"It's just crazy to think I am now a three-time champion. I owe it all to my dad and family who sacrificed it all to see me here."
Hamilton won his third title with three races still remaining this season.
And after his 10th victory of 2015, he still has a chance to equal the record number of wins in a season - 13, held by Sebastian Vettel and Michael Schumacher.
Niki Lauda, the non-executive chairman of Hamilton's Mercedes team and a three-time world champion himself, said the Briton would "get better and win more".
Team boss Toto Wolff added: "Lewis deserves the world championship, he was brilliant in his driving."
Hamilton's great rival Fernando Alonso, the driver the Englishman respects most on the grid, was one of many to offer his congratulations.
"Really strong performance, well deserved," the two-time champion said.
"Fantastic. Congratulations. He dominated all season. Last year Nico was a little closer and gave him a little bit more of a fight but this year it was not a fight. Lewis was very strong from the beginning of the year."
Alonso's McLaren team-mate Jenson Button, the 2009 world champion, said: "Congratulations to Lewis. Great job.
"The team are in another category at the moment, they are doing such a good job. But fair play to Lewis, he has not put a foot wrong and he has come away on top."
United States GP coverage details