Lewis Hamilton: Nico Rosberg says team-mate was 'aggressive'

By Andrew Benson
Chief F1 writer in Austin
Last updated on .From the section Formula 1
Nico Rosberg has criticised Mercedes team-mate Lewis Hamilton for his driving at the start of the title-deciding US Grand Prix.
Hamilton ran Rosberg wide as they disputed the lead at the first corner and the German dropped down to fourth.
"Turn One was for sure very, very aggressive," Rosberg said. "Extremely aggressive and we hit each other.
"Or should I say Lewis came into me, so that's not good. I can't say more than that until I have seen it again."
Hamilton responded: "It was very close with Nico at the beginning. It wasn't intentional. We both braked deep and there is no grip there and he was turning and I wasn't turning."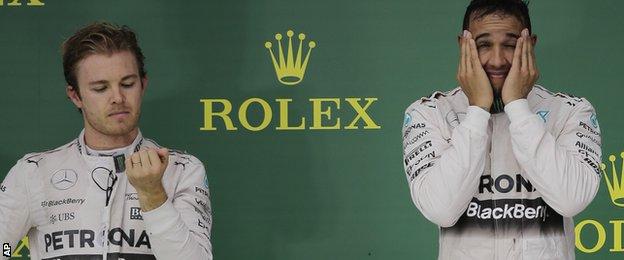 The race started on a wet track which dried progressively through the duration of the event.
Hamilton clinched his third world title after Rosberg gifted him the lead with a mistake late in the race. Had Rosberg not run wide at Turn 13, Hamilton would have had to fight to pass him to clinch the title.
The mistake came as Rosberg ran on to a still-damp part of the track, which had by then largely dried following heavy rain through Friday, Saturday and Sunday morning as Austin caught the periphery of tropical storm Patricia.
Rosberg said: "It has never happened to me ever something like that; I can't explain it. I just need to look into it afterwards. It was really tough at the time to lose the lead like that and the win."
Hamilton said of the incident: "I had the same issue as he did. I didn't go off, but I had wheelspin when I was changing a switch out of that corner so I can sympathise."
Had Rosberg held on to win, the title fight would have gone at least on to the next race in Mexico this coming weekend.
The two Mercedes drivers were involved in what appeared to be a minor altercation after the race in the room where they prepare to go out on to the podium.
Hamilton tossed Rosberg the cap he wins for second place in the race, only for Rosberg to throw it back at him.
Rosberg dismissed the incident as "just some games, nothing more".
Hamilton said he had not meant to cause offence.
United States GP coverage details