Lewis Hamilton has achieved greatness in Formula 1

By Andrew Benson
Chief F1 writer
Last updated on .From the section Formula 1614
Lewis Hamilton's consistent excellence in 2015 has largely deprived the season of the tension and excitement that brings Formula 1 championships alive. So it was ironic that it was all there and more in the race in which he finally clinched his third world title.
The podium in Austin, Texas, had a very familiar feel, with Hamilton on the top step flanked by Mercedes team-mate Nico Rosberg and Ferrari's Sebastian Vettel, but what led to it was the best grand prix of the season.
Hamilton, as ever, was right at the heart of it, but the achievement of which he has dreamt since he was a small boy slipped in and out of his grasp as the race ebbed and flowed.
Had it not been for a second and final safety car period, Hamilton would have faced a very tough battle for the win with Rosberg that he may well have lost.
On tyres 20 laps older than Rosberg's, Hamilton would almost certainly have been at this team-mate's mercy. Although such is the disparity between their abilities in wheel-to-wheel racing that you would not necessarily have bet on it.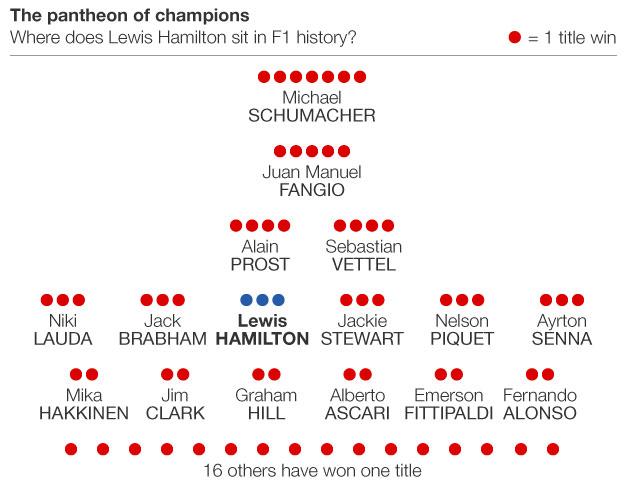 But a final safety car of a thrillingly topsy-turvy race turned things back in Hamilton's favour.
After Daniil Kvyat creamed his Red Bull into the barriers between Turns 19 and 20 with 14 laps to go, Hamilton was able to fit the fresh tyres that Rosberg had been given and he had not under the previous virtual safety car a few laps before. And now it was the German's turn to feel the pressure.
Not for the first time in these two seasons in which the Mercedes team-mates have disputed the title, Rosberg buckled.
Now Hamilton was the one closing in. Coming out of Turn 12, Rosberg wandered too far on to the damp patch of track on the outside on the approach to the next corner, lost traction and then control and ran wide. The lead - and the win and thus the title - was Hamilton's.
In truth, it always was.
A season of utter superiority
Hamilton, as his great rival Fernando Alonso put it after the race, has "dominated" this season - and that includes his performance relative to the only man who has the same car as him, and thus the only man who in this Mercedes era can challenge him.
There was always the chance that finally ending a seven-year drought and winning his second title last year would allow Hamilton to relax and move him on to another level, and that is what appears to have happened.
Comfortable in the Mercedes team, and within himself - partly because of the team's willingness to let him be who he wants to be, in stark contrast to the controlling nature of Ron Dennis at his previous team, McLaren - Hamilton has driven at a level this season few ever achieve.
Blindingly fast as ever, controlled, consistent, calm, serene. From the moment Hamilton took pole and victory in the opening race in Melbourne back in March, the season has surrendered itself to him, and only rarely has Rosberg looked even the vaguest of threats.
Hamilton has racked up 10 wins in 16 races - and really it should be 11, had it not been for the strategy mix-up that cost him a Monaco Grand Prix in which he was utterly supreme until a miscalculated late-race stop under the safety car handed the win to Rosberg.
That hurt - every bit as much as what Hamilton viewed as his team-mate's duplicity in Monaco the previous year. But there has been a serenity to Hamilton in 2015 that was missing in 2014 and the steamroller was barely hindered.
The foundation of the season was Hamilton's 11 poles in the first 12 races, which he converted into seven wins.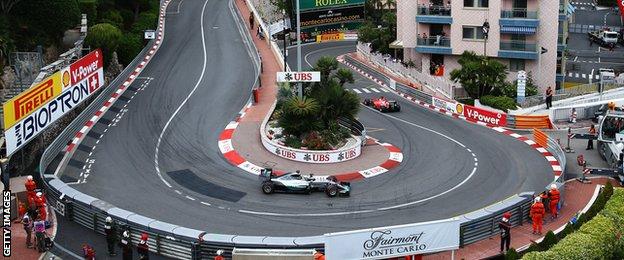 Rosberg has stemmed that run, with three poles of his own in the last three races. But he has converted none of them into wins, and therein lies the fundamental difference between the two men.
Hamilton has quite simply been too good for Rosberg in 2015 and right now it is hard to see what the German can do about it.
Hamilton has rivals in F1, drivers who can perform at close to or at his level often enough to challenge him over a season.
But Alonso, Vettel, Daniel Ricciardo and Jenson Button are all at other teams, and therefore do not at this stage have the machinery to take him on.
Winning a third title puts him in rarefied company and there will be a lot of talk now about him "joining the greats".
To this writer's mind, the greatness of an F1 driver is about much more than statistics. The sport depends too much on machinery for it to be that simple.
But however you measure it, Hamilton has now achieved that status beyond any doubt at all.
The Rosberg mystery
For much of the US Grand Prix, Rosberg was driving "like a champion", as BBC F1 co-commentator David Coulthard put it at the time.
He had been mugged at the first corner by Hamilton, who despite Rosberg's protestations did absolutely nothing wrong in forcing his team-mate out wide, even if the move was as tough as one has come to expect.
What is slightly mystifying is that Rosberg keeps putting himself in these positions and does not seem to learn from them.
Time and again he has found himself on the outside of Hamilton in such situations, and the same thing happens over and over again - Hamilton takes the line, as he is entitled to do, and Rosberg loses the place and, quite often, others as well. Just as he did here.
But after that - and until his final, decisive, error - Rosberg was highly impressive. In the way he can be from time to time, but has not yet proved he can maintain.
Having dropped back to fourth in that incident, behind the two Red Bulls of Kvyat and Ricciardo, Rosberg got himself back in contention superbly.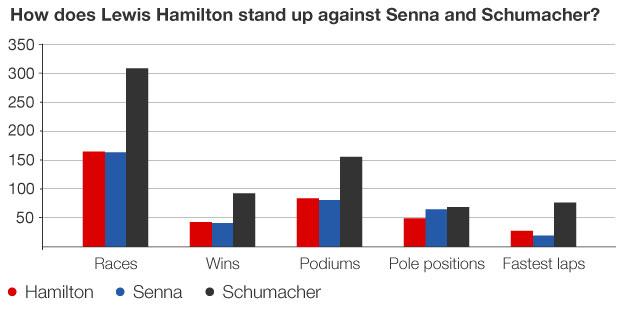 He opportunistically passed Ricciardo at the re-start after the first virtual safety car period, quickly dispatched Kvyat and pushed Hamilton until the first pit stops, even as both were then passed by Ricciardo on the still-wet track.
He emerged from the first pit stops ahead of Hamilton and was in the lead as the track went from mostly damp to mostly dry, and held it despite pressure from his team-mate for nearly 20 laps until he and his engineer made the right call to stop under the second virtual safety car.
The second real safety car gave the advantage back to Hamilton, but Rosberg was still in the lead and therefore in control when he threw it all away.
In pure speed, on one lap, there is not a lot to choose between them. But being a great F1 driver is about much more than just pace, and it is in the other areas that Rosberg lacks - race-craft, handling pressure, consistency.
He made a fight of last season because Hamilton had a series of problems that kept holding him back. But this year has been more straightforward and the gulf between the pair has as a consequence been more apparent.
So until Mercedes' rivals can close what remains a chasm between them and the champions even larger than that between the drivers of the silver cars, many more seasons will surrender to Hamilton in the way this one has.
United States GP coverage details