Formula 1 gossip: Hamilton, Rosberg, Alonso, Massa, Ricciardo
Last updated on .From the section Formula 1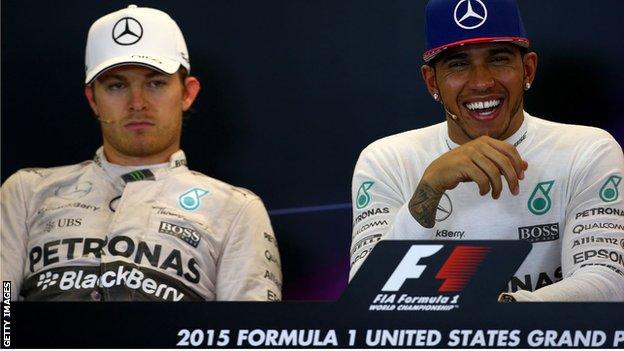 Thursday, 29 October
Two-time world champion Mika Hakkinen has backed Lewis Hamilton in his row with Nico Rosberg after the Mercedes team-mates' cars touched on the first corner of the United States Grand Prix. Hakkinen said: "When I think about how I would have behaved as a two-time champion in the hunt for a third, I would also have gone to the limit." (Autoweek)
Formula 1 cars look set to match, or even exceed, the highest top speeds of the season at the Mexican GP, according to early simulation data. (Motorsport)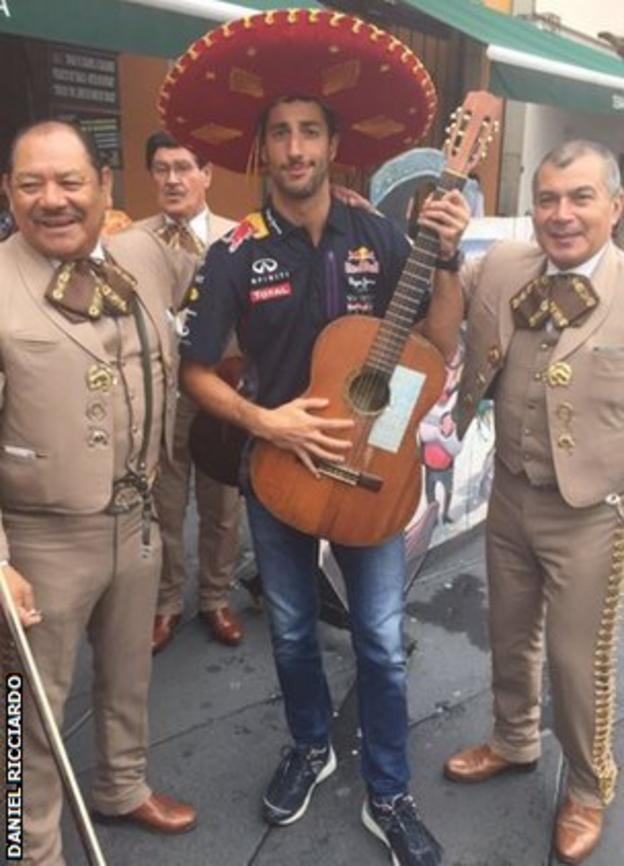 The wet weather at the United States GP, which contributed to the lowest race-day crowd in the four-year history of the race in Texas, has caused financial problems for the organisers. Circuit of The Americas chairman Bobby Epstein said it was "a financially devastating weekend for the company". (Fox Sports)
Several drivers have been in a musical mood before this weekend's grand prix. Red Bull's Daniel Ricciardo posted a picture on Twitter of him wearing a sombrero with a guitar, while Williams pair Valtteri Bottas and Felipe Massa were pictured playing violins.
Nico Rosberg will seek advice from father Keke, the 1982 world champion, on the Autodromo Hermanos Rodriguez track in Mexico City. (F1i.com)
Fernando Alonso believes it is realistic for McLaren to improve their speed by 2.5 seconds over the winter to be competitive next year. (Eurosport)
Force India boss Vijay Mallya, whose team are fifth in the constructors' championship, says they can finish in the top four in 2016. (Formula1.com)
There is nothing worse for a Formula 1 driver than to be stuck in traffic. Lotus's Romain Grosjean tweeted: "Just landed in Mexico. People are very welcoming but traffic is terrible."
Lewis Hamilton is in "the top five" of the sport's world champions, according to F1 boss Bernie Ecclestone. (F1i.com)
Felipe Massa is having fun in Mexico before this weekend's Mexican GP. He posted a picture on Instagram and wrote: "Drove the 007 Jaguar CX75 here in Mexico. Fantastic! Williams advanced engineering made this car. Take care James Bond..."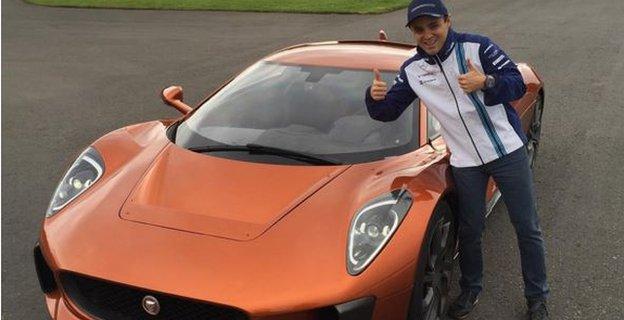 Wednesday, 28 October
F1 legend and Mercedes non-executive chairman Niki Lauda says Nico Rosberg is more upset at "screwing up" the chance to prevent team-mate Lewis Hamilton claiming the title at the US Grand Prix than their turn one clash. (Motorsport.com)
Ferrari are not impressed by their rivals' pit lane antics to entertain fans during the rain delays in Austin, with team boss Maurizio Arrivabene stating: "We are a Formula 1 team, not the Cirque du Soleil." (ESPN)
Williams will lose financial backing from one of Finnish driver Valtteri Bottas' personal sponsors at the end of the season. (Inautonews.com)
Force India driver Sergio Perez raced a virtual lap of this weekend's Mexico Grand Prix circuit as he prepares to become the first Mexican to compete at home since Pedro Rodriguez in 1970. (Formula1.com)
Former McLaren driver Kevin Magnussen is not giving up on reclaiming a Formula 1 seat for 2016 despite plans to test Porsche's Le Mans-winning prototype sports car next month. (Inautonews.com)
Fernando Alonso has already touched down in Mexico and paid a visit to the Honda plant in Celaya. (@fernandoalo_oficial)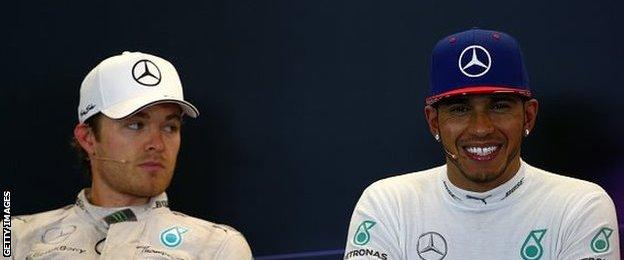 Tuesday, 27 October
Mercedes may be playing down the dispute between their drivers but Nico Rosberg still wants clarity from Lewis Hamilton on their first corner scrap at the US Grand Prix. And the German insists losing the 2014 title in Abu Dhabi was more painful than this year's championship. (Autosport.com)
Jenson Button's wait to use the updated Honda engine goes on as McLaren tries to diagnose why teammate Fernando Alonso's power unit on the new model failed in the closing stages of another frustrating grand prix for the team. (Motorsport.com)
Sebastian Vettel asks the obvious question about his championship hopes and Daniel Ricciardo is warned about "going bananas" in the best of race radio from the US Grand Prix. (Formula1.com)
Despite being currently 200 points behind Mercedes in the constructor's title, Vettel claims Ferrari have "largely exceeded expectations" this season. (F1i.com)
Kimi Raikkonen is seeking consistency from Formula 1 officials in their rulings on driving standards after his tussle with Max Verstappen in Austin. (Autosport.com)
Australian driver Ricciardo was quick to embrace all things American at the weekend, donning a cowboy hat to keep dry in Austin. (@redbullracing)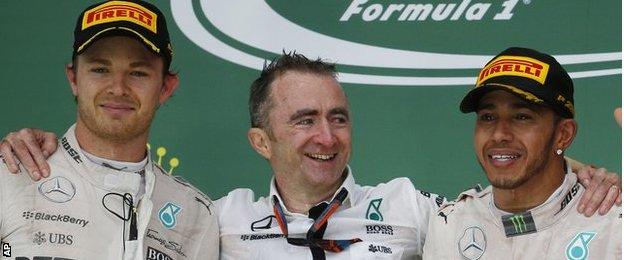 Monday, 26 October
Ferrari vetoed F1 cost-reduction measures that included a proposal to set a maximum price for the engines and gearboxes manufacturers supply to customer teams, the International Automobile Federation have said. (Reuters)
Mercedes boss Toto Wolff has promised 'full blast, free racing' between his drivers, Lewis Hamilton and Nico Rosberg, for the rest of the Formula 1 season now the world championship has been settled in the former's favour.(Motorsport.com)
Hamilton is cultivating a "rock star status" that could see him achieve a global brand matching that of Tiger Woods, according to F1 marketing and sponsorship executive Zak Brown. (Inautonews.com)
Rosberg put his disappointment at losing out to team-mate Hamilton in the race for the title by singing karaoke in a bar in Austin after the US Grand Prix. His performance was captured on video and posted online by fans.(Eurosport)
Racing director Eric Boullier says McLaren remains steadfast in its view that its relationship with Honda should remain an exclusive one amidst speculation the Japanese firm could supply Red Bull in 2016. (Crash.net)
Ross Brawn insists there remains hope that his close friend, seven-time world champion Michael Schumacher, can recover from the serious head injury he suffered during a skiing accident in December 2013.(Daily Mirror)