Lewis Hamilton praises 'slippery' Mexican Grand Prix 'go-kart' track
Last updated on .From the section Formula 1
Mexican Grand Prix coverage details
Venue:
Autodromo Hermanos Rodriguez
Dates:
30 Oct - 1 Nov
Coverage:
Live text and radio commentary, plus TV highlights of the race.
Full details here.
Lewis Hamilton described the new Mexican Grand Prix circuit as "challenging for everyone but fun".
The new champion joined drivers in remarking on the lack of grip of Mexico City's track but praised the atmosphere created by thousands of fans.
He said: "It's crazy how slippery it is, just sliding around, a bit like a go-kart track in the slow areas."
Hamilton and others praised the last part of the track, which winds through a stadium with steep grandstands.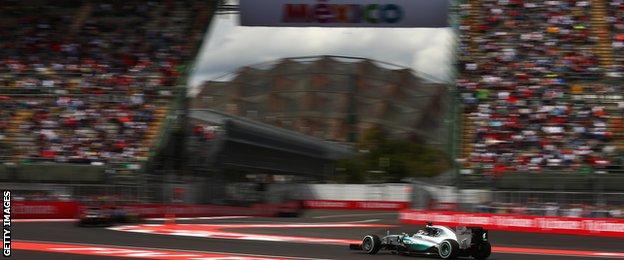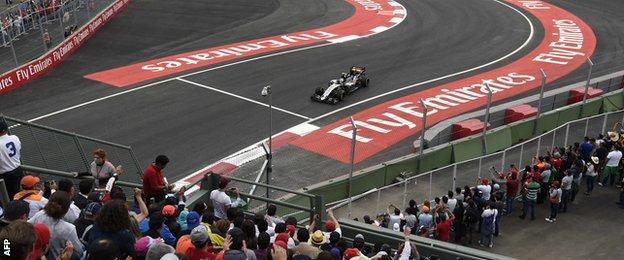 "Lots of people for a Friday," Hamilton said. "Fantastic. Hopefully there will be even more over the weekend."
Hamilton, who has won 10 races so far this season on his way to clinching his third world title, still has a chance to equal the record for number of wins in a season over the remaining three races.
But he said he was "not at all" interested in that, saying his target was "the same as usual - just go out and try to be as quick as I can".
This Sunday's race will be live on BBC radio 5 live and the BBC Sport website from 17:30 GMT.
Hamilton was fourth fastest in second practice at the Autodromo Hermanos Rodriguez, which has been remodelled since it last hosted a Formula 1 Grand Prix in 1992.
The track is at an altitude of 2,285 metres (7,500 feet), which means the cars' aerodynamics work less effectively than at circuits with a lower elevation because of the thinner air.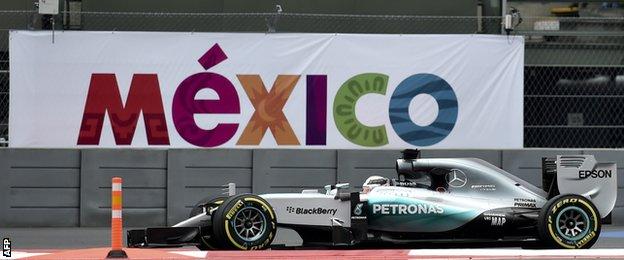 Hamilton's Mercedes team-mate Nico Rosberg, who was fastest ahead of the Red Bull drivers Daniil Kvyat and Daniel Ricciardo, said: "It is great to learn a new track. They have done a good job.
"It is so high up, it is like a ski station in Europe. The air is very thin and even down the straights there is no resistance, so we have the Monaco rear wing on the car but we're doing Monza speeds."
Rosberg's thin hopes of delaying Hamilton's coronation as champion died following a mistake in the closing stages of the US Grand Prix last weekend.
He ran wide while leading and handed the lead and eventual victory to Hamilton, who therefore scored enough points to put the title out of his rivals' reach.
With the races in Mexico, Brazil and Abu Dhabi to go, Rosberg lies second, four points behind Ferrari's Sebastian Vettel.
Asked if his motivation was now securing second place in the championship, Rosberg said: "That is not my motivation. It is beating the guy next to me [Hamilton]."
New Mexico - what has changed?
Formula 1 returns to Mexico City after a 23-year hiatus and although it is to the same track, it is largely unrecognisable.
The Autodromo Hermanos Rodriguez was notorious during its first run as host of the Mexican Grand Prix for two things - terrible bumps and the incredibly demanding 180-degree, super-fast banked final corner, the Peraltada.
Both are now long gone. The bumps have been replaced by a billiard-smooth, standard-issue, 21st Century F1 asphalt and Peraltada, where Nigel Mansell pulled perhaps his greatest ever overtaking manoeuvre around the outside of Gerhard Berger's McLaren in 1990, has bowed to safety.
Now, the track turns right just before it into a fiddly 'Stadium' section, where the circuit runs between grandstands, before rejoining the old track halfway around the old corner, now named for Mansell.
Atmosphere-wise, packed with the expected full house of more than 100,000, it will be something else. But a piece of magic has been lost as a result.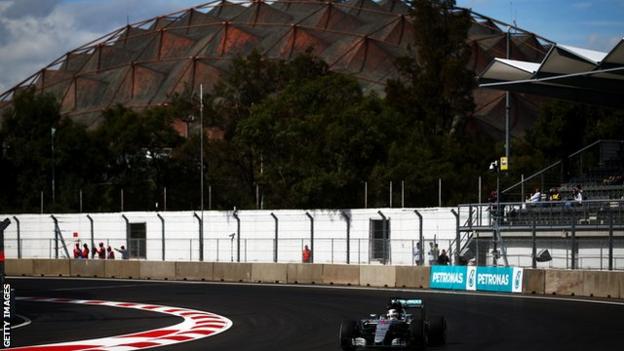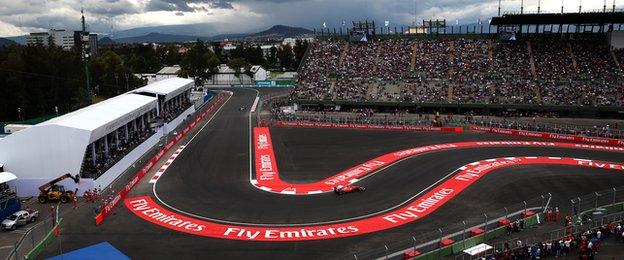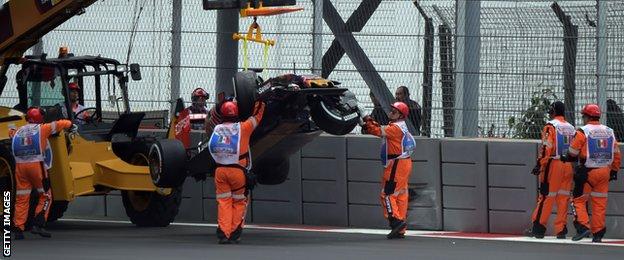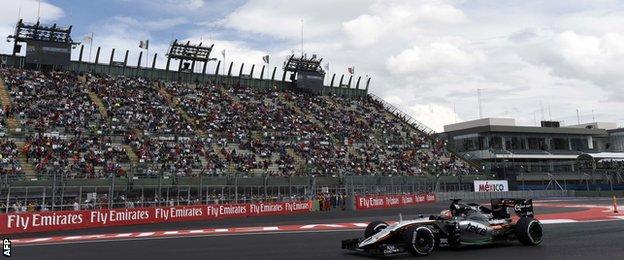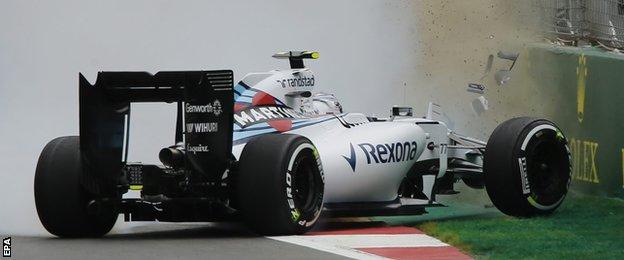 Mexican Grand Prix coverage details