Formula 1 gossip: Vettel, Maldonado, Massa, Kvyat
Last updated on .From the section Formula 1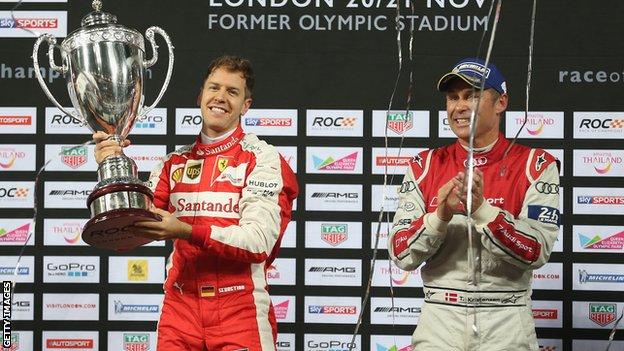 Sunday, 22 November
Sebastian Vettel was crowned Champion of Champions at the 2015 Race of Champions at the Olympic Stadium in London. The race features some of the world's best racing and rally drivers going head-to-head in identical cars. Four-time F1 world champion Vettel defeated nine-time Le Mans winner Tom Kristensen to take the title. (Sky Sports)
Lotus driver Pastor Maldonado has refused to take the blame for his clash with Sauber's Marcus Ericsson at the Brazilian Grand Prix, saying "rubbing's racing". (NBCSports)
Felipe Massa says Williams need to increase the development on their car if they are to compete for titles. (ESPN)
Sauber team principal Monisha Kaltenborn is wary of the threat posed by Manor and new team Haas next season. (F1i.com)
Red Bull driver Daniil Kvyat says he misses the feeling of winning races as he prepares to return to the Yas Marina circuit in Abu Dhabi, where he was victorious in GP3 in 2013 (Crash.net)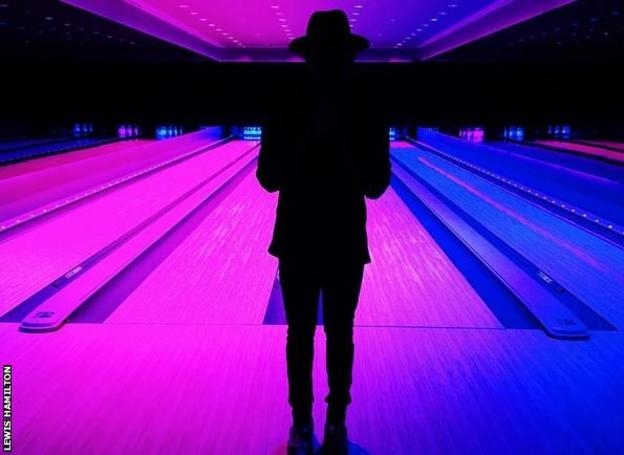 Saturday, 21 November
Toro Rosso driver Carlos Sainz says he was "angry" at the latest reliability problems he suffered during the Brazilian Grand Prix. (Autosport)
Romain Grosjean is preparing himself for an emotional final F1 race with Lotus in Abu Dhabi before his move to the Haas team in 2016. (NBC Sports)
Mercedes driver Nico Rosberg shared a selfie with his pet labrador, Bailey. He tweeted: "He's grown."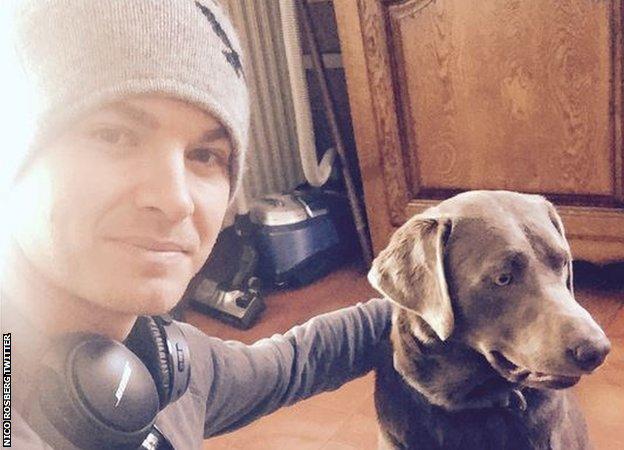 Lotus deputy team principal Federico Gastaldi says a potential return of the Argentina Grand Prix in his homeland rests largely in the hands of Bernie Ecclestone. (gpupdate.com)
Cosworth Engineering has decided not to attempt to supply engines in F1 in 2017 because of the costs involved.(Motorsport.com)
Friday, 20 November
Former F1 champion Fernando Alonso believes next year's Honda engine used by McLaren can be competitive and their unique approach will mean that they will be 'impossible for rivals to copy'.(Autosport)
Champion Lewis Hamilton says that Ferrari are now "very, very close" to matching Mercedes for performance.(Crash.net)
Red Bull driver Daniel Ricciardo is keen on a move to Nascar racing in the US after his F1 career ends.(Motorsport)
Sebastian Vettel is keen to emulate current Ferrari team-mate Kimi Raikkonen by racing in rallying one day.(ESPN)
Thursday, 19 November
Spanish Grand Prix venue Circuit de Barcelona-Catalunya will be the only venue to host pre-season testing in 2016 with the track scheduled to host two tests.(Planet F1)
Mexican teenager Alfonso Celis has joined Force India as a development driver and will take part in seven practice sessions next year. (Eurosport)
Kimi Raikkonen has faith that Ferrari will make a good step with its car in 2016, but says there are no guarantees it will beat Mercedes. (Motorsport)
Mercedes is taking the threat from Ferrari next year very seriously, admitting it is evaluating 2016 developments to hold off "clever" Ferrari. (ESPN)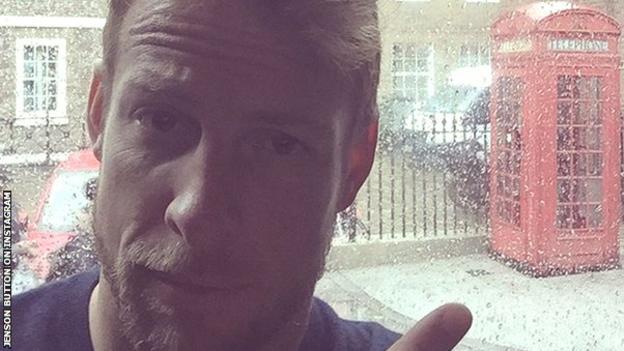 Jenson Button posted a picture of himself in front of a red telephone box and posed the question: "Where could I possibly be?"
Alex Wurz has not ruled out an eventual move into Formula 1 team management following his rejection of the top job at Manor Grand Prix. (Autosport)
Honda could engage more external consultants for their F1 engine project. (Michael Schmidt via In Auto News)
Wednesday, 18 November
Ferrari team principal Maurizio Arrivabene says his "honest expectation" is for the Italian team to "be in front of" Mercedes in 2016. (ESPN)
The Lotus F1 team, who are expected to be taken over by Renault, are "very confident" in the progress being made with their 2016 car, says deputy team principal Federico Gastaldi. (F1i.com)
Formula 1 drivers allowed to choose their own strategies would "lose every single race", says Mercedes team boss Toto Wolff. (Autosport)
Mercedes executive director Paddy Lowe believes Lewis Hamilton and Nico Rosberg are the most dominant driver pairing since Ayrton Senna and Alain Prost at McLaren from 1988-89. (Adam Cooper's F1 blog)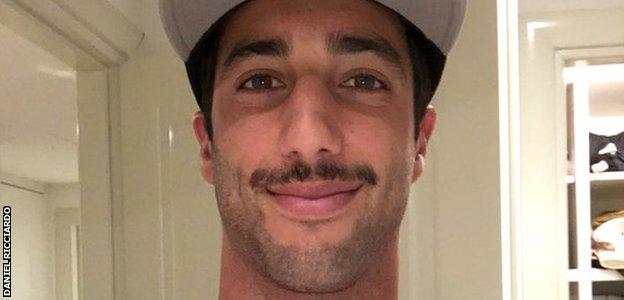 The organisers of the United States Grand Prix have been given more time to pay the hosting fee for this year's race by F1 chief executive Bernie Ecclestone, after a decrease in state financial support put the race's future in doubt. (Austin American-Statesman)
Red Bull's Australian driver Daniel Ricciardo posted a picture of his developing moustache which is "coming along nicely" as he raises money during 'Movember'.
Tuesday, 17 November
Watch manufacturer Tag Heuer will end its 30-year sponsorship of McLaren at the end of the season and switch to rivals Red Bull. (Eurosport)
Sauber Formula 1 team chief Monisha Kaltenborn says it was "very, very annoying" that Lotus driver Pastor Maldonado was again involved in an on-track collision during the Brazilian Grand Prix. (Autosport)
Spain's double world champion Fernando Alonso says McLaren is "the right place" for him, believing they will come back strongly next year. (Crash.net)
Renault says its upgraded engine failed to deliver at the Brazilian Grand Prix - with the manufacturer now working on ways to improve the unit's performance. (Sky Sports)
Nico Rosberg says Mercedes team-mate and world champion Lewis Hamilton "looks for excuses" when he does not win grands prix. (Gazzetta)
Fresh from finishing ninth at the Brazilian Grand Prix, Toro Rosso's 18-year-old driver Max Verstappen spent a day karting. (Max Verstappen Twitter)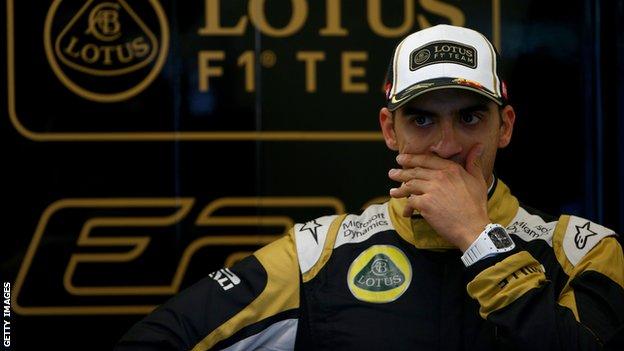 Monday, 16 November
Nico Rosberg says Mercedes are right to keep both drivers on the same strategy in races because it ensures he and Lewis Hamilton can fight "man against man" and on a completely equal footing. (Formula1.com)
Mercedes' head of motorsport Toto Wolff thinks there is a possibility Rosberg's recent revival has been sparked by a new "angry" mindset adopted by the 30-year-old in the wake of his tussle with Lewis Hamilton in Austin at the United States Grand Prix. (ESPN)
Hamilton has been told by Mercedes that they will not change their policy on strategy despite the Briton, 30, ruing a "boring" Brazilian Grand Prix. (Daily Mail)
The Renault Formula 1 engine which Red Bull's Australian driver Daniel Ricciardo took a grid penalty for during the Brazilian Grand Prix weekend was only a partial upgrade. (Autosport)
Renault Sport F1 director of operations Remi Taffin says their latest power unit specification "did not deliver the expected improvements in performance" in Brazil. (F1i.com)
Ferrari team principal Maurizio Arrivabene has criticised the decision to hold the forthcoming post-season Abu Dhabi tyre test behind closed doors. "I would open it up completely to the media - F1 needs any advertising it can get, not testing behind closed doors," he said. (Speed Week via GrandPrix.com)