2015 Formula 1 season in numbers - Stats you need to know
Last updated on .From the section Formula 1
It has been another eventful Formula 1 season, with Lewis Hamilton once again emerging as world champion after an, at times, fraught battle with Mercedes team-mate Nico Rosberg.
BBC Sport has compiled the key numbers for the 2015 season, with a strong focus on Hamilton and Rosberg as well as some interesting statistics about the other drivers.
Find out who was the best starter, which driver accumulated the most penalties and plenty more besides.
LEWIS HAMILTON
43:
Overall race wins, the most by a British driver
10:
Wins this season (one fewer than 2014 but only Sebastian Vettel and Michael Schumacher have more in a season, having managed 13 in 2013 and 2004 respectively)
16:
World championships won by British drivers (Mike Hawthorn, 1958; Graham Hill, 1962, 1968; Jim Clark, 1963, 1965; John Surtees, 1964; Sir Jackie Stewart, 1969, 1971, 1973; James Hunt, 1976; Nigel Mansell, 1992; Damon Hill, 1996; Lewis Hamilton, 2008, 2014, 2015; Jenson Button, 2009).
MORE HAMILTON STATS
He is the only driver to win at least one race in his first nine seasons in F1. Alain Prost, Michael Schumacher and Sebastian Vettel all raced for parts of a season before going on a similar run. Prost took part in 11 races in 1980 before winning every year from 1981 to 1990 while Schumacher took part in six races in 1991, before winning every year from 1992 to 2006.
The only drivers to have won more grands prix than Hamilton are Schumacher (91) and Prost (51). In 2015, he overtook Ayrton Senna (41) and Vettel (42)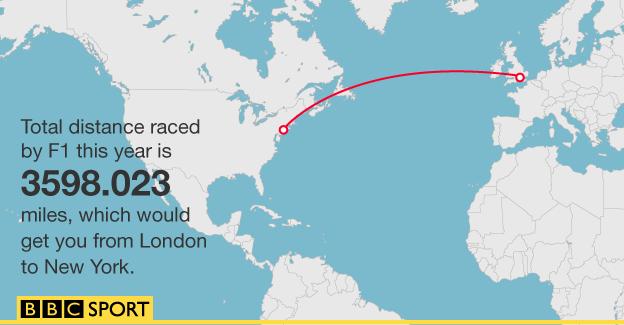 MERCEDES
16:
Race wins for Mercedes (Equalling record from last season. The next best is 15 for McLaren in 1988 (16-race season), Ferrari in 2002 (17-race season) and Ferrari in 2004 (18-race season)
18:
Pole positions for Mercedes (equalling record from last season, shared with Red Bull in 2011 - also a 19-race season)
CONSTRUCTORS
Biggest improvement in 2014:
Ferrari won 428 points in 2015 and finished second in the constructors' championship. In 2014 they managed 216 points, their worst season in F1 for more than 20 years.
Biggest drop in 2014:
Last year Red Bull won 405 points and finished second in the constructors' championship. In 2015 they scored only 187 points and finished fourth, failing to win a race for the first time since 2008.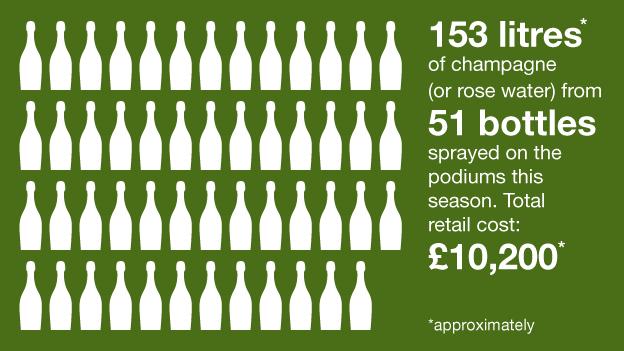 2015 DRIVER STATS
LEWIS HAMILTON

GRAND PRIX
GRID POSITION
RACE RESULT
RACE POINTS
TOTAL POINTS

Australia

1

1

25

25

Malaysia

1

2

18

43

China

1

1

25

68

Bahrain

1

1

25

93

Spain

2

2

18

111

Monaco

1

3

15

126

Canada

1

1

25

151

Austria

1

2

18

169

Britain

1

1

25

194

Hungary

1

6

8

202

Belgium

1

1

25

227

Italy

1

1

25

252

Singapore

5

Retired

0

252

Japan

2

1

25

277

Russia

2

1

25

302

United States

2

1

25

327

Mexico

2

2

18

345

Brazil

2

2

18

363

Abu Dhabi

2

2

18

381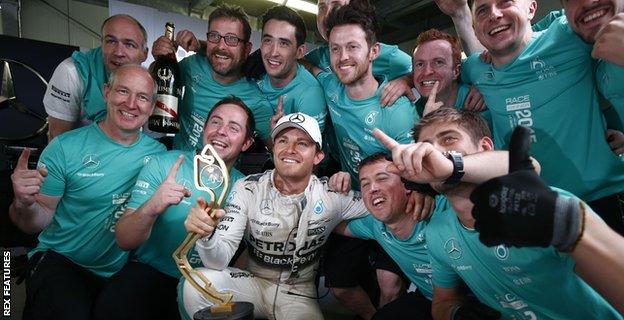 NICO ROSBERG

GRAND PRIX
GRID POSITION
RACE RESULT
RACE POINTS
TOTAL POINTS

Australia

2

2

18

18

Malaysia

3

3

15

33

China

2

2

18

51

Bahrain

3

3

15

66

Spain

1

1

25

91

Monaco

2

1

25

116

Canada

2

2

18

134

Austria

2

1

25

159

Britain

2

2

18

177

Hungary

2

8

4

181

Belgium

2

2

18

199

Italy

4

Retired

0

199

Singapore

6

4

12

211

Japan

1

2

18

229

Russia

1

Retired

0

229

United States

1

2

18

247

Mexico

1

1

25

272

Brazil

1

1

25

297

Abu Dhabi

1

1

25

322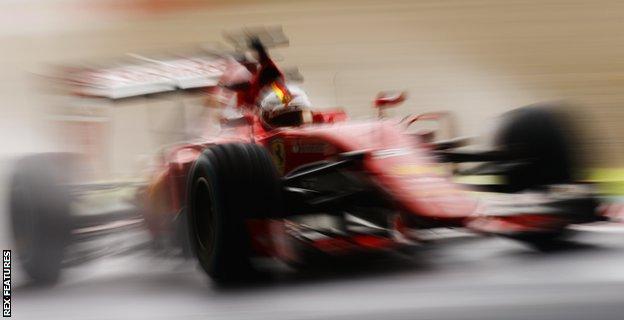 SEBASTIAN VETTEL

GRAND PRIX
GRID POSITION
RACE RESULT
RACE POINTS
TOTAL POINTS

Australia

4

3

15

15

Malaysia

2

1

25

40

China

3

3

15

55

Bahrain

2

5

10

65

Spain

3

3

15

80

Monaco

3

2

18

98

Canada

16

5

10

108

Austria

3

4

12

120

Britain

6

3

15

135

Hungary

3

1

25

160

Belgium

9

12

0

160

Italy

3

2

18

178

Singapore

1

1

25

203

Japan

4

3

15

218

Russia

4

2

18

236

United States

4

3

15

251

Mexico

3

Retired

0

251

Brazil

3

3

15

266

Abu Dhabi

16

4

12

278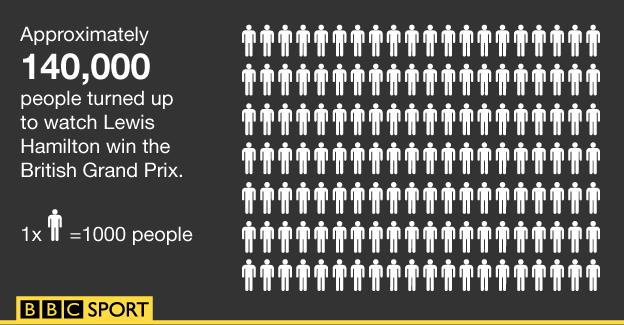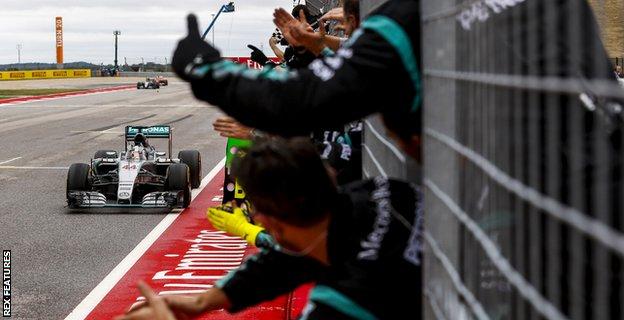 WINS

Lewis Hamilton

10

Nico Rosberg

6

Sebastian Vettel

3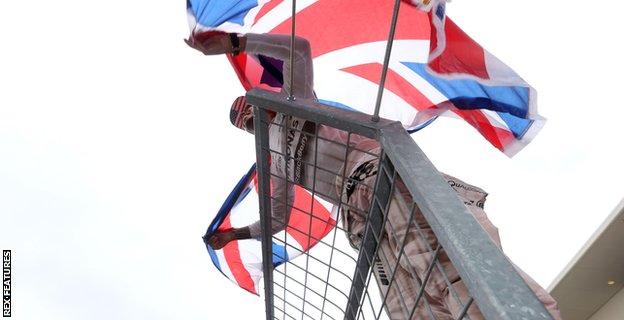 POLE POSITIONS

Lewis Hamilton

11

Nico Rosberg

7

Sebastian Vettel

1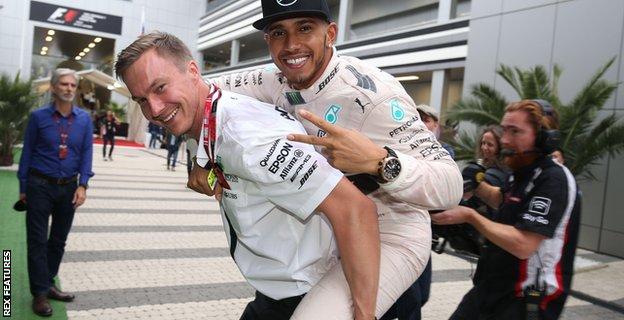 FASTEST LAPS

Lewis Hamilton

8

Nico Rosberg

5

Daniel Ricciardo

3

Kimi Raikkonen

2

Sebastian Vettel

1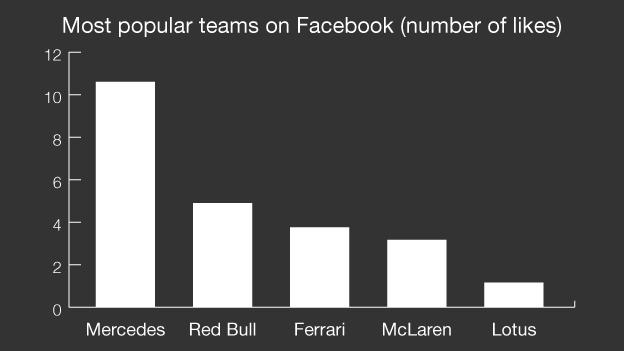 PENALTIES

Due to driver
Due to team
No action

Fernando Alonso

2

11

2

Jenson Button

1

9

2

Carlos Sainz

7

3

3

Daniil Kvyat

5

4

1

Kimi Raikkonen

5

4

4

Max Verstappen

4

5

3

Pastor Maldonado

8

0

1

Romain Grosjean

4

3

2

Daniel Ricciardo

1

5

3

Valtteri Bottas

2

3

2

Nico Hulkenberg

5

0

2

Sebastian Vettel

3

1

5

Felipe Massa

1

2

0

Sergio Perez

3

0

1

Will Stevens

1

2

1

Roberto Mehri

2

1

1

Lewis Hamilton

2

0

1

Nico Rosberg

1

1

1

Marcus Ericsson

2

0

1

Felipe Nasr

2

0

0

Alexander Rossi

0

1

0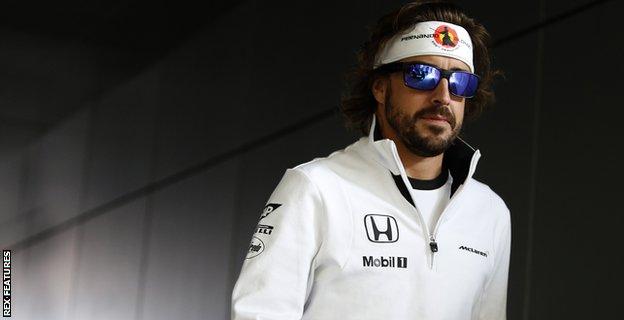 GRID POSITION PENALTIES

Qualifying penalties
Total qualifying place penalty

Fernando Alonso

7

155

Jenson Button

6

155

Max Verstappen

4

58

Daniel Ricciardo

3

80

Kimi Raikkonen

2

60

Will Stevens

2

30

Romain Grosjean

2

7

Daniil Kvyat

1

45

Roberto Merhi

1

20

Sebastian Vettel

1

15

Valtteri Bottas

1

3

Nico Hulkenberg

1

3

Felipe Nasr

1

3
HAMILTON v ROSBERG

Hamilton
Rosberg

Wins

10

6

Podiums

17

15

Poles

11

7

Front rows

18

15

Fastest laps

8

5

Retirements

1

2