Formula 1 end-of-season gossip: Ecclestone, Williams, Alonso
Last updated on .From the section Formula 1
Sunday, 6 December
Bernie Ecclestone believes a decision will be made before the beginning of next season as to whether or not Formula 1 will be put up for sale. (Fox Sports)
Claire Williams, deputy team principal and daughter of team owner Sir Frank, says "there is almost a sense of disappointment" within her team despite finishing third in the constructors' championship for the second year in a row. (F1i.com)
Renault chief executive Carlos Ghosn says it will take three years to be competitive on their return to the sport. (Fox Sports)
Fernando Alonso hopes for some tension between himself and McLaren-Honda team-mate Jenson Button in 2016 if it means the team are more competitive than they were last season. (Checkeredflag)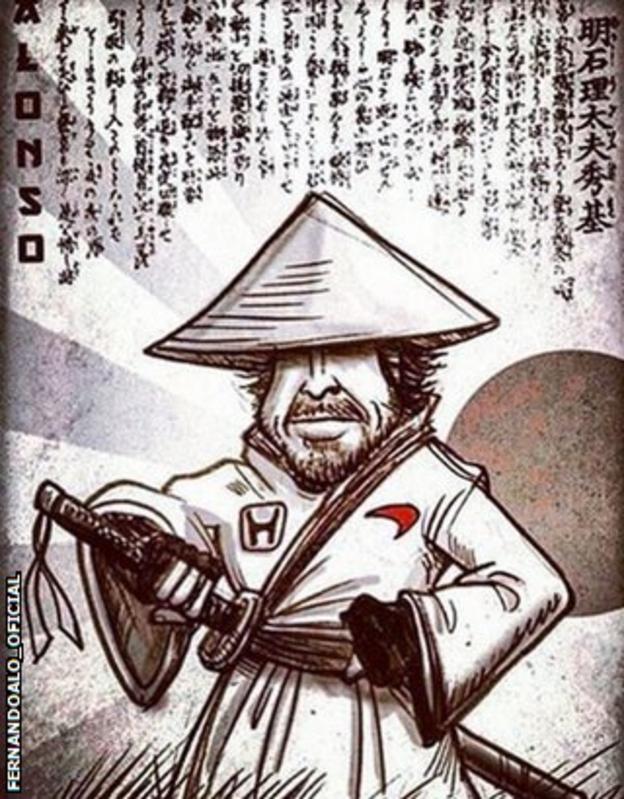 Alonso, on a promotional visit to Japan with his team, meets former F1 driver Takuma Sato and receives a distinctive caricature which he posts on Instagram with the message: "Hello Japan. Honda thanks day tomorrow with our fans..! Ready to enjoy and...we have a little surprise for you...."
Saturday, 5 December
Toro Rosso's Max Verstappen, 18, wins three awards, including the Rookie of the Year trophy, at the FIA's 2015 Prize-Giving Gala on Friday. (Formula1.com)
Two-time world champion Fernando Alonso, 34, decides against taking a year-long sabbatical from Formula 1, and says he will be on the grid for McLaren in the season-opening Australian Grand Prix in Melbourne in March 2016. (Guardian)
Renault CEO Carlos Ghosn hints that the team may not retain Lotus drivers Pastor Maldonado and Jolyon Palmer following the French manufacturer's takeover this week. (Le Figaro - in French)
MotoGP world champion Jorge Lorenzo is keen to swap two wheels for four in the future and race in Formula 1. (Gulf Today)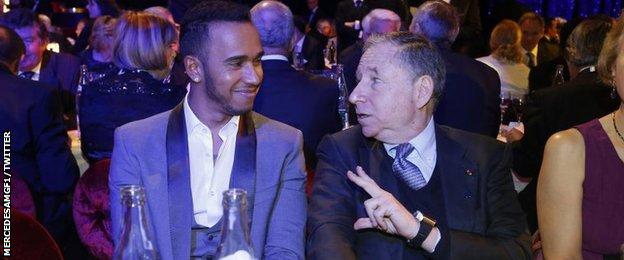 Friday, 4 December
Red Bull consultant Helmut Marko has confirmed the future for Toro Rosso is secure, with the team to compete in 2016 with Ferrari engines. (F1 Technical)
The promoter of the Russian Grand Prix denies that its place on the Formula 1 calendar is in jeopardy because of financial problems. (Tass via AP)
Ron Dennis has conceded to a falling out with TAG Heuer CEO Jean-Claude Biver that resulted in the company jumping ship from McLaren to Red Bull. (Eurosport)
F1 could still be sold within the next few months, according to Bernie Ecclestone. (Handelsblatt via Grandprix.com)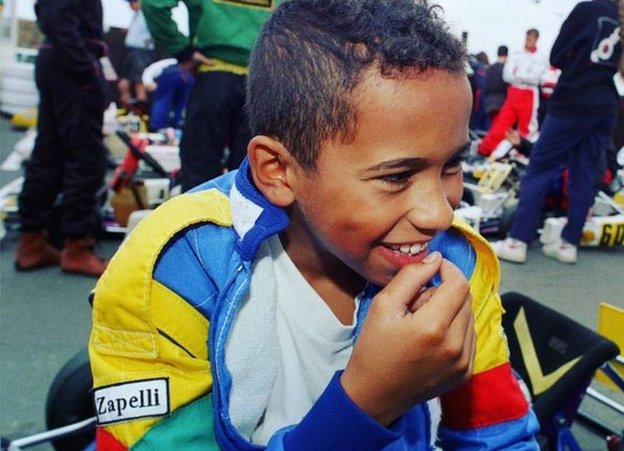 Wednesday, 2 December
Mercedes could drop either Lewis Hamilton or Nico Rosberg if tensions between the drivers cannot be brought under control, the team's boss Toto Wolff has said. (Motorsport.com)
Renault are close to announcing their takeover of Lotus, with hopes that it will be confirmed before the end of the week. (RMC Sport, via F1 Today)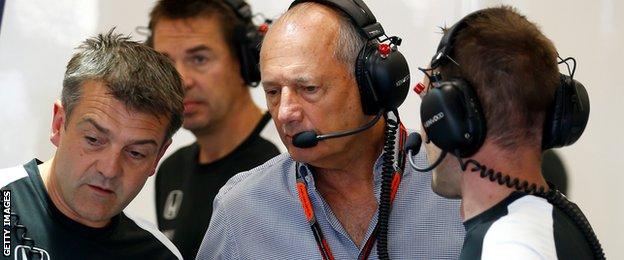 McLaren are planning a "giant step" forward to compete more effectively with Mercedes and Ferrari next season, group chairman Ron Dennis says. (Eurosport)
Haas face a rude awakening when they enter F1 for the 2016 season, former BAR team principal David Richards has warned. (Sky Sports)
Sauber have entered negotiations that could see them begin using Honda as their engine supplier from 2017. (Autosport)
Valtteri Bottas says Williams must improve their performance in 2016 after he finished fifth in this year's drivers' championship - one place ahead of team-mate Felipe Massa. (GPtoday.com)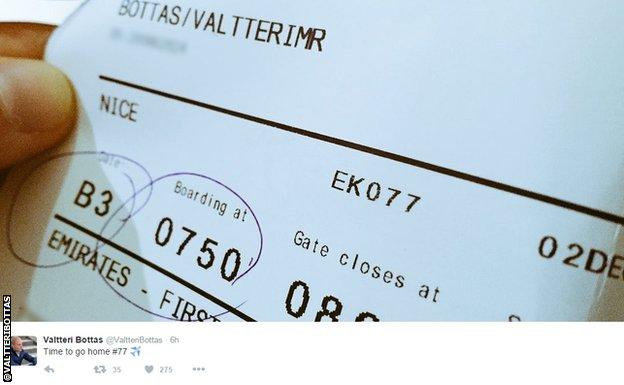 Tuesday, 1 December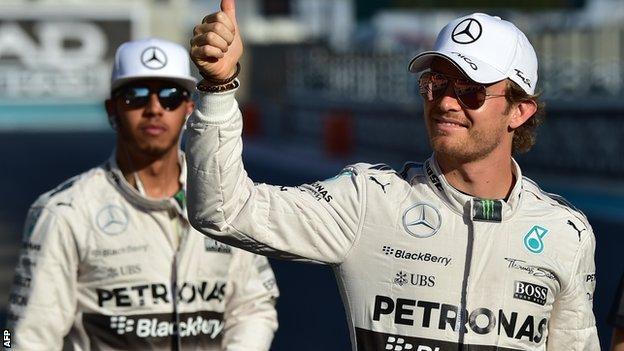 Mercedes insists it must get to the bottom of Lewis Hamilton's recent struggles, with the team having no answer yet as to why he has been no match for Nico Rosberg. (Motorsport.com)
Formula 1 champion Lewis Hamilton says that the relationship with his Mercedes team mate Nico Rosberg will always be tense. (Reuters)
Sir Jackie Stewart has expressed his hope that Nico Rosberg can up his game and beat his Mercedes team-mate, Lewis Hamilton, to the 2016 World Championship. (Fox Sports)
McLaren's Fernando Alonso and Ron Dennis have steered away from speculation the Spaniard might be taking a sabbatical in 2016. (GrandPrix.com)
Lotus owner Gerard Lopez says he has a Plan B if Renault fail to take over the cash-strapped Formula 1 team but is not expecting to use it. (Supersport.com)
Felipe Nasr took to Twitter to acknowledge his Sauber team, writing: "Thanks to everyone @SauberF1Team for this amazing first season! A year of learning, hard work and partnership!"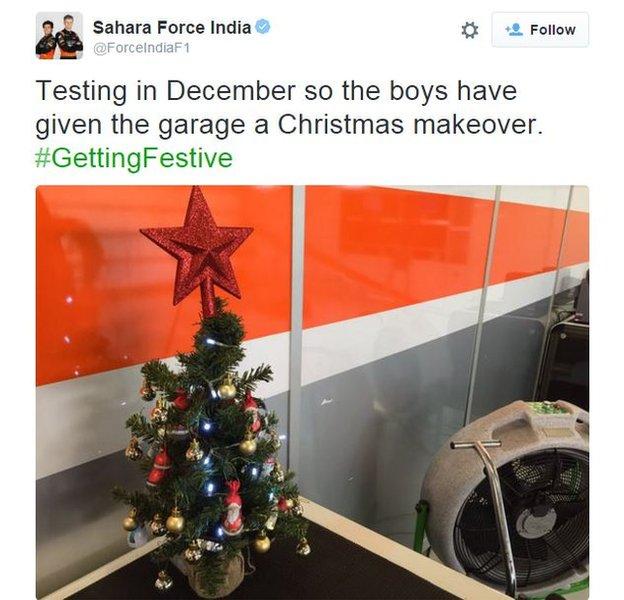 Monday, 30 November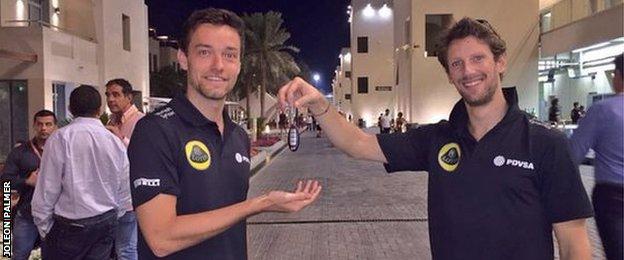 British driver Jolyon Palmer thanked Lotus' Romain Grosjean for bringing the car home without any dramas at Sunday's Abu Dhabi Grand Prix. Palmer will make his F1 race debut for the team in 2016, replacing Haas-bound Grosjean.
Red Bull driver Daniel Ricciardo is optimistic 2016 will be a better year after finishing the season in a disappointing eighth place. (The Age)
McLaren's 2015 season has been painful to say the least, but drivers Jenson Button and Fernando Alonso have just about kept smiling. Button posted a message to his fellow world champion team-mate on Instagram, writing: "Been through a lot with this guy in 2015, bring on '16 where hopefully we'll be fighting near the front."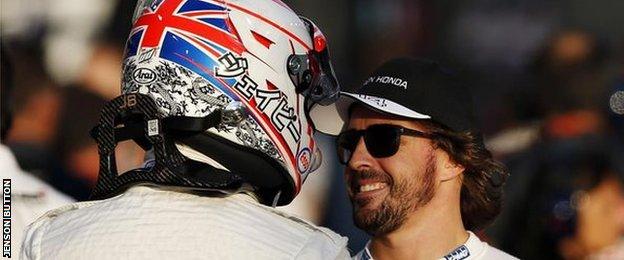 Sebastian Vettel is confident Ferrari are "doing the right things" and can take the fight to Mercedes next year. (Fox Sports Asia)
Red Bull team principal Christian Horner is expecting Mercedes to continue to dominate in 2016 as he doubts any other team can bridge the "enormous gap" to the dominant outfit.(ESPN)
Horner expects to confirm details of Red Bull's 2016 engine supply "within a week" following months of speculation. (Sky Sports)
Horner has also said Russian driver Daniil Kvyat does not have to worry about his future at Red Bull, saying: "He has a contract and next year he will be with Red Bull Racing."(Grandprix.com)