Formula 1 gossip: McLaren-Honda's new engine, Argentina plans & Renault
Last updated on .From the section Formula 1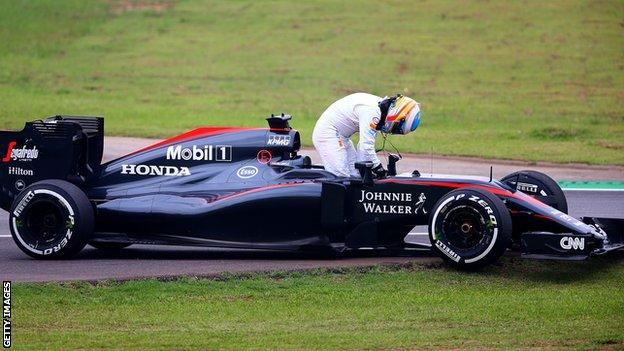 Sunday, 24 January
Next season McLaren-Honda will have 223 horsepower more than that of 2015. (AS.com)
Jolyon Palmer has been urged to be less cautious ahead of his debut Formula 1 campaign with Renault this year. (Autosport)
Plans are gathering pace in Argentina to secure an imminent return to the Formula 1 calendar as part of a bid to secure more high-profile sporting events. (Crash.net)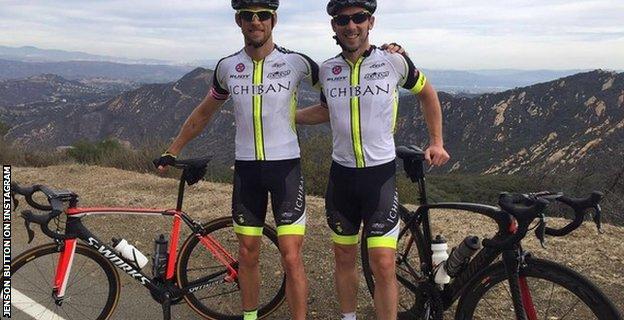 Renault's decision to continue its partnership with Red Bull shows a new fresh thinking approach, says managing director Cyril Abiteboul. (Motorsport.com)
Saturday, 23 January
US actor Sylvester Stallone claimed three-time Formula 1 World Champion Ayrton Senna asked if he would play him in a movie before the Brazilian's fatal accident. (gpupdate.net)
Last year's United States Grand Prix downpours gave Formula 1 tyre supplier Pirelli an ideal baseline for wet tyre development ahead of next week's test. (Autosport)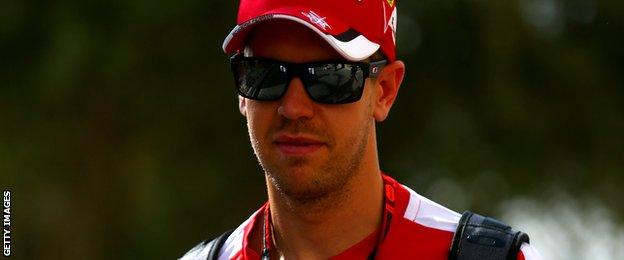 Former Ferrari junior Raffaele Marciello believes he was "pushed out" of the team by the Scuderia's team principal Maurizio Arrivabene.(motorsport.com)
Red Bull blocked Daniel Ricciardo's attempts to join Le Mans 24-hour race.(Crash.net)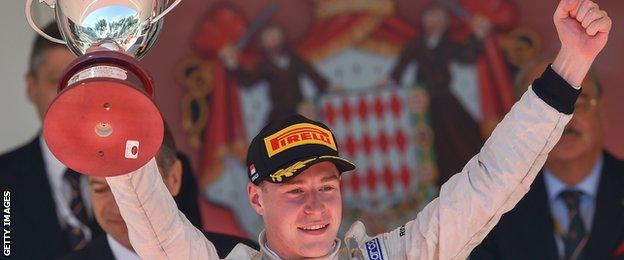 GP2 Series champion and McLaren reserve driver, Stoffel Vandoorne says there are "no guarantees" about his path to the Formula 1 ranks.(PlanetF1.com)
Friday, 22 January
Organisers of this year's Grand Prix of Europe in Azerbaijan, set for 19 June, say its inaugural event is not under threat, despite a recent global drop in oil and gas prices sparking economic concerns. (Crash.net)
Mercedes boss Toto Wolff is contemplating rotating members of the team's backroom travelling Formula 1 staff, ahead of a record-breaking 21-race calendar in 2016. (Autosport)
Red Bull will reveal its 2016 livery at a special event in February, the week before the first pre-season test. (PlanetF1.com)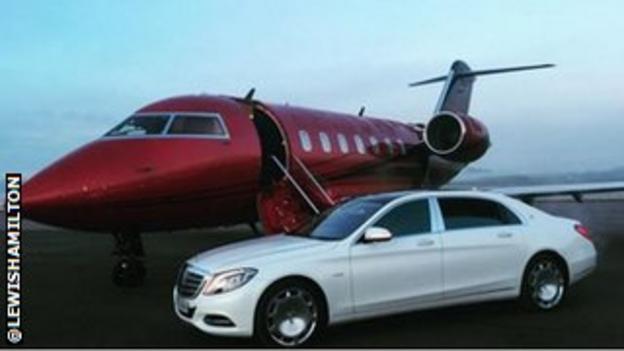 Britain's former Mercedes development driver Sam Bird, 29, has had his first day at Ferrari, meeting some of the technicians with whom he will be working during the 2016 World Endurance Championship season. (Ferrari.com)
World champion Lewis Hamilton has tweeted a picture of his means of travel, writing "Fleek" which is a slang term to indicate general approval. (Lewis Hamilton on Twitter)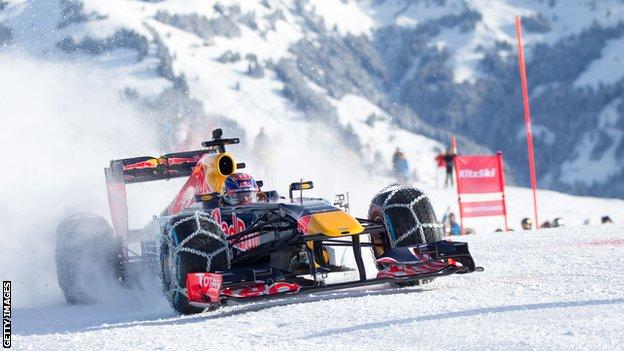 Thursday, 21 January
Red Bull may have to pay a £23,000 fine for allowing Toro Rosso's Max Verstappen to drive one of their Formula 1 cars kitted out with snow chains on the slopes of a ski resort in Austria. (Tiroler Tageszeitung - in German)
Adrian Sutil will not continue as Williams' reserve driver in 2016. It is understood the German is close to signing a deal outside Formula 1, with the Japanese Super GT a possible destination. (Motorsport.com)
Renault's return to Formula 1 has taken another step closer with its 2016 car passing FIA's mandatory crash tests. (Formulaspy.com)
Carlos Sainz Jr says observing fellow Spaniard and double world champion Fernando Alonso helped him overcome the challenges of his debut Formula 1 season. (Autosport)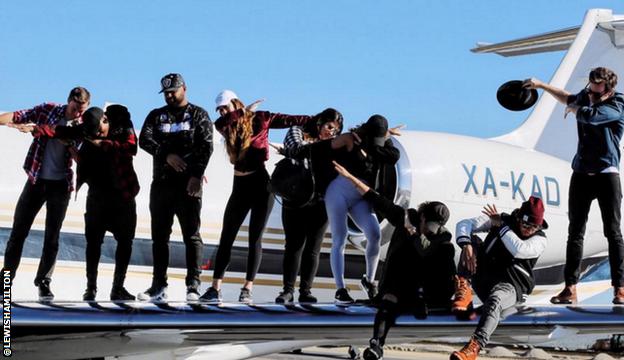 Lewis Hamilton and friends put their own brand on a popular dance style when posing on the wing of a plane as the F1 world champion celebrated his birthday this month. (Lewis Hamilton on Twitter)
Wednesday, 20 January
Lewis Hamilton was "desperate" to join Red Bull after leaving McLaren in 2012, according to the Austrian team's boss Christian Horner. (F1 Racing via Daily Mail)
Nico Hulkenberg is among the top three drivers in F1, says Force India team-mate Sergio Perez, and the toughest team-mate he has faced in his career. (Autosport)
Manor Racing is confirmed as the new name - with a new logo - for the former Manor Marussia team for 2016. (Manor Racing on Twitter)
McLaren must target podium finishes this season after an "embarrassing" and "terrible" 2015, says former driver John Watson. (GP Update)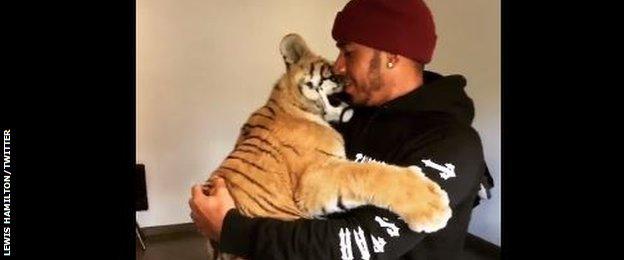 Lewis relaxes with a furry friend at the Black Jaguar White Tiger Foundation in Mexico on his way back from winter training. (Lewis Hamilton on Twitter)
Tuesday, 19 January
Red Bull is "well ahead of schedule" with the preparation of its 2016 car, despite a lengthy period of uncertainty over the team's engine supply. (GP Update)
Lewis Hamilton's taxi driver in Los Angeles started talking to him about... Lewis Hamilton, without realising it was the world champion in the back seat. (Lewis Hamilton on Instagram part one)(Part two)
FIA president Jean Todt says he has instructed an audit company to look into the organisation's records to "advise improvements" if necessary following scandals in other sports. (Crash.net)
World champions Mercedes have "chinks in their armour" that Williams must be ready to exploit this season, says the team's technical boss Pat Symonds. (Reuters)
Williams driver Valtteri Bottas posted an image of a picturesque running trail in Lenkkipolku in his home country, Finland.
Monday, 18 January
McLaren hinted at a new colour scheme for their 2016 when announcing its launch: "Feeling blue? Seeing red?? You can ALL see the MP4-31 launch on 21 Feb." (McLaren on Twitter)
Renault looks set to field a yellow and black livery in 2016 as the French carmaker takes over and rebrands the team formerly known as Lotus. (Inautonews)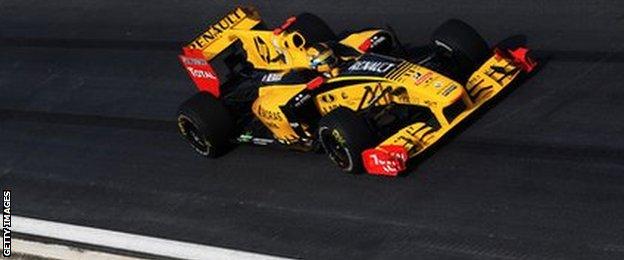 Damon Hill, the 1996 world champion, says that it is "extremely unlikely" that a competitive female will race in Formula 1 in his lifetime. (ITV News)
Top Gear looked back at the all-conquering McLaren of 1988. (Top Gear)
Formula 1's new terrestrial broadcaster Channel 4 has confirmed that the British Grand Prix will be one of the 10 races it will show live in 2016. (Motorsport)
Felipe Massa believes Williams can win a race in 2016 as the team look to build on their resurgence in the previous two seasons. (Sky Sports)
Last year's young Toro Rosso sensation Max Verstappen is already hard at work in the gym, tweeting: "My way of beating #BlueMonday: work hard!"
Meanwhile, three-time world champion Lewis Hamilton remembered Martin Luther King: "Words can never convey the positive change that this man made to the world. #MLKDay #ihaveadream"