Formula 1 gossip: McLaren, Button, Alonso, Mercedes
Last updated on .From the section Formula 1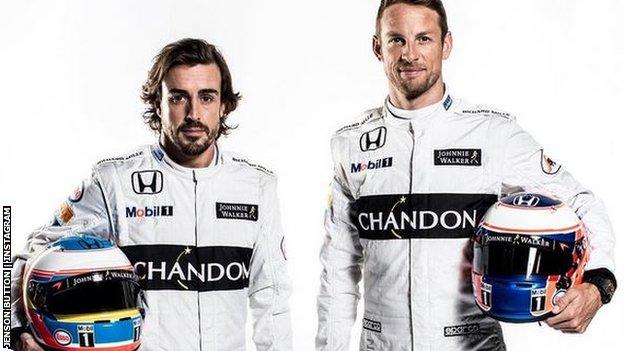 Sunday, 21 February
Jenson Button posted a picture on Instagram with a glum-looking team-mate Fernando Alonso as the driver line-up for McLaren ahead of the news season.
Mercedes say they will have little opportunity to upgrade their new 2016 season car. The one that goes on the track in testing on Monday is expected to be similar to the one being used for the season-opening Australian Grand Prix. (Autosport)
Ferrari technical director James Allison is optimistic the SF16-H car represents a significant step over last season's SF15-T predecessor. (Crash.net)
Force India development driver Alfonso Celis sees the two days he will get in the VJM09 in Barcelona as a "vote of confidence" from the team. (Motorsport.com)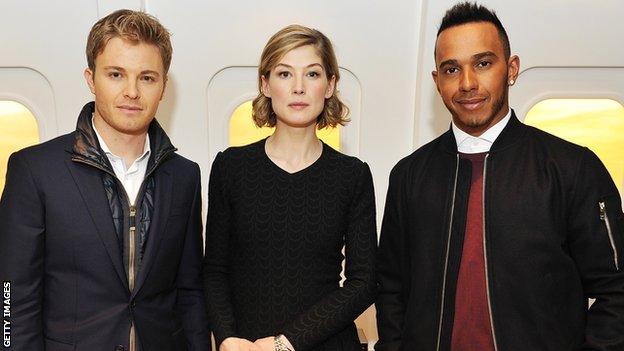 Saturday, 20 February
Mercedes hit the track for the first time with their new car for the 2016 season, the W07 Hybrid. It completed just under 100km (62.14 miles) around Silverstone as part of a promotional event, as allowed under the F1 regulations, with Nico Rosberg initially at the wheel, followed by three-time champion Lewis Hamilton.(Autosport)
Rosberg treated his Twitter followers to video of him in the new car and wrote: "Was a great feeling out there today, driving our new silver arrow for the first time."
Meanwhile, Rosberg is expecting to stay at Mercedes beyond the end of his current contract, which is due to expire at the end of this season. (ESPN)
Red Bull team principal Christian Horner says that the next two weeks will be crucial for Formula 1, as the deadline for agreeing 2017 chassis regulations looms. (Motorsport.com)
Michael Schumacher's 16-year-old son Mick has joined Ferrari-linked outfit Prema in the lower-tier categories of Formula 4 for 2016. (inautonews.com)
GP2 race winner and Honda junior Nobuharu Matsushita has joined McLaren as a test and development driver for the 2016 season. (Crash.net)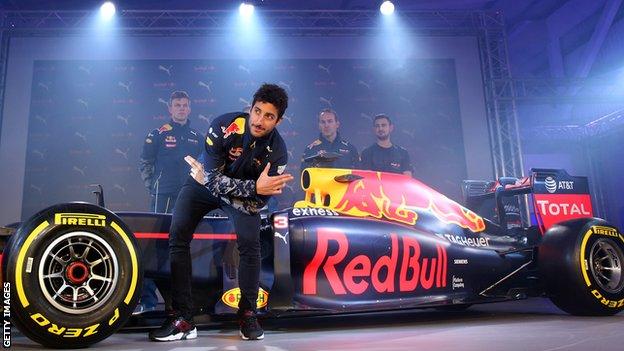 Friday, 19 February
Felipe Massa is clearly delighted with Williams' new car for the 2016 season, calling the FW38 his "new baby" on both his Twitter and Instagram accounts.
Fellow Finn and former Ferrari driver Mika Salo says Kimi Raikkonen should not be seen as the number two driver behind Sebastian Vettel at the Italian team. (GrandPrix.com)
Daniel Ricciardo says Red Bull told him to lose weight to help improve the performance of this season's car. (ABCOnline)
American Alexander Rossi says it was "impossible" to compete with Rio Haryanto's backing from Indonesia's state oil company after missing out on a drive with Manor for 2016. (Reuters)
And Rossi could be on his way to Indy Car racing, with Pastor Maldonado also in contention for the move after he announced he was leaving Formula 1 earlier this month. (Motorsport)
Toro Rosso was forced to radically redesign their 2016 car to accommodate its new Ferrari power unit after leaving previous engine partner renault late last year. (Autosport)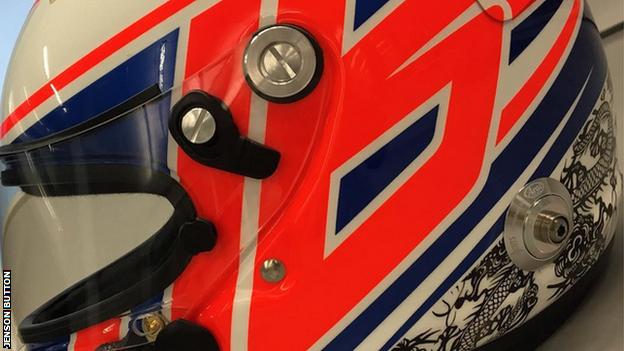 Thursday, 18 February
Red Bull's Daniel Ricciardo says he "wouldn't be too discouraged" if sister team Toro Rosso, now powered by Ferrari engines, are faster than them in the early stages of the season. (Motorsport.com)
After a fan poll on Twitter, McLaren's Jenson Button has reverted to his old helmet design for 2016 - featuring the colours of the union jack and initials 'JB'.
Honda say reports that its new engine is unreliable are "unfounded and speculative". (Pitpass)
Finn Valtteri Bottas will drive the new Williams FW38 at the first test of the season in Barcelona on Monday.
Britain's reigning world champion Lewis Hamilton posted a picture looking down on French capital Paris, which he described as "one of the most beautiful cities in the world with great food and people".
Hamilton's Mercedes team-mate, Nico Rosberg, was flying to England on Thursday morning for the "first drive with the new car and some filming with the team".
Wednesday, 17 February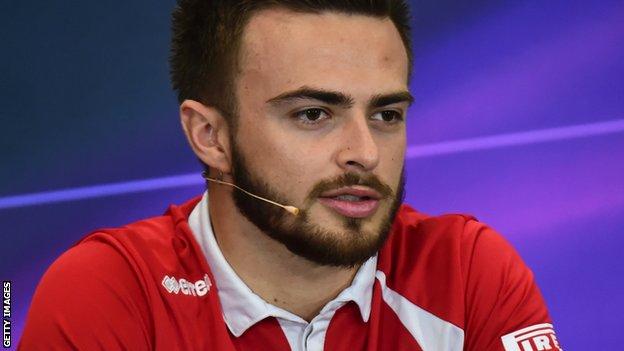 Briton Will Stevens has lost his drive in Formula 1 with Manor and will be replaced for 2016 by Indonesian Rio Haryanto.(Daily Telegraph)
Toro Rosso drivers Max Verstappen and Carlos Sainz have been urged to show discipline in F1 this year, otherwise they risk a season of crashes. (Motorsport)
Former Ferrari F1 president Luca di Montezemolo believes Fernando Alonso "had got it into his mind that he could never win at Ferrari", before leaving the Italian team in 2014.(Motor Sport magazine)
Renault's 2016 Formula 1 car is a "compromise" caused by the delay in confirming the takeover of Lotus, says technical director Nick Chester. (Autosport)
McLaren's Jenson Button has been training in the cold ahead of the new season, posting a picture of himself on social media with the message "3 degrees Celsius - a bit chilly for an outside run".
Mercedes believe the removal of this year's engine development 'black boxes' was designed to give their Formula 1 rivals a chance of catching them up. (Autosport)
Tuesday, 16 February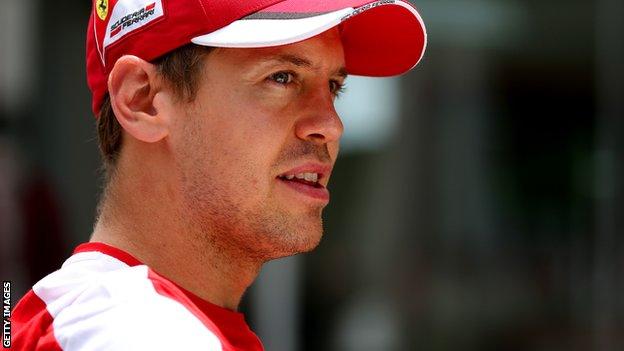 Four-time world champion Sebastian Vettel has admitted that his first season at Ferrari was so successful that he is considering ending his career with the Italian manufacturer. (Sebastian Vettel official website - in German)
But the German driver fears interest in F1 will fall even further if Lewis Hamilton's dominance continues with Mercedes and the sport continues to be obsessed with technological advances. (Daily Telegraph)
Toro Rosso has confirmed that it will be using Ferrari's end-of-2015 engine for the new Formula 1 season. (Autosport)
Romain Grosjean says it will be an "unbelievable" feeling to drive the new Haas F1 car out of the garage on the first day of Barcelona pre-season testing on 22 February. (GPupdate)
Kevin Magnussen is "extremely hungry" to prove he is worthy of his unexpected call-up to a Renault F1 seat after Pastor Maldonado was forced to give up the seat with sponsorship issues. (Crash.net)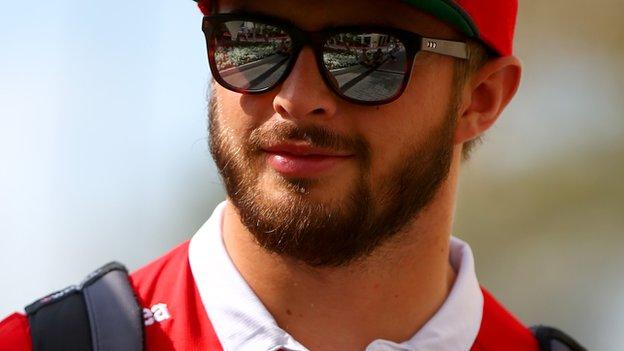 Monday, 15 February
The second Manor seat for the 2016 season could be shared by three drivers: Britain's Will Stevens, Indonesia's Rio Haryanto and American Alexander Rossi.(Ilta Sanomat via Inautonews)
The first Haas F1 car will be driven by Romain Grosjean on its debut in Barcelona winter testing on 22 February. (ESPN)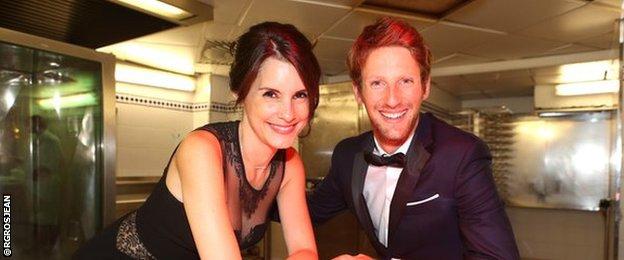 Dropped Lotus driver Pastor Maldonado says his axing for the 2016 season came as a "bolt from the blue", but he is determined to return to the sport next year. (Autosprint via Crash)
Fiat CEO Sergio Marchionne wants Italian manufacturer Alfa Romeo - owned by Fiat - to return to Formula 1 as a constructor. (Gazzetta dello Sport via Planet F1)
Former F1 driver Nick Heidfeld believes Lewis Hamilton is favourite for the 2016 drivers' title - but says it would be better for the sport if someone else wins the championship.(Sportskeeda)
Kevin Magnussen will be fired up for the new season after his acrimonious departure from McLaren, says his Renault team-mate Jolyon Palmer. (Autosport)