Formula 1 gossip: Vettel, Horner, Pirelli, Ricciardo
Last updated on .From the section Formula 1
Sunday, 28 February
Red Bull team principal Christian Horner believes "there may be a slight element of randomness" to the new qualifying format but that teams will quickly work out how to "navigate their way through it". (Autosport)
Sebastian Vettel believes Ferrari team-mate Kimi Raikkonen will pose a stronger challenge to him this season. (ESPN)
Pirelli will introduce an ultra-soft compound tyre for round seven of this season, which takes places in Canada.(Planet F1)
Red Bull driver Daniel Ricciardo took time off from his pre-season preparations to attend a UFC event. He tweeted a picture along with the message: "Good night at #UFCLondon that main event was crazy. Thanks for looking after me guys had a great view."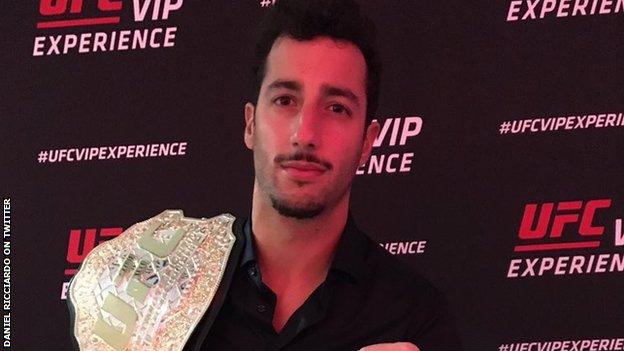 Saturday, 27 February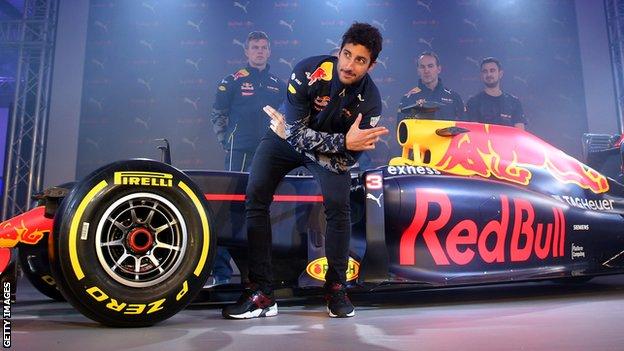 Red Bull driver Daniel Ricciardo has been told to lose 5kg from last year's racing weight and the Australian is doing all the cooking himself to make sure he knows what is going inside his body. (Daily Mail)
Haas F1 team principal Guenther Steiner has admitted to being surprised by how well things went overall in the four days of pre-season testing at the Circuit de Catalunya in Barcelona. (Fox Sports)
Williams chief test and support engineer Rod Nelson has warned against some "hysterical" reactions to lap times set in pre-season testing, and remains confident that the cars can compete at the top end of the grid despite drivers Valtteri Bottas and Felipe Massa logging the 14th and 21st quickest times overall. (F1i.com)
Bottas believes that the first pre-season testing has shown that Williams has "improved many of the weaknesses of last year". (ESPN)
Force India believes a partnership that would bring Aston Martin back to F1 remains a possibility for the future, despite talks stalling last year.(motorsport.com)
Plans for elimination-style qualifying have been put back until the Spanish Grand Prix in May at the earliest because of a glitch in F1's programming. (Daily Telegraph)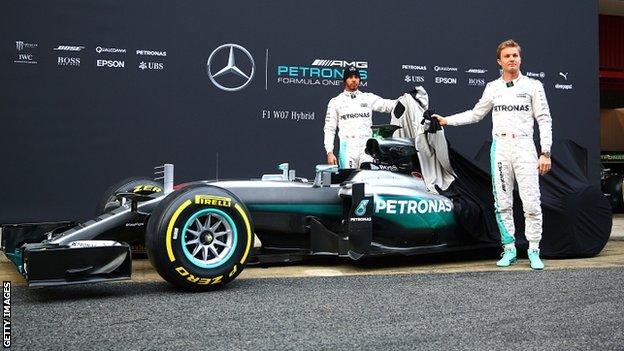 Friday, 26 February
Torro Rosso's Carlos Sainz says the health of drivers could be at risk if they are told to lose weight to compensate for heavier cars.(Reuters via ABC Online)
McLaren driver Fernando Alonso's preparations for the new season were hampered after he missed out on a day of testing at the Circuit de Catalunya because of a coolant leak on his car.(Daily Mail)
Toro Rosso's Max Verstappen is happy with his team's decision to switch from Renault to Ferrari engines this season after a successful first week of pre-season testing. (ESPN.co.uk)
Force India team principal Vijay Mallya has resigned as chairman of United Spirits Limited after allegations of financial lapses at the company founded by his family - but he will walk away with a $75m (£53.6m) payout.(Motorsport.com)
Thursday, 25 February
Williams driver Felipe Massa, 34, fears Mercedes will again dominate this season's world championship. (Globo Esporte via grandprix.com)
World champion Lewis Hamilton says Grand Prix races should be more like the Super Bowl to add to their appeal. (Daily Mirror)
Planned changes to qualifying could make races more exciting, according to Williams' chief technical officer Pat Symonds. (Daily Express)
Fans will have the chance to vote online for a 'driver of the day' during each Grand Prix with the winner receiving his award on the podium post-race. (Telegraph, India)
Ex-McLaren driver Pedro de la Rosa, 45, fears his former team will again struggle to win races in 2016. (Marca - via Ianautonews)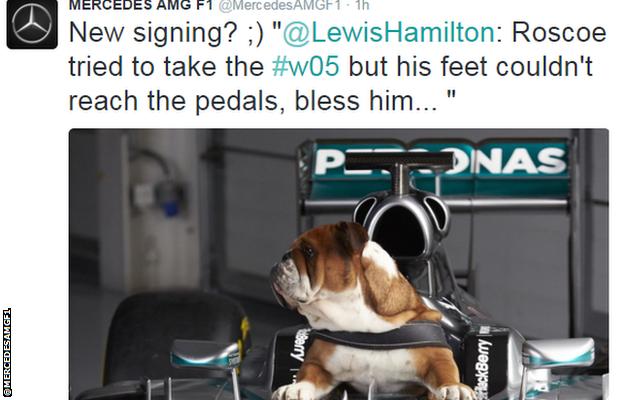 Wednesday, 24 February
Mercedes' "unprecedented mileage levels" has forced the team into changing its driver line-up for the final two days of the first Formula 1 test to avoid fatiguing Lewis Hamilton and Nico Rosberg ahead of the new season. (Autosport)
Manor are already making massive progress with their Mercedes-powered MRT05, according to 2016 rookie drivers Pascal Wehrlein and Rio Haryanto. The team failed to score a point last season. (Formula1.com)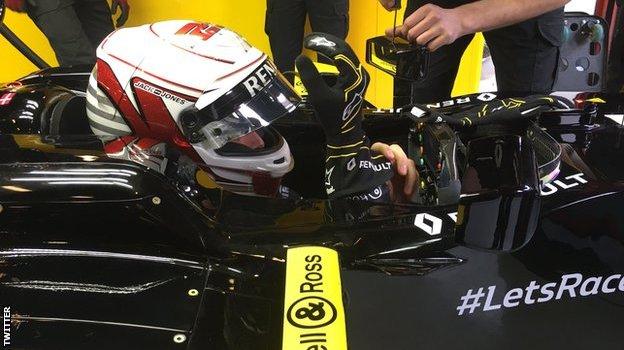 Esteban Gutierrez says the Haas team can be very satisfied with the pre-season test mileage it has racked up, considering it's a brand new team. (Motorsport)
McLaren driver Jenson Button tweeted a picture of himself in third day's testing in Barcelona. "Doing some rake aero work this morning. Hopefully be out for some fun running soon," he said.
Red Bull's Daniel Ricciardo's pre-season testing has finished and he tweeted his plans for the week. "That's me done testing for this week. Good coupla days. Happy with the early signs. Back in next week but til then got some simulator & UFC!"he tweeted.
Tuesday, 23 February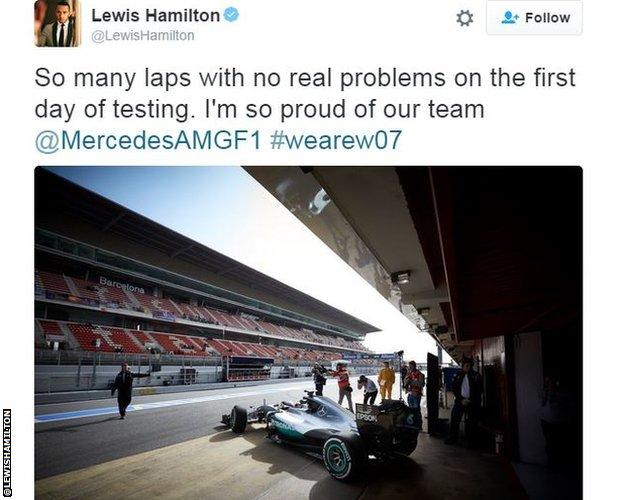 World champion Lewis Hamilton recorded 156 laps on the opening day of pre-season testing at Barcelona's Catalunya circuit in the new Mercedes W07, the next highest being Marcus Ericsson's 88 for Sauber.(Autosport)
Mercedes motorsport boss Toto Wolff says that his outfit is planning to trial some "unusual" parts during the testing session. (GPupdate.net)
Haas have had a new front wing design sent to Spain from its Banbury factory after Romain Grosjean brought out the only red flag on the opening day of testing when his VF-16 suffered a failure down the main straight. (PlanetF1.com)
Britain's Jenson Button believes his decision to put his retirement plans on hold have been vindicated after the opening day of testing, in which he completed 84 laps and finished within two seconds of Sebastian Vettel's best time. (Daily Mail)
Manor have unveiled their new MRT05 car which features 3,393 new parts compared to its predecessor, as well as a brand-new Mercedes power unit. Technical Director John McQuilliam describes it as "the best car we've ever launched. Certainly the most developed, the most ambitious and the most aggressive." (Formula1.com)
Another important meeting will take place regarding F1's future this week, with the sport's top figures heading to Geneva where the car and engine rules for 2017 and beyond will once again be discussed. (Inautonews)
Red Bull team principal Christian Horner implored the sport to save itself and said: "It is a great opportunity to do something fantastic for the fans. We should do it properly. You don't want to be half-pregnant."(The Guardian)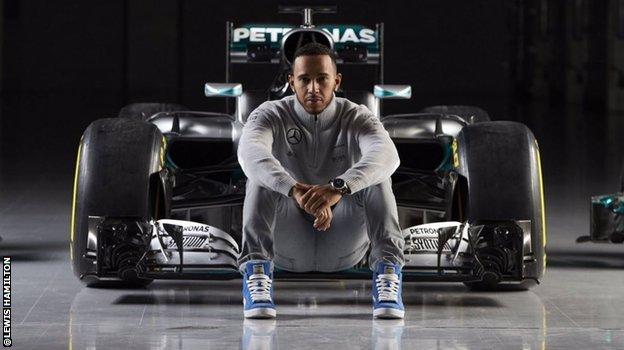 Monday, 22 February
Formula 1 chief executive Bernie Ecclestone believes the sport is the "worst it has ever been" and says he would not pay to bring his family to a race. (Daily Mail)
But former F1 doctor Gary Hartstein has hit back at Ecclestone in a series of tweets. He claimed F1 was "owned and run by petulant spoiled pre-adolescents". (Inautonews)
Reigning drivers' champion Lewis Hamilton has scoffed at Sebastian Vettel's claim that Mercedes' recent dominance has made F1 'less exciting'. (Sky Sports)
Hamilton took to Twitter on the eve of the first day of pre-season testing in Barcelona to thank his Mercedes team for "building another beautiful beast for us".
Former F1 driver Mika Salo says fellow Finn Valtteri Bottas - currently with Williams - could be in line to join Mercedes next year if team-mates Lewis Hamilton and Nico Rosberg continue their bitter feud in 2016. (Crash.net)
Pirelli boss Paul Hembery is expecting a stronger showing from Ferrari in 2016, but still expects Mercedes to win the constructors' title. (Chequered Flag)