Formula 1 gossip: Hamilton, Hulkenberg, Verstappen, Monza
Last updated on .From the section Formula 1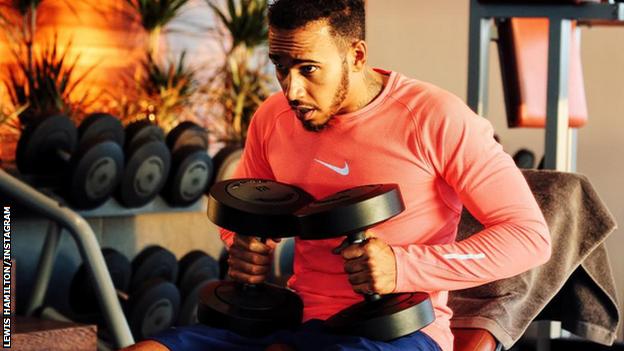 Sunday, 27 March
Max Verstappen fears that Mercedes-powered rivals will be a much tougher challenge for his Toro Rosso team in Bahrain than they were at the Australian Grand Prix.(Motorsport.com)
Haas' sixth-place finish on its debut in Australia "resonated in a very positive way" in America, says team boss Guenther Steiner. (ESPN)
Monza officials are confident that the Italian GP will continue at the historic circuit beyond 2016.(Gazzetta dello Sport, via PlanetF1.com)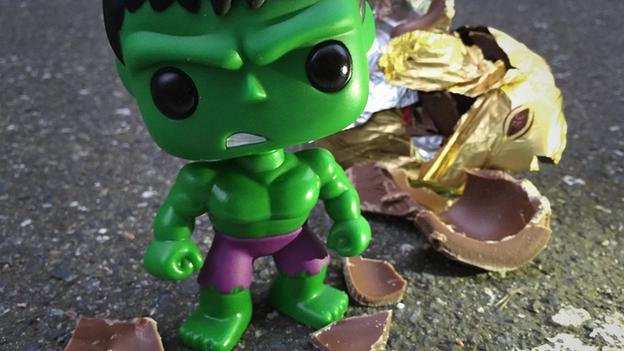 Friday, 25 March
McLaren driver Jenson Button believes he is the "full package" when it comes to delivering on and off the track. (Sky Sports)
Red Bull are encouraged by the progress made by engine supplier Renault over the winter. (F1i.com)
Baku will be the world's fastest street track, according to Hermann Tilke, the designer of the circuit for this season's inaugural grand prix in Azerbaijan. (Eurosport)
Pirelli's new ultra-soft tyres will make their first appearance of the season at the Monaco Grand Prix. (Pirelli.com)
Williams deputy team principal Claire Williams believes Formula 1 has to find a way of engaging younger audiences. (Independent)
Red Bull's Australian driver Daniel Ricciardo has been surfing for the first time in his life. (Instagram)
Toro Rosso's Dutch driver Max Verstappen has paid tribute to footballing great Johan Cruyff, who died on Thursday. (Twitter)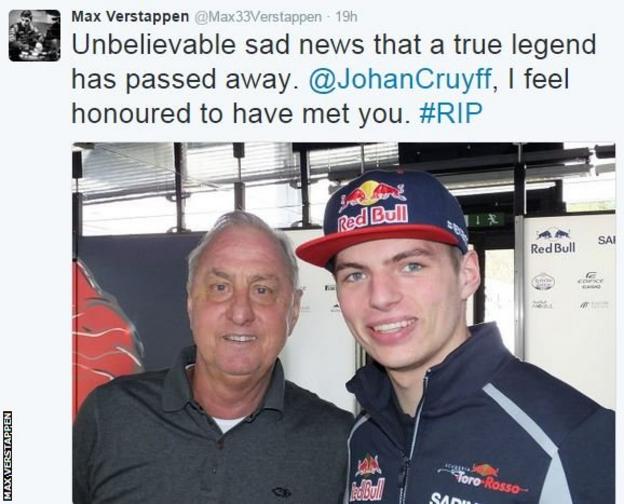 Thursday, 24 March
Despite criticism from fans and pundits, F1 boss Bernie Ecclestone believes the new qualifying format will continue to be used by the series. (La Gazzetta dello Sport)
Operating company Sias says the Italian automobile club president, Angelo Sticchi Damiani, is "doing everything possible" to keep Monza as the country's grand prix host beyond 2016. (Inautonews.com)
F1 engineer Jock Clear, who holds a leading position with Ferrari, says Michael Schumacher was right to urge the Maranello to sign Sebastian Vettel. (Speed Week via grandprix.com)
Mexican driver Alfonso Celis, 19, will drive for Force India in the opening practice session at the Bahrain Grand Prix next week. (ESPN)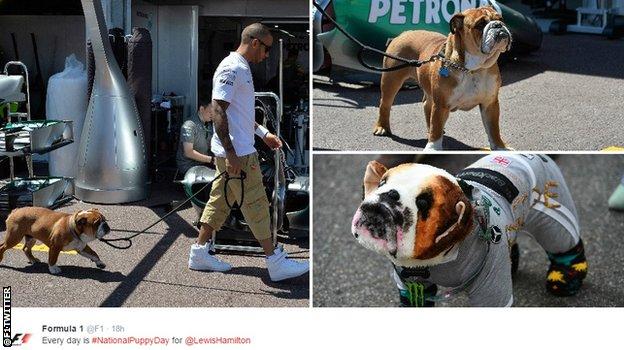 Wednesday, 23 March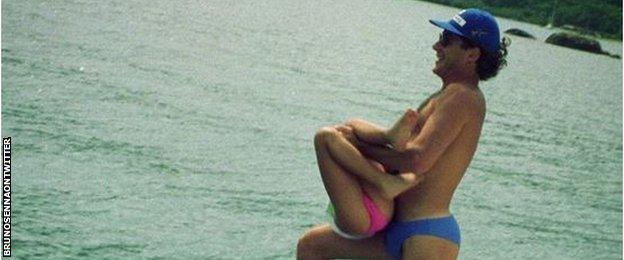 World champion Lewis Hamilton says there is "no point" him attending drivers' meetings with F1 race director Charlie Whiting as Ferrari's Sebastian Vettel dominates the agenda. (Sky Sports)
The bubbly sprayed around on the podium in Formula 1 is no longer champagne, but sparkling wine, after a change in sponsor for the 2016 season. (20 minutes - in French)
Ferrari and Mercedes are interested in signing Red Bull driver Daniel Ricciardo for the 2017 season. (Auto Motor und Sport and Servus TV via F1Today)
There has been a split in strategies for the Bahrain Grand Prix, with Ferrari drivers Sebastian Vettel and Kimi Raikkonen opting for three sets of the medium compound, while Mercedes pair Lewis Hamilton and Nico Rosberg have gone for one each. (Pirelli Sport on Twitter)
Tuesday, 22 March
Former F1 president Max Mosley says Fernando Alonso would have died if he had suffered a similar crash 20 years ago to the one he experienced at the Australian Grand Prix.(Daily Mail)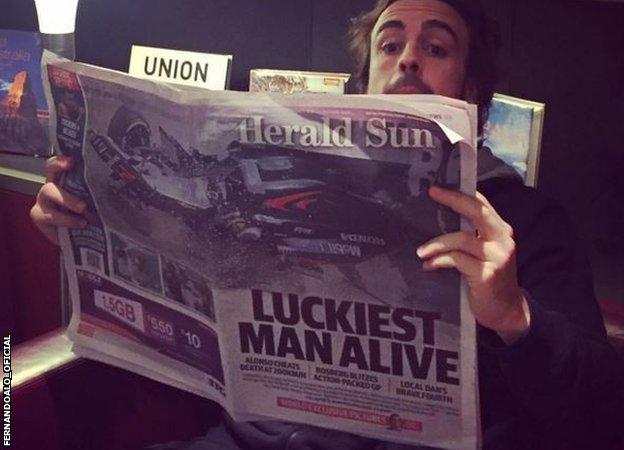 Alonso posted a photo on Instagram of him holding up the Herald Sun front page with the headline 'Luckiest Man Alive'. His accompanying message read: "Time to take the plane and rest couple of days for a full recovery. Thanks to all of you!!"
McLaren team-mate Jenson Button believes F1's controversial halo device would have helped Alonso in his horror crash.(Guardian)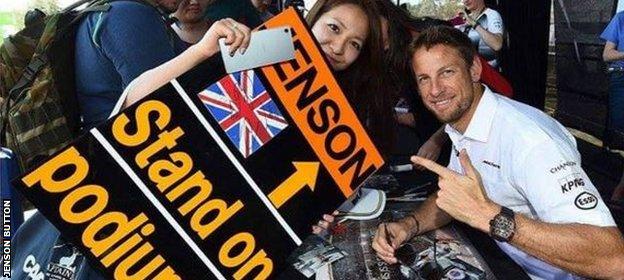 Red Bull driver Daniel Ricciardo refused to watch replays of Alonso's crash while the Australian Grand Prix was suspended to clear debris from the track because he did not want to be thinking twice about making a similar move.(Fox Sports)
World champion Lewis Hamilton says Mercedes has prioritised race starts after both cars were overtaken by Sebastian Vettel off the line at the Australian Grand Prix.(ESPN)
F1 boss Bernie Ecclestone has warned Haas F1 team owner Gene Haas that he will have to spend $1bn (£700m) over four years to be competitive.(Autoweek)
Ayrton Senna's biographer, Ernesto Rodrigues, believes that the three-time world champion would still be involved in motorsport today, if he was still alive, but not as a team boss. The Brazilian, who would have been 56 on Monday, died in a crash during the San Marino Grand Prix in 1994.(Motorsport.com)
Monday, 21 March
Fernando Alonso says he is "lucky" to be alive after surviving a horror crash in the Australian Grand Prix and posted a picture on his flight back.(Sky Sports)
The Spaniard says he got out of the car quickly so that his mother, watching on television, knew he was safe. (Telegraph)
Mercedes motorsport boss Toto Wolff has revealed that Australian Grand Prix winner Nico Rosberg was nearly forced to retire during Sunday's race with a brake problem.(Fox Sports)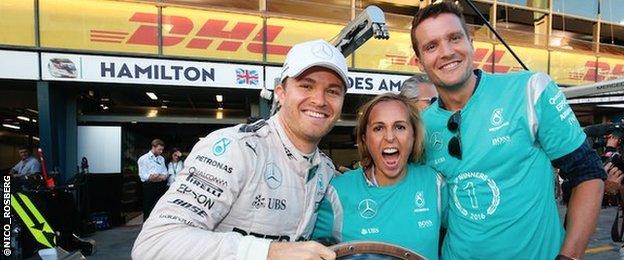 Sebastian Vettel - who lost the lead to Rosberg - says that Ferrari's aggressive tyre strategy probably worked against him. (Straits Times)
Manor have admitted they "let down" rookie Rio Haryanto after he had to retire from his maiden race with driveline problems.(The National)
Sunday, 20 March

Nico Rosberg has apologised for pushing Mercedes team-mate Lewis Hamilton wide at the start of the Australian Grand Prix. (Autosport)
Williams driver Felipe Massa, 34, says Formula 1 drivers may now be listened to after the new elimination-style qualifying format drew widespread disapproval after its debut at the Australian GP. (Autosport)
Three-time world champion Niki Lauda says avoiding a reverse-grid rule is what led to the qualifying format used in Australia. (Motorsport.com)
Jost Capito, who will leave Volkswagen to become CEO at McLaren, would not rule out a foray into F1 for VW in the future. (Bild via Inautonews.com)
Red Bull's Daniel Ricciardo maintains a gruelling fitness regime, with the 26-year-old Australian training two times a day, six days a week. (Daily Mail)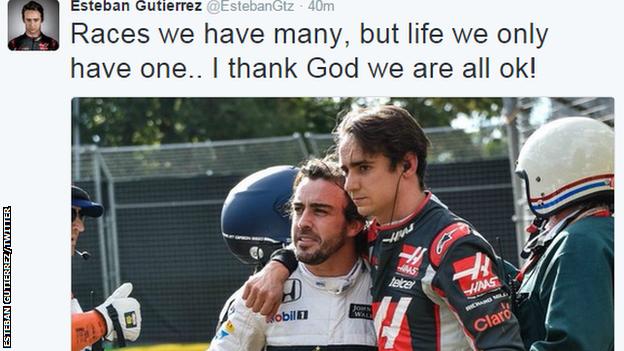 Saturday, 19 March
Red Bull also refuted suggestions it faces losing driver Daniel Ricciardo at the end of the year.(APA via Inautonews.com)
Three-time World Champion Lewis Hamilton is frustrated by his sport's approach to social media, with rules stopping the Mercedes driver posting videos from the Formula 1 paddock.(Yahoo)
The Briton, 31, was pictured arriving for qualifying at the Australian Grand Prix in Melbourne on Saturday in a golf buggy. (Daily Mail)
Former BMW Sauber driver Robert Kubica, 31, says he would love to return to F1, even if the sport is no longer as spectacular.(Radio Sportiva via grandprix.com)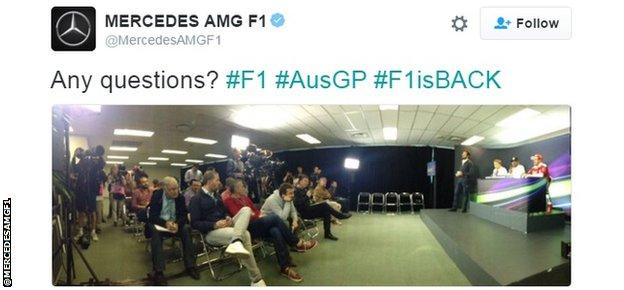 Friday, 18 March
Sir Jackie Stewart has urged Lewis Hamilton to apologise for appearing to use a mobile phone on a motorcycle. (Daily Mail)
The prototype halo head-protection device, aimed at shielding drivers from flying debris, is on track to be adopted for the 2017 season, according to race director Charlie Whiting. (Reuters)
Ferrari have spent the most tokens developing their engine over the winter, and Renault the fewest. (Sky Sports)
The FIA is confident it will be able to pick out and penalise any coded messages teams attempt to relay to their drivers under the new radio restrictions. (ESPN)
Ferrari have signed a preliminary deal with two Chinese companies to build a theme park in China. (AFP, via Daily Mail)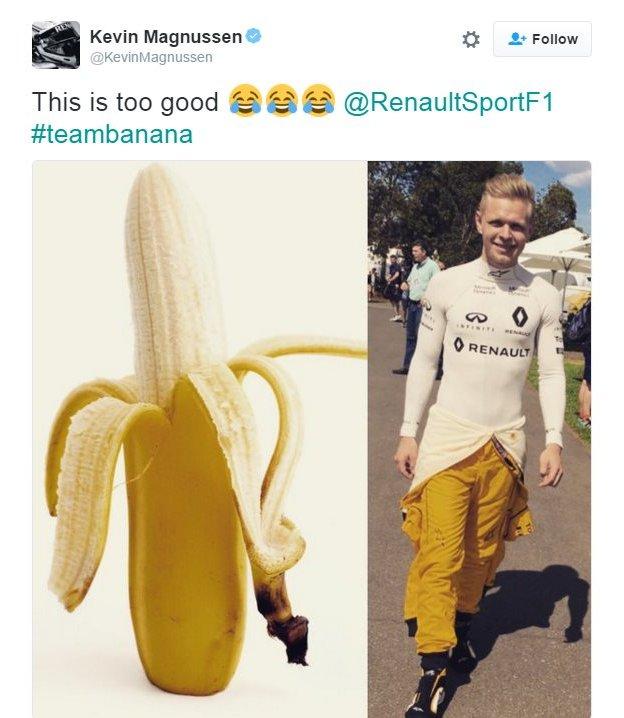 Thursday, 17 March
Aston Martin will return to Formula 1 this season following a 56-year absence, after linking up in a partnership with Red Bull. (Autosport)
Formula 1 boss Bernie Ecclestone would rather Ferrari win the world championship than Mercedes. (Daily Mail)
McLaren's Fernando Alonso has said he would have regrets about leaving Ferrari if the Italian team goes on to win the title this season. (ESPN)
World champion Lewis Hamilton has dodged questions during the Australian Grand Prix press conference about being investigated by New Zealand police for allegedly taking selfies on a motorbike. (Daily Mirror)
Meanwhile, Mercedes' Hamilton has tweeted a video of himself playing golf up a mountain in New Zealand.

Four-time world champion Sebastian Vettel had named his 2016 Ferrari 'Margherita', but insists it is not named after a pizza. (AFP)
Force India's Nico Hulkenberg says criticism from Red Bull's Daniel Ricciardo "made him smile". The pair disagreed over the Halo closed cockpit design. (Motorsport.com)
Sauber boss Monisha Kaltenborn says the team's financial trouble over the winter caught everyone by surprise. (Eurosport)
Renault and Mercedes have engaged in some social media repartee during Thursday's media day in Melbourne. It started with a Mercedes cameraman gate-crashing driver Jolyon Palmer's photoshoot, and ended with Renault outing Lewis Hamilton for being on his phone during a press conference.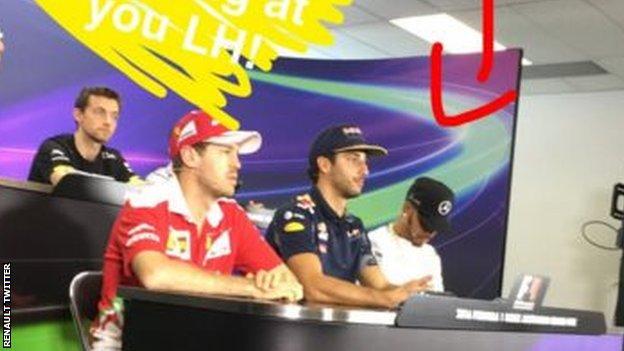 Wednesday, 16 March
Renault has unveiled its livery for the 2016 Formula 1 season and the French team will sport their traditional yellow.
Mercedes team boss Toto Wolff says "it will get nasty again" in the on-track battle between his team's drivers, Lewis Hamilton and Nico Rosberg, adding: "When you look at the big boxing matches the fighters create animosity and controversy before the event because that makes people turn on the TV. So we will let these two fight it out on the track." (Guardian)
Meanwhile, Nico Rosberg posted a picture of a huge spider stuck to the back of his car in Australia.
Red Bull's Daniel Ricciardo says he will be hoping for rain on Sunday to aid his chances of a podium finish at the season-opening Australian Grand Prix. (The Age)
Force India says it is strong enough financially to pay its bills and keep to its 2016 Formula 1 development schedule, despite speculation about its funding.(Autosport)
McLaren driver Jenson Button has been enjoying the Melbourne sun with a bike ride, posting the below picture on Instagram along with the comment: "Another good ride in the bank today, great prep for the season opener."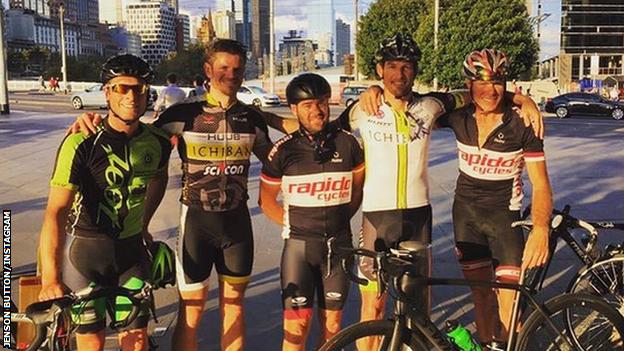 Tuesday, 15 March
Red Bull boss Christian Horner says he turned down the chance to sign Mercedes racer Lewis Hamilton as it would not have gone down well with Sebastian Vettel, who was at the team at the time. (Daily Telegraph)
Horner also believes former Ferrari and Mercedes team boss Ross Brawn is the man to save the sport when it comes to implementing F1's rules. (Sun)
World champion Hamilton can deal Mercedes team-mate Nico Rosberg "a blow from which he might not recover for the entire season" if he gains the upper hand at the first race in Australia, according to 1996 title winner Damon Hill.(Daily Mirror)
It can be a hard life being an F1 driver as Haas driver Romain Grosjean showed when he tweeted a picture of a beach along with the message: "Hello Australia! Sun, sea, swim."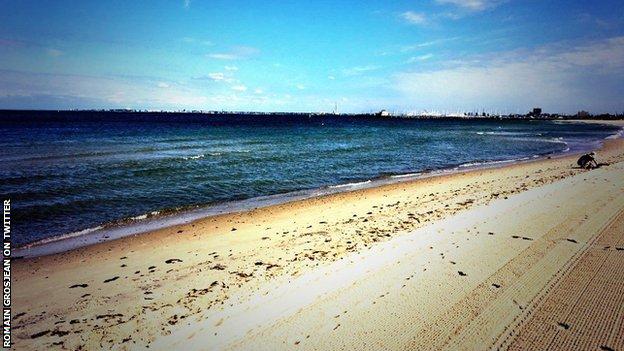 Monday 14 March
Mercedes driver Lewis Hamilton, 31, admits he does not yet know how to handle resurgent team-mate Nico Rosberg, 30. (Daily Mirror)
Commentator Martin Brundle claims Formula 1 is in desperate need for McLaren to return to their place as one of the sport's traditional title contenders. (Daily Mail)
Three-time world champion Niki Lauda says F1's new qualifying format is "really stupid" but the 67-year-old, a non-executive director at Mercedes, adds the Brackley-based team did not want a reversed grid. (Gazzetta dello Sport via Fox Sports)
Retired driver Mark Webber has tipped compatriot Daniel Ricciardo, 26, to achieve his goal of winning a world title, saying the Australian Red Bull driver has "championships in him". (Sydney Morning Herald)
Gene Haas, founder of F1's newest recruits Haas F1 Team, has invited American auto racing team owners Roger Penske and Rick Hendrick to join him at a Grand Prix this year. (Motorsport)
Sahara Force India driver Nico Hulkenberg, 28, tweeted a picture of himself enjoying a run in Sydney ahead of the Australian Grand Prix.