Formula 1 gossip: Wolff, Hamilton, Rosberg, Vettel, Williams, Pirelli
Last updated on .From the section Formula 1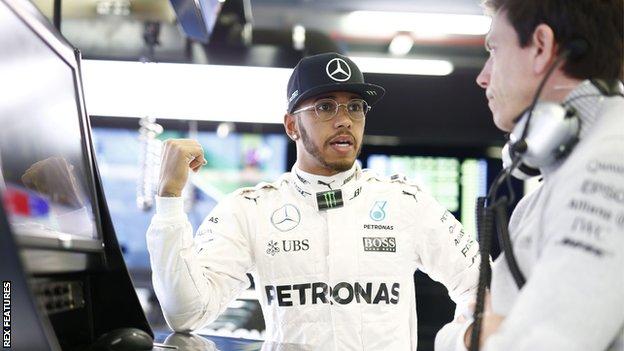 Sunday, 1 May
Team boss Toto Wolff admitted Mercedes do not understand the "freak failure" which ruined Lewis Hamilton's qualifying session for the Russian Grand Prix.(Mail on Sunday)
Mercedes driver Nico Rosberg is refusing to rule out a challenge from his rivals after clinching pole position at the Russian Grand Prix. (Fox Sports)
Sebastian Vettel has warned against writing Ferrari off as they look to overcome a frustrating start to the Formula 1 season and compete with Mercedes. (Sky Sports)
Williams performance chief Rob Smedley believes car improvements in lower-speed corners contributed to the team's best F1 qualifying performance of 2016. (Autosport)
F1 teams have unanimously agreed to raise the maximum fuel limit from next season, with the change already reflected in the revised 2017 Technical Regulations. (Grand Prix Times)
Pirelli has called for F1 to implement live monitoring of tyre data to prevent teams circumventing its minimum starting pressure limits. (Autosport)
Rosberg seemed relaxed after clinching pole on Saturday, challenging three-time world champion Niki Lauda to a game of table tennis. He posted a video on Twitter, adding: "Table tennis vs Niki Lauda in Sochi!!"
Saturday, 30 April
Nico Rosberg will be beaten to the Formula 1 title by Ferrari's Sebastian Vettel this year rather than Mercedes team-mate Lewis Hamilton, according to Sir Stirling Moss. (Telegraph)
World champion Hamilton has warned that F1 will be stuck with unpopular new rules for another three years unless the sport's bosses do a late U-turn. (Daily Mirror)
McLaren's Jenson Button has called Hamilton's doubters "muppets" and backed his compatriot to get his first win of the season at Sunday's Russian Grand Prix. (Daily Mail)
Daniel Ricciardo said the Red Bull-designed 'aeroscreen' cockpit protection device was "pretty good" after giving it its first public trial in Russia on Friday.(nbcsports.com)
Indonesia's first F1 driver Rio Haryanto is hoping a text messaging service can raise money to keep him on track with Manor Racing. (Reuters)
McLaren tweeted the outtakes of their drivers in a promotional video, but it looks like Jenson Button won't be taking a career change any time soon, with the Briton adding: "This is what happens when you ask racing drivers to act!"
Friday, 29 April
World champion Lewis Hamilton described Red Bull's 'aeroscreen' head protection, being tested in Russian Grand Prix practice, as looking like a "riot shield".(Motorsport.com)
McLaren's Fernando Alonso believes Formula 1 could be better off with less overtaking during races. (Autosport)
Sebastian Vettel says Ferrari team president Sergio Marchionne told him he had a "heart attack" watching the four-time world champion colliding with his team-mate Kimi Raikkonen on the opening lap of the Chinese Grand Prix.(Crash.net)
Daniel Ricciardo believes it is likely that Red Bull will stick with Renault Formula 1 engines beyond 2016 following the French manufacturer's performance increase so far this year. (Autosport)
Haas driver Romain Grosjean posted a picture of the Sochi track in Russia and wrote:"Great feeling to be racing around the Olympic torch!"
Thursday, 28 April
Formula 1 boss Bernie Ecclestone says the sport was in a much stronger position when he was a "dictator". (Sovetsky Sport - in Russian)
Mercedes driver Lewis Hamilton, 31, has dismissed talk of retirement and insists he remains "greedy" for another world title. (Fox Sport Asia)
Two-time champion Mika Hakkinen believes Nico Rosberg has finally risen to the challenge to win a F1 title, and says 2016 could be the 30-year-old's year.(Spox - in German)
Red Bull's Daniil Kvyat, 22, sees no reason to talk to Sebastian Vettel, 28, about the pair's Chinese Grand Prix exchange, saying Ferrari "paid the price" for being unprepared at the first corner. (ESPN)
Championship leader Nico Rosberg arrived in Russia for this weekend's race with fellow drivers and, referencing Bernie Ecclestone'srecent criticism, wrote: "AIR WINDBAGS has landed safely in Sochi (including Mr President)."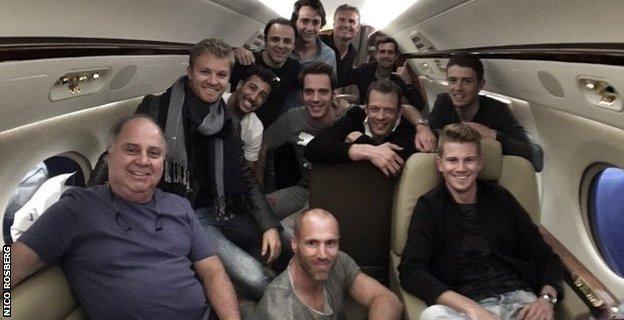 Christian Horner says Red Bull are right behind rivals Ferrari and ready "to cause a bit of mischief" when his team secure an engine upgrade.(Eurosport)
But supplier Renault say Red Bull's decision to remain an independent team rather than build their own F1 engine has left them "exposed".(Autosport)
The McLaren team took this picture on their arrival before this weekend's race,tweeting:"Touchdown in Sochi, the countdown to the Russian GP is on."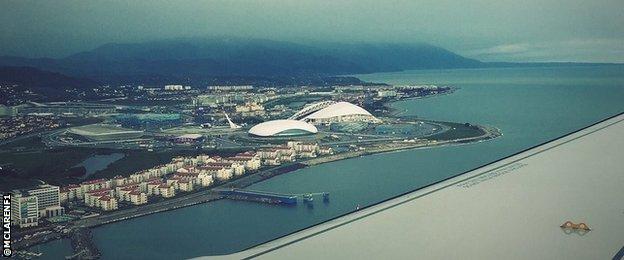 Wednesday, 27 April
Formula 1 bosses have failed to reach an agreement on the 2017 engine regulations following meetings on Tuesday at Biggin Hill. (Autosport)
Russian billionaire Viktor Kharitonin, who co-founded the pharmaceutical company Pharmstandard, now owns 99% of F1 racing circuit the Nurburgring. (Autoweek)
Haas F1 team owner Gene Haas would not prevent driver Romain Grosjean from joining "one of the two front F1 teams" should a "huge" offer materialise for the 30-year-old. (Autosport)
Force India driver Segio Perez, 26, is confident he can secure his first points of the season at the Russian Grand Prix in Sochi this weekend. (Fox Sports Asia)
A helmet with the signatures of 22 F1 world champions will go up for auction in Monte Carlo in May to raise money for various children's charities. (Autoweek)
Jenson Button, 36, took the chance to experience another McLaren model, posting this photo on Instagram and saying: "I promise I treated her well."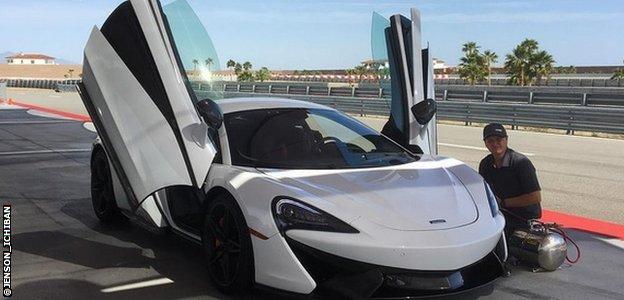 Tuesday, 26 April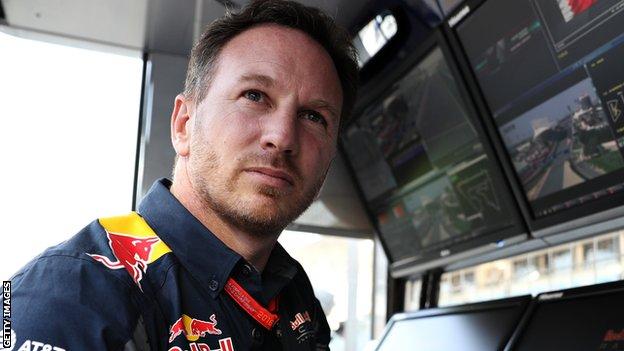 Red Bull team principal Christian Horner believes that revised tyre regulations have proved to be a success so far in 2016 because they have forced teams to mix their strategies. (Crash.net)
Williams driver Valtteri Bottas has admitted he would not say 'no' if a seat opened up for him at Mercedes. (Grandprix.com via MTV)
World champion Lewis Hamilton will keep the power unit that failed during Chinese Grand Prix qualifying as a spare because Mercedes engineers believe they know what caused the problem.(Autosport)
Hamilton says he is "staying calm" about his disappointing start to the 2016 season and believes his experience will help him reel in the points deficit on team-mate and championship leader Nico Rosberg.(formulaspy.com)
Meanwhile, Nico Rosberg met up with Borussia Dortmund defender and fellow German Mats Hummels at a fashion shoot for a brand they are both ambassadors for in Dusseldorf. He tweeted: "Was cool to meet @matshummels today in Düsseldorf."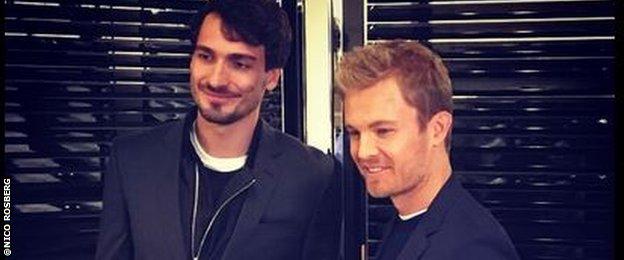 McLaren driver Jenson Button has described race day as "a bit like rolling the dice" as he admits his car has so far been unable to match the performance levels it can achieve in practice and qualifying.(Eurosport)
Force India's Nico Hulkenberg is determined to put two disappointing races in Bahrain and China behind him to register a strong points finish in his 100th grand prix in Russia.(PlanetF1.com)
Monday, 25 April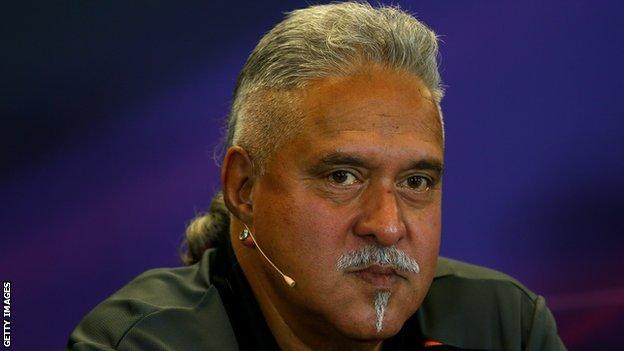 The Indian government has revoked the passport of Force India co-owner Vijay Mallya, who is under investigation for money laundering and financial irregularities. (Guardian)
Red Bull team principal Christian Horner says F1's four engine manufacturers are stalling over plans to create a new regulatory framework. (Autosport)
Williams' chief technical officer Pat Symonds says reverse grid races would improve the spectacle of Formula 1. (Sky Sports)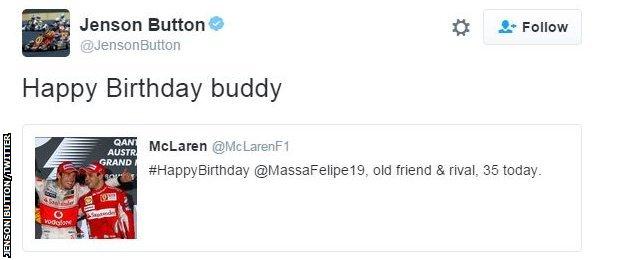 Ferrari will unveil a key engine upgrade for next weekend's Russian Grand Prix after their reliability problems in Australia and Bahrain. (Auto Bild, via F1 Today)
Four-time world champion Sebastian Vettel says F1 must not introduce regulations that could undermine its position as the "pinnacle" of motorsport.(Crash.net)