Formula 1 gossip: Dennis, McLaren, Renault, Kvyat, Verstappen, Baku
Last updated on .From the section Formula 1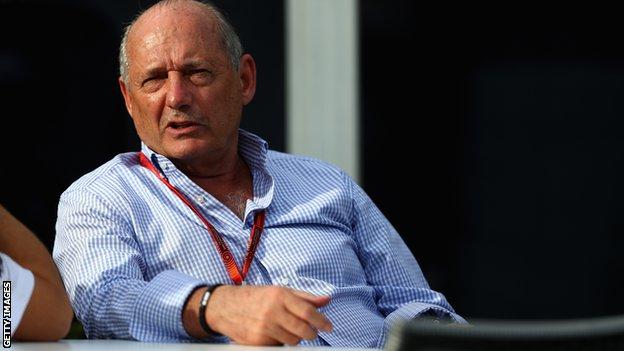 Sunday, 8 May
McLaren have played down reports team boss Ron Dennis is furious about a new engine rule. (Auto Motor und Sport, via Inautonews)
Renault racing director Fred Vasseur is not writing off the 2016 season, despite his team's focus being on 2017. (Motorsport.com)
Vasseur says reserve driver Esteban Ocon will conduct a full day's testing at the session following the Spanish Grand Prix. (NBC Sports)
Briton Alex Lynn, a Williams development driver, will also take part in the two-day test. (Planet F1)
Pirelli says Daniil Kvyat will use the tyre sets assigned to Max Verstappen's Toro Rosso car, with the teenager taking Kvyat's Red Bull allocation. (Grand Prix Times)
Azerbaijan's new Baku City Circuit has its own video game, giving fans a chance to test out the course before its F1 debut in June. (bakucitycircuit.com)
Haas driver Romain Grosjean was prepared for a marathon effort on Sunday, but not on the track. He tweeted this picture: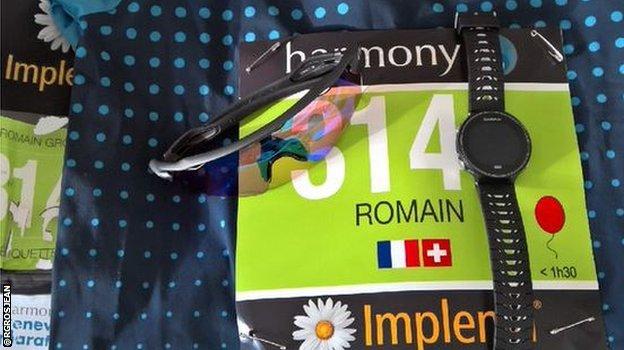 Saturday, 7 May
World champion Lewis Hamilton has urged fans to "respect" Mercedes following claims they are conspiring against him this season, saying on Facebook he trusts his team "1000%".
Renault plans to run its updated Formula 1 power unit for the first time at the in-season test that follows the Spanish Grand Prix. (Autosport)
Russian backer Sergey Belousov is happy with 22-year-old Daniil Kvyat's controversial return to Toro Rosso, saying the team is about "pure racing". (Lenta, via Inautonews)
Motorsport consultant Helmut Marko believes Red Bull will be the "biggest beneficiary" of F1's regulation changes in 2017. (Formula1.com)
Red Bull driver Daniel Ricciardo ran into a spot of trouble when out cycling on Friday, he tweeted: "Good ride. Although didn't plan on being back 7 hours later #puncture #iaintamechanic."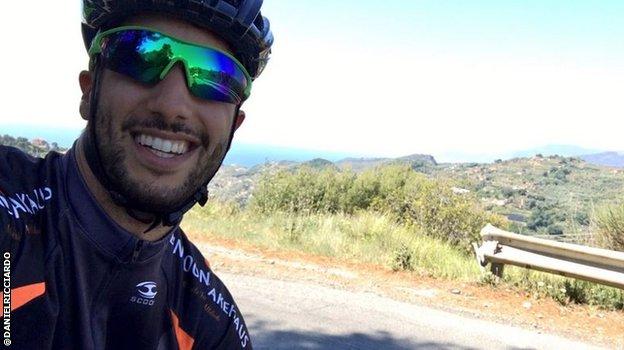 Friday, 6 May
Max Verstappen is looking forward to the "special moment" when he makes his debut for Red Bull at next weekend's Spanish Grand Prix. (Independent)
The 18-year-old sees no reason to consider potential offers from rival Formula 1 teams following his mid-season promotion from Toro Rosso to Red Bull. (Autosport)
Verstappen's former race engineer Xevi Pujolar has confirmed that he has left Toro Rosso, following reports of an argument with team boss Franz Tost at the Russian Grand Prix. (Motorsport.com)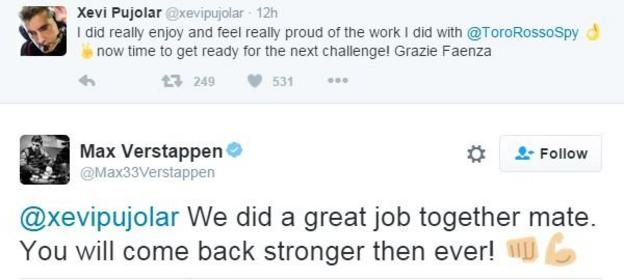 McLaren team boss Eric Boullier insists the 2017 regulations will not reduce overtaking levels in Formula 1. (inautonews.com)
Renault racing director Frederic Vasseur tells Formula 1 teams to stop complaining about the sport's regulations. (f1i.com)
Ferrari says Sebastian Vettel's power unit was not damaged in the crash with Daniil Kvyat during last weekend's Russian Grand Prix. (Autosport)
Thursday, 5 May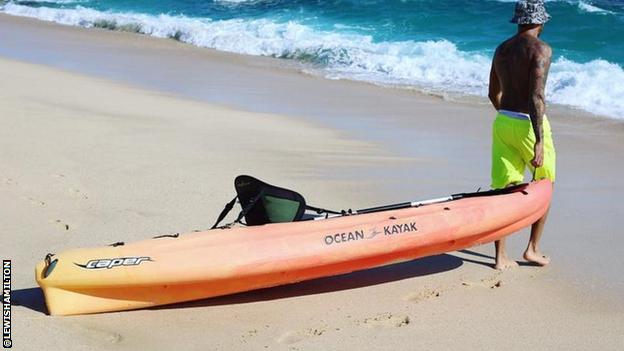 F1 chief executive Bernie Ecclestone told world champion Lewis Hamilton to 'stop moaning' following a further reprimand from race stewards at the Russian Grand Prix, but also backed the Briton to regain his world title. (The Times - subscription required)
Leading teams, including Mercedes and Red Bull, want to see Ecclestone replaced as the sport's figurehead. (wheels24)
Mercedes driver Hamilton insists he has not eased off after winning a third world title and wants to add to his collection. (f1i.com)
Honda boss Yusuke Hasegawa has queried the need to increase engine noise to make F1 more exciting. (Autosprint via inautonews)
Pirelli have begun testing new tyres, suggesting that they will stay as the F1 tyre supplier from 2017-19. (formulaspy.com)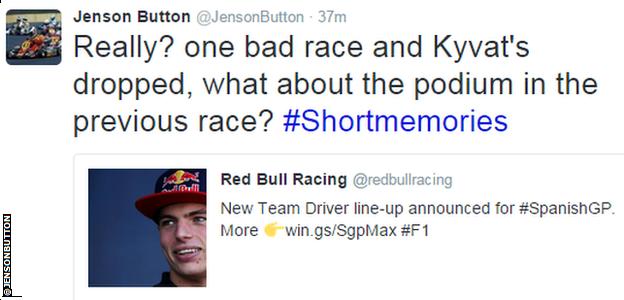 Wednesday, 4 May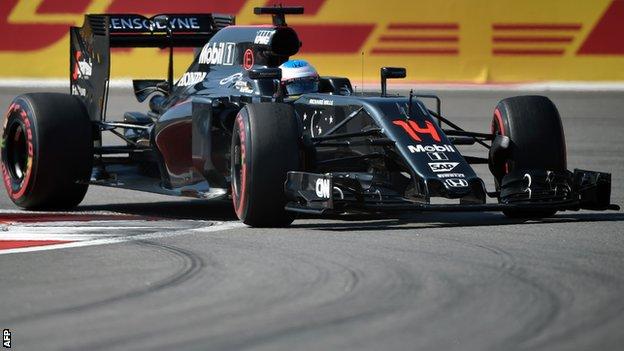 McLaren are planning to upgrade their car with "significant" updates for the Spanish Grand Prix. (Daily Mail)
F1 chief executive Bernie Ecclestone has admitted an attempt to hold a race on the world-famous Las Vegas strip is now "struggling". (ESPN)
Lewis Hamilton has said he will only stay in F1 if he has the chance to win. (Sky Sports)
Mercedes boss Toto Wolff has suggested Ferrari's disappointing form during the Russian Grand Prix weekend was a blip. (Eurosport)
Ferrari president Sergio Marchionne says it breaks his soul to see Ferrari struggling to fight for victories in F1. (Gazzetta - in Italian)
Nico Rosberg says he hopes the "haters" get over the new F1 cockpit protection. (Motorsport.com)
Tuesday, 3 May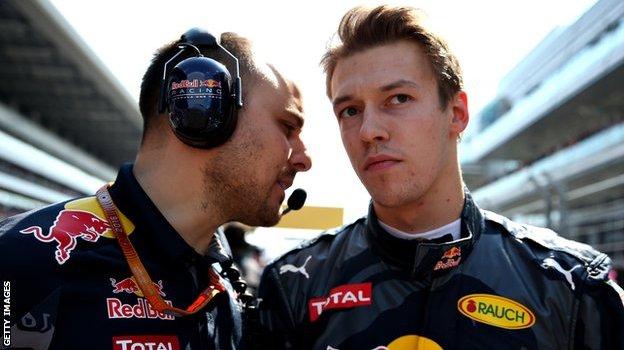 Red Bull will hold talks with driver Daniil Kvyat, 22, over his future at the team after causing what the outfit's bosses called "a day of disaster" at the Russian Grand Prix, which included a crash with Ferrari's Sebastian Vettel. (City AM)
Mercedes' continuing dominance is harming Formula 1, according to Igor Ermilin, the presidential advisor to the Russian Automobile Federation. (Autoweek)
Finnish driver Kimi Raikkonen is unsure about his F1 future beyond 2016, with his contract at Ferrari due to expire at the end of the current season. (Paddock Talk)
Reigning world champion Lewis Hamilton has accepted he is likely to receive a grid penalty this season after receiving his second reprimand of 2016 at the Russian GP. (Sky Sports)
Mercedes chief Toto Wolff has hit back at suggestions on social media that the team deliberately sabotaged Hamilton's car in Russia, calling the accusers a "bunch of lunatics". (NBC Sports)
Hamilton will put his problems behind him this weekend with a trip to Barbados...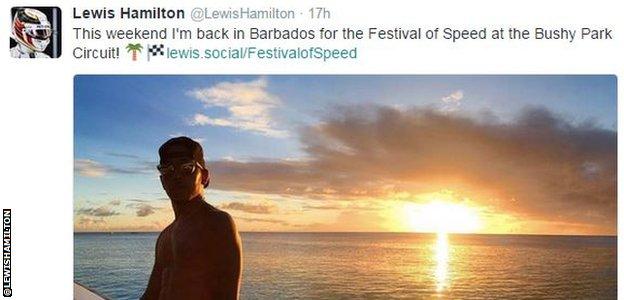 Monday, 2 May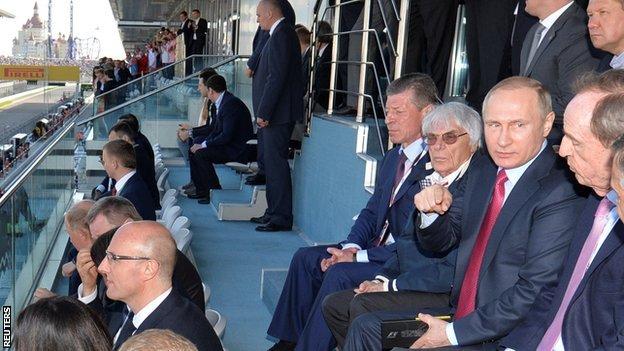 Formula 1 boss Bernie Ecclestone watched the Russian Grand Prix alongside president Vladimir Putin, a man he described on Saturday as "like another Winston Churchill". (Tass, via Daily Mail)
Red Bull driver Daniil Kvyat says he spoke to Ferrari's Sebastian Vettel on the phone after the pair were involved in a crash during Sunday's race. (Autoweek)
Ferrari's Kimi Raikkonen, who finished third in Sochi, says the team did not have the speed to challenge Mercedes. (Fox Sports)
Red Bull's Daniel Ricciardo also expressed his frustration after he finished 11th in Sochi. (Fox Sports)
Rookie Jolyon Palmer was the third Brit home at Sochi with a 13th-placed finish for Renault. He tweeted: "Much more solid race. Points for the team and not far away for me. Just losing the tyres a bit too much in the second stint... On to Barca!"
Mercedes driver Nico Rosberg was delighted with his Russian win, posing for a selfie with the race trophy.