Max Verstappen tops the list of youngest race winners in Formula 1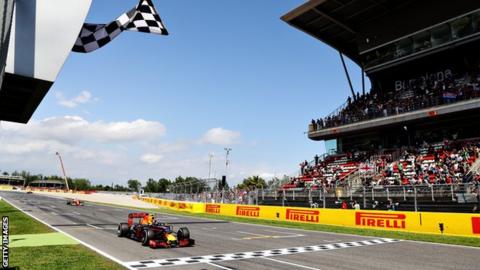 It is the pub quiz question that will likely never have to be rewritten. Just who is the youngest man to win a Formula 1 race?
The answer, of course, is Max Verstappen of the Netherlands, who finished first at the Spanish Grand Prix on Sunday. But which other drivers past and present achieved success at a young age - and who had to wait a bit longer?
1. Max Verstappen (18 years, seven months, five days)
2. Sebastian Vettel (21 years, two months, 11 days)
3. Fernando Alonso (22 years, 26 days)
4. Troy Ruttman (22 years, two months, 19 days)
5. Bruce McLaren (22 years, three months, 12 days)
6. Lewis Hamilton (22 years, five months, three days)
7. Kimi Raikkonen (23 years, five months, six days)
8. Robert Kubica (23 years, six months, one day)
9. Jacky Ickx (23 years, six months, six days)
10. Michael Schumacher (23 years, seven months, 27 days)
Notable others
19. Ayrton Senna (25 years, one month)
25. Stirling Moss (25 years, nine months, 29 days)
It's not all about the youth - some had to wait their whole careers
Luigi Fagioli (53 years, 22 days)
Giuseppe Farina (43 years, six months, 13 days)
Juan Manuel Fangio (38 years, 10 months, 27 days)
Graham Hill (33 years, three months, five days)
Damon Hill (32 years, 10 months, 29 days)
Source: Forix