F1 gossip: Mercedes, Hamilton, Rosberg, Vettel, Renault
Last updated on .From the section Formula 1
Friday, 20 May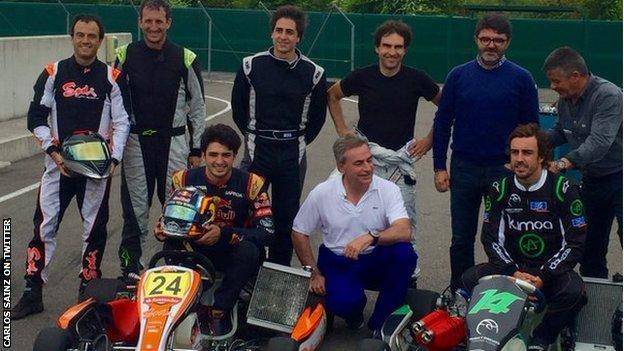 The collision between Mercedes team-mates Lewis Hamilton and Nico Rosberg means 1,000 to 1,200 parts came back to the team either "damaged, quarantined or needing some sort of work". (Autosport)
Data from testing has shown an improvement from the upgraded Renault engine used by Red Bull and the team could push to get it ready for the Monaco Grand Prix. (Motorsport.com)
Renault driver Kevin Magnussen is also keen for the upgraded engine, which was scheduled to be used at the Canadian Grand Prix, in his car in Monaco as it could be half a second a lap faster. (Crash.net)
Ferrari have not won a race this season but driver Sebastian Vettel believes the Italian team can end their winless streak at the Monaco Grand Prix - where they haven't won for 14 years. (Formula 1)
Toro Rosso driver Carlos Sainz and McLaren racer Fernando Alonso hooked up to take part in a bit of kart racing. Sainz tweeted: "Incredible day with mates: museum @CircuitoMuseoFA, cycling and karting with @alo_oficial! Must do again soon."
Thursday, 19 May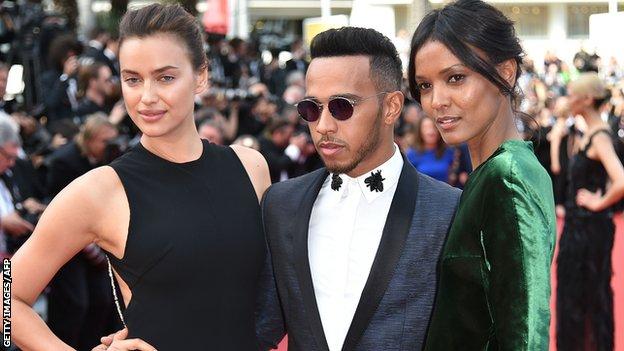 Ferrari boss Maurizio Arrivabene has dismissed rumours his job is on the line after the team's failure to win a race this season. (PlanetF1)
Red Bull's Max Verstappen must show his Spanish GP victory is "typical of what he can do", according to Williams driver Felipe Massa. (Motorsport)
Lewis Hamilton will be unable to take part in the in-season test at Silverstone, as Mercedes must use young drivers on two of the four in-season test days.(Sky Sports)
Former GP3 competitor Carmen Jorda believes she can experience an F1 test this year for the first time in her role as Renault development driver. (GrandPrix.com)
Haas team boss Gunther Steiner says he holds no grudges towards driver Esteban Gutierrez after the Mexican said his team need to "get on top" of their technical issues. (Crash.net)
Kevin Magnussen has taken the blame for colliding with Renault team-mate Jolyon Palmer on the final lap of the Spanish GP. (AutoSport)
Honda would not be happy if regulations are enforced to mean an F1 manufacturer is obliged to offer a deal to a team without an engine. (AutoSport)
A helmet signed by 22 world champions has been sold at auction for $14,000 (£9,600). (AutoWeek)
Wednesday, 18 May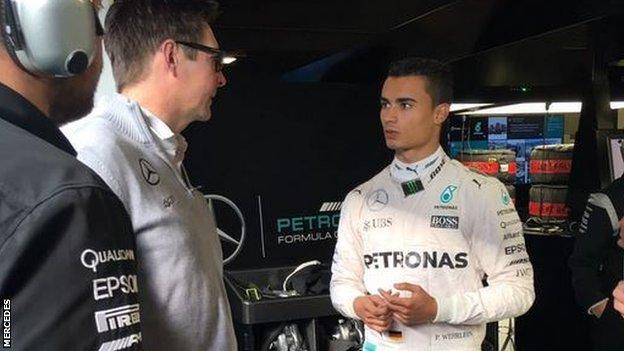 Pascal Wehrlein, 21, gets a surprise call up to the Mercedes team for the final day of in-season Formula 1 testing at Barcelona in Spain. (Motorsport.com)
Renault reserve driver Esteban Ocon, 19, says he will get more running in Formula 1 free practice sessions this season. (Autosport.com)
Formula 1 is to announce a new £100m sponsorship deal with Heineken. (The Guardian)
Daniel Ricciardo wants Red Bull to run Renault's engine upgrade a race early in Monaco. (ESPN)
Ferrari team principal Maurizio Arrivabene claims the recent rumours regarding his Formula 1 future were intended to create tension within the team. (Eurosport)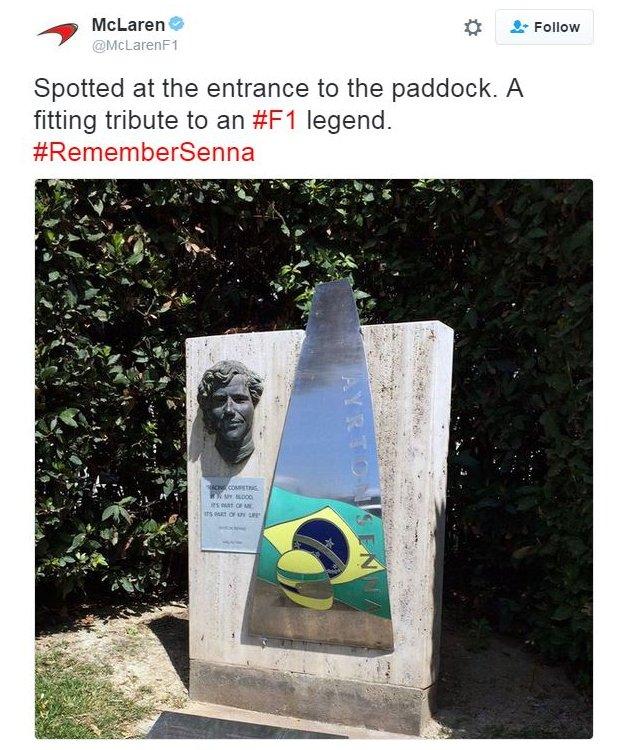 Tuesday 17 May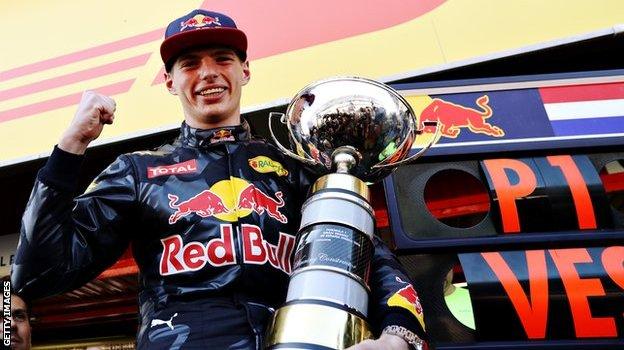 Lewis Hamilton should be disciplined by Mercedes for the accident that wiped out him and team-mate Nico Rosberg at the Spanish Grand Prix, according to Sir Jackie Stewart, who blames the triple world champion for the crash. (Daily Mail)
While Mercedes non-executive chairman Niki Lauda says Hamilton "took the blame" for the incident. (Fox Sports)
F1's youngest ever winner Max Verstappen has posted a video on Facebook reflecting on his maiden victory at Sunday's Spanish Grand Prix.(Facebook)
And the Dutchman says his target for the Monaco Grand Prix is to avoid crashing into the walls like last year.(Grand Prix Times)
Romain Grosjean will run a new Haas chassis on Tuesday's opening day of Formula 1's first in-season test of the year at Barcelona. (Eurosport)
Ferrari's Sebastian Vettel admits he would have tried the same daring manoeuvre that Red Bull's Daniel Ricciardo attempted towards the end of the Spanish Grand Prix, if their positions had been reversed. (Formula1.com)
The halo and aeroscreen cockpit protection concepts will both be tested ahead of the Monaco Grand Prix later this month. (Fox Sports)
Monday 16 May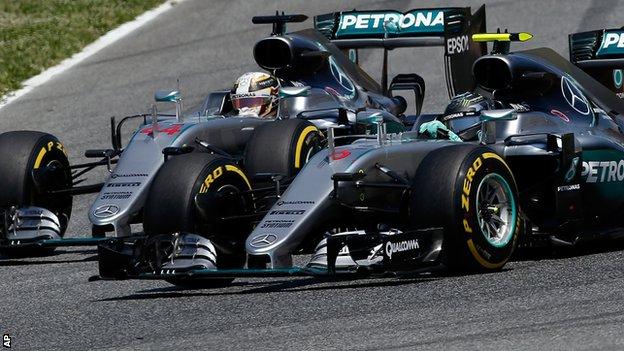 Mercedes will not seek to impose any limits on Lewis Hamilton and Nico Rosberg racing each other despite their Spanish Grand Prix collision. (Autosport)
Non-executive chairman and former champion Niki Lauda blamed Hamilton for the first-lap accident that put both the Briton and his Mercedes team-mate Rosberg out of the race. (Guardian)
After Sebastian Vettel exclaims: "What are we doing here, racing or ping pong?!" following a daring manoeuvre from Daniel Ricciardo, the colourful Australian takes to Twitter to issue a humorous response.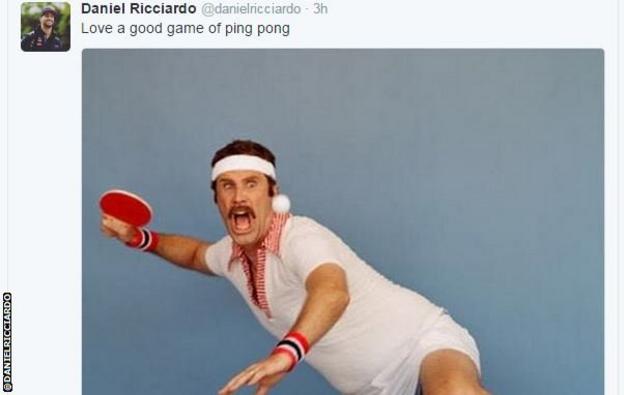 Meanwhile, Red Bull Racing boss Christian Horner says he felt pitting Ricciardo against Vettel on a three-stop strategy was the team's best chance of victory in Barcelona. (Motorsport.com)
Horner says the way Max Verstappen executed his final stint to claim a stunning maiden victory at the Spanish Grand Prix proves he has a "very bright future". (ESPN)
Ferrari president Sergio Marchionne insists team boss Maurizio Arrivabene's job is safe and claims "the work he is doing is extraordinary." (GrandPrix.com)
Jenson Button on Instagram after his ninth place in Barcelona: "P9 obvs not a result we're happy with but points on the board plus a very tricky race in terms of strategy. Guys thank you for all the support this year, we're pushing hard for improvements and hopefully soon we'll have something to shout about."
Never want to miss the latest Formula 1 news? You can now add F1 and all the other sports and teams you follow to your personalised My Sport home.
We've launched a new BBC Sport newsletter ahead of the Euros and Olympics, bringing all the best stories, features and video right to your inbox. You can sign up here.