F1 gossip: Mansell, Palmer, Verstappen, Massa, Button, Rosberg
Last updated on .From the section Formula 1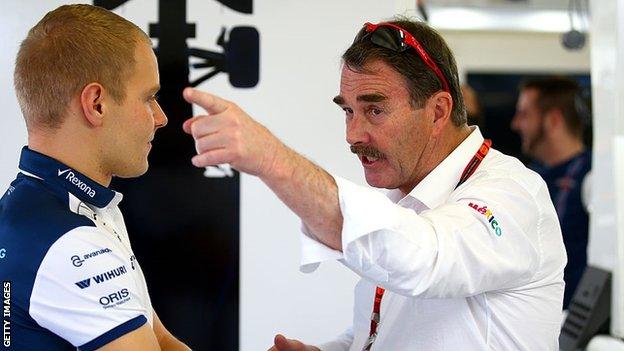 Sunday, 31 July
Former Formula 1 world champion Nigel Mansell says becoming a magician helped him fully recover from a crash at Le Mans in 2010. (Sunday Mirror)
British rookie Jolyon Palmer believes he has "turned a corner" as he attempts to prove to Renault he should be given a second year in the sport. (Observer)
Red Bull teenager Max Verstappen says he will not change his approach to racing, adding: "I'm here to race and defend my position." (Sky Sports)
Felipe Massa has another helmet to add to his collection - one belonging to Force India's Sergio Perez. The Williams driver tweeted: "Nice helmet exchange, one more for the collection! Thanks mate."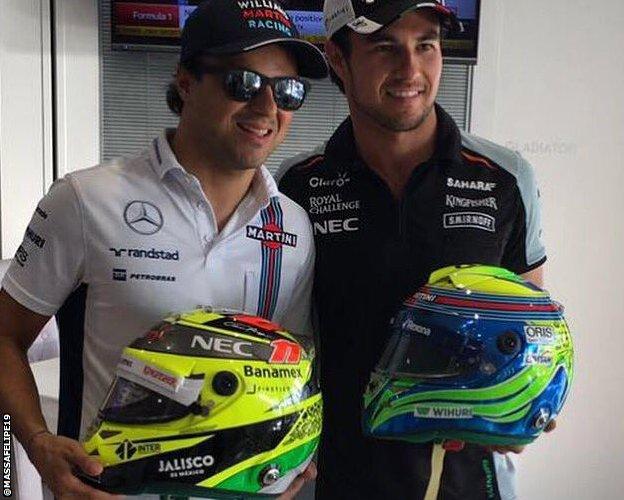 Mercedes driver Nico Rosberg may know his way around a complex F1 cockpit, but the German needed a lesson when it came to learning about Snapchat.
Esteban Gutierrez needed no such help in the selfie department - the Haas F1 driver managed to catch thousands of fans at the Hockenheimring in this picture he posted on Twitter: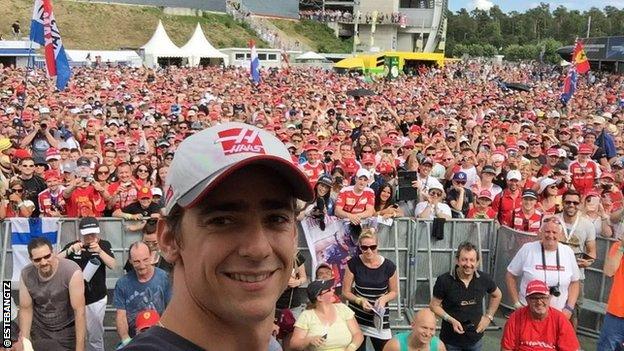 McLaren driver Jenson Button says he has endured a "tricky weekend" at the German Grand Prix, but remains hopeful he may make the points. (The Checkered Flag)
Saturday, 30 July
Lewis Hamilton should not have approached the FIA's Charlie Whiting directly over team-mate Nico Rosberg's yellow flag incident in Hungary, according to technical boss Paddy Lowe. (Grand Prix Times)
Ferrari's Formula 1 head of race activities Jock Clear says the team will have to "work hard to cover the gaps" following James Allison's departure as technical director. (Autosport)
Just another day in F1? Manor Racing posted the picture below with this tweet: "Just hanging out here with this Elvis cow and Pascal, chatting to @TomClarksonF1 for @bbcf1 & @BBCSport. Standard."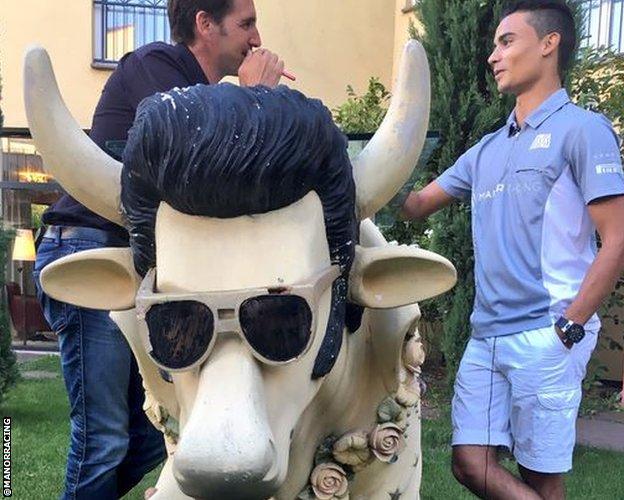 Formula E champion Sebastien Buemi will enjoy his first F1 test in more than two years next week when he represents Red Bull in the latest Pirelli tyre evaluation runs for the 2017 season. (NBC Sports)
Red Bull's Daniel Ricciardo is confident he will enjoy a lot of success at the German Grand Prix on Sunday if he can replicate his qualifying form. (Fox Sports)
F1 drivers have been reacting to their first qualifying runs on Twitter, with Red Bull's Max Verstappen saying: "Off to a great start, car felt good and aiming to continue improving tomorrow. #keeppushing #GermanGP"
Sauber's Marcus Ericsson said: "One of our better Fridays of the year! Let's keep it up for the rest of the weekend." Renault's Kevin Magnussen added: "Good day today. Car felt good especially on long runs. Will do a few tweaks and Q2 should be the goal for tomorrow."
Friday, 29 July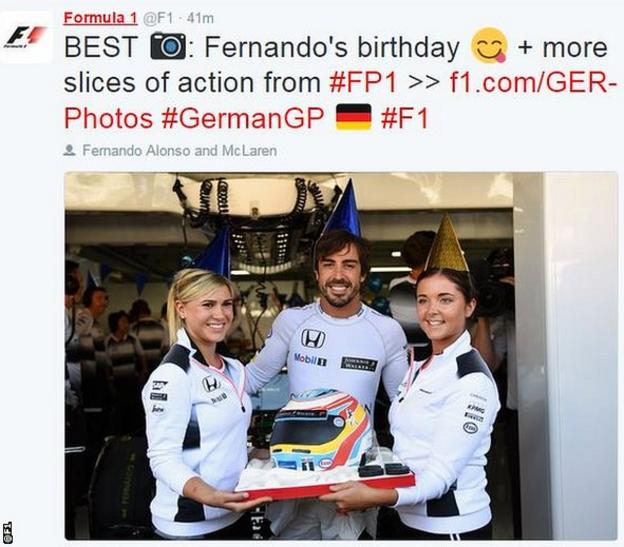 Nico Rosberg is aiming to leapfrog Mercedes' team-mate Lewis Hamilton at the German Grand Prix on a circuit that brings back 'great memories' from his childhood. (PlanetF1)
Formula 1's Strategy Group have done 'the right thing' by postponing the halo protection device, Red Bull boss Christian Horner says. (Motorsport)
The Strategy Group has reportedly agreed to guarantee standing starts in wet races in 2017, with drivers to do a series of exploratory laps behind the safety car. (Autosport)
Renault driver Jolyon Palmer believes that the decision to allow Rosberg's pole lap at Hungarian Grand Prix to stand has set a 'dangerous precedent'. (Daily Mail)
Formula 1 is set to investigate the idea of 'active' cockpit protection, designed to deflect debris away from a drivers' head in an accident. (Motorsport)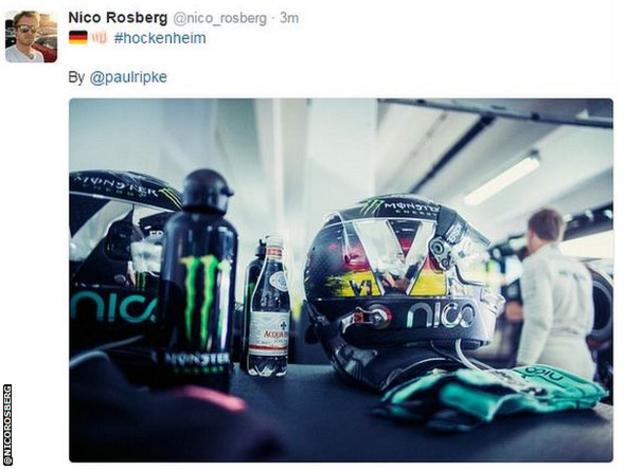 Thursday, 28 July
The FIA may have to force the halo through on safety grounds to get the cockpit protection device on Formula 1 cars in 2017. (Autosport)
McLaren believe its chassis is now as good as Ferrari's - and would be strong enough to fight with its Italian rival for third place in the championship if the Honda engine was more powerful. (Motorsport.com)
Sebastian Vettel, Nico Rosberg, Felipe Massa and Daniel Ricciardo were among the current drivers to take part in a 'Champions for Charity' football match, in honour of seven-time Formula 1 world champion Michael Schumacher. (Daily Mail)
Formation lap? F1's football XI
Daniel Ricciardo posted a picture himself stood on the touchline and wrote: "Had a great time last night but definitely felt I was more useful here than on the pitch."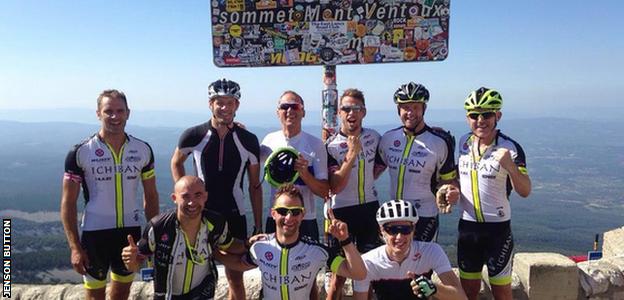 Rio Haryanto will drive for Manor in this weekend's German Grand Prix after securing funds to see him through the weekend at Hockenheim. (Autosport)
Jenson Button posted a video of himself cycling up Mont Ventoux, the legendary mountain that features in the Tour de France. With his tongue firmly in his cheek, Button described the climb as "easy-peasy" and like a "Sunday stroll".
Wednesday, 27 July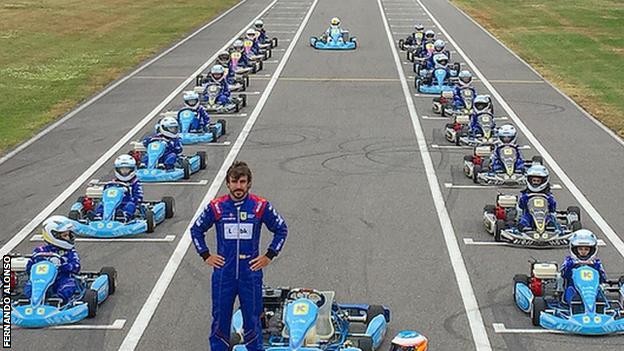 McLaren's Fernando Alonso believes the sport will return to "what Formula 1 should be" in 2017 with new rules designed to produce faster cars, better tyres and enhanced aerodynamics. (Autosport)
Renault say their improved form at the Hungarian Grand Prix has raised hopes that they can go on the attack in the second half of the season. (Motorsport.com)
Carlos Sainz hopes the upgrade Toro Rosso will be bringing to this weekend's German Grand Prix will allow them to get the better of McLaren. (F1i.com)
Romain Grosjean wants the Haas team to get to the bottom of a balance issue before Hockenheim. (Autosport)
Fernando Alonso joined a group of children at his karting campus at his museum in Asturias, Spain, which he described as a "fantastic" experience.
Tuesday, 26 July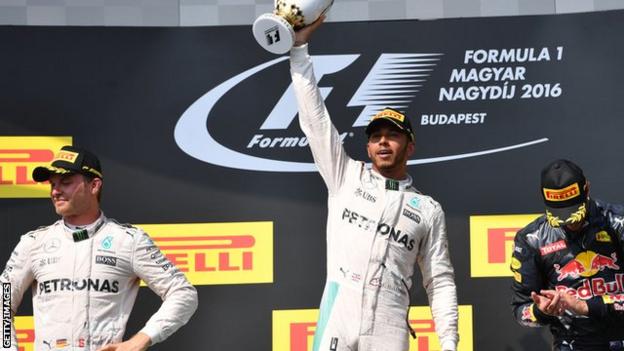 Nico Rosberg reiterated that he is not looking at the points table just yet after Mercedes team-mate Lewis Hamilton overtook the German in the world championship at the Hungarian Grand Prix. (PlanetF1)
Force India has accepted the blame for the "miscommunication" that led to Sergio Perez's badly executed second pit stop in Hungary. (Autosport)
After a seventh-placed finish at the Hungaroring, McLaren's Fernando Alonso highlighted his previous successes at the German Grand Prix, which takes place this weekend. (Instagram)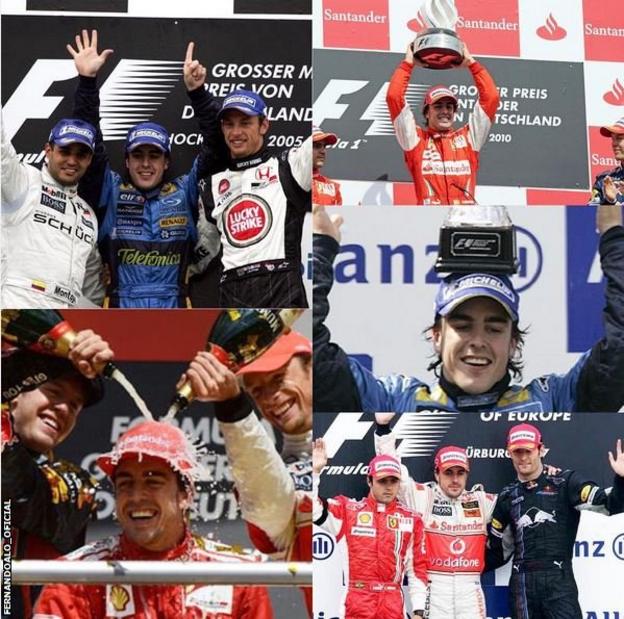 Red Bull team principal Christian Horner believes they are only likely to get stronger over the second half of the season after moving within one point of Ferrari in the battle for second in the constructors' championship.(Sky Sports)
German driver Pascal Wehrlein says he would like to race with Manor for a second season.(The Checkered Flag)
Monday, 25 July
Sebastian Vettel believes the stewards' decision to allow Nico Rosberg's pole position lap to stand at the Hungarian Grand Prix sets a bad example for junior categories. (ESPN)
McLaren have dismissed rumours that Stoffel Vandoorne could replace Rio Haryanto at Manor for the remainder of this season. (Fox Sports)
Fernando Alonso was happy to be the "best of the rest" behind the three fastest teams over the Hungarian Grand Prix weekend after finishing seventh in every session. (NBC Sports)
Red Bull's Daniel Ricciardo was enjoying himself on the flight home from Hungary, though his video message to fans was interrupted by David Coulthard and Jenson Button. He tweeted: "Special flight home with the crew last night. @JensonButton with the tunes 😄 #topgun #sundaynightflight"
Teenager Max Verstappen says his Red Bull had the pace to make the podium in Hungary but the team miscalculated on his pit stops. (F1.co.uk)
Haas F1 Team driver Romain Grosjean says he can learn a lot from an afternoon's racing at the Hungarian Grand Prix on Sunday where "nothing really worked" for him. (The Checkered Flag)