Lewis Hamilton: I'm not driving any better than earlier this year

By Andrew Benson
Chief F1 writer at Hockenheim
Last updated on .From the section Formula 1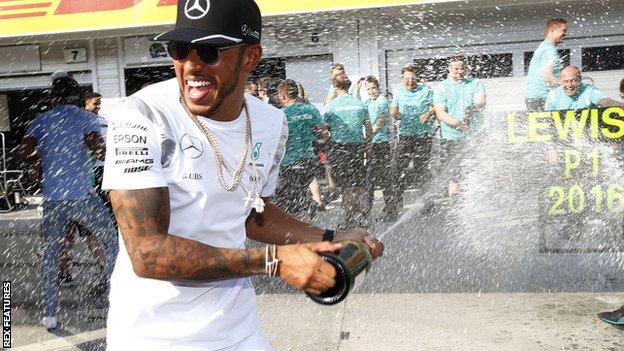 Mercedes' Lewis Hamilton says his recent form is down to him having no car problems rather than performing better than earlier in the season.
He has won five of the last six races to turn a 43-point deficit to team-mate Nico Rosberg into a six-point lead.
Hamilton said: "Nico has been driving just as well as he has all year. It's just I haven't had any car problems.
"I've been driving exactly the same as earlier in the year but have not had gearbox failures or engine problems."
The season has split into two distinct phases over its first half. Rosberg won the first four races of the season, before the two Mercedes team-mates crashed out together on the first lap in Spain and then Hamilton went on his current run.
Hamilton said of the start to the season: "It was just a bad run. I had a lot of poles, difficult starts, collisions, gearbox failure, engine failures. That's it in a nutshell.
"I haven't had a problem these last few races."
Hamilton hopes to continue his run of form at this weekend's German Grand Prix, after which F1 goes on its four-week summer break before reconvening at the Belgian Grand Prix at the end of August.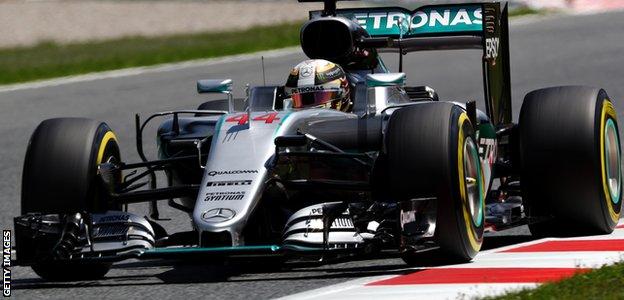 Hamilton said he was expecting another difficult weekend either in Spa or at the Italian race in Monza the following weekend because he will be hit with a grid penalty for using too many engines.
The problems he suffered with engine parts in China and Russia earlier in the season mean he will inevitably have to use more than the permitted number of engine parts. Mercedes are likely to take this penalty at either Spa or Monza because they are tracks where overtaking is easier than most.
Hamilton said: "I've finally got on a wave this last six races. When this weekend is done, it is not going to be a spectacular wave in one of the next two races because I am going to take a penalty. I will wait for the next good one. The wave is going to go again.
"I have less engines so I know I still have a steep hill ahead of me. While I am ahead, I am not really ahead. At least one race I am going to start last. I am actually still behind. But very close."
Rosberg, who has won about half as many races as Hamilton during their time as team-mates at Mercedes, accepted that trying to beat Hamilton was always going to be a difficult task.
"This is the challenge that I love," the German said. "Fighting one of the best out there. That's awesome. That's what I'm racing for; those battles. And the biggest thrill for me is when I can beat him and come out on top."
He added: "I am excited because I am here in Hockenheim. I have an amazing car and I have the opportunity to get pole and win the race and I am going to try and do that."