F1 gossip: Ricciardo, Ecclestone, Bottas, Singapore GP, Silverstone
Last updated on .From the section Formula 1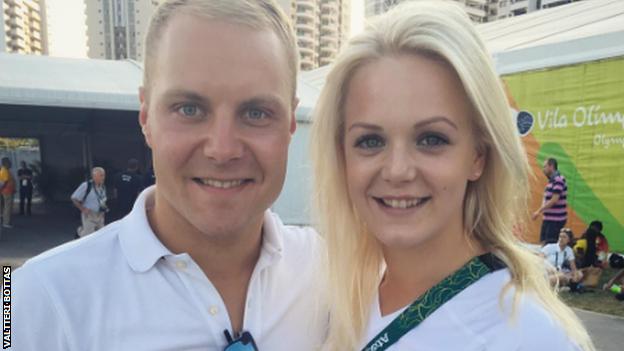 Sunday, 7 August
Red Bull's Daniel Ricciardo says he has tried to express his frustration more regularly in Formula 1 this year to prove he is not a driver who can be walked all over.(Autosport)
Kidnappers threatened to behead Bernie Ecclestone's mother-in-law and demanded a £28m ransom.(Sunday Telegraph)
A terrorist plot to attack the site of next month's grand prix in Singapore has been foiled.(Sunday Mirror)
Mick Schumacher, son of seven-time Formula 1 world champion Michael Schumacher, sealed his fourth win of the German Formula 4 season at the Nurburgring.(Mail on Sunday)
Williams'Valtteri Bottas is attending the Rio Olympics,where his fiancee Emilia Pikkarainen is representing Finland in the swimming competition.
Porsche has blocked a bid by Jaguar Land Rover to acquire Silverstone, the home of the British Grand Prix.(Sunday Telegraph)
Saturday, 6 August
Mercedes drivers Lewis Hamilton and Nico Rosberg have picked the fewest amount of super-soft tyres for the Belgium Grand Prix compared with their rivals at Red Bull and Ferrari. (Autosport)
Hamilton wants to make the most of his team's present dominance as Mercedes could face a a stronger challenge to their superiority next season with new regulations coming into force. (F1i, via Eurosport)
Red Bull's Daniel Ricciardo admits he "underestimated" the challenge of Max Verstappen when the 18-year-old replaced Daniil Kvyat. (Fox Sports)
Williams have been linked with bringing in drivers Jenson Button and Sergio Perez, but development driver Alex Lynn wants the team to take a chance on him. (Motorsport.com)
Lewis Hamilton has gone back to his roots during F1's summer break and tweeted a picture of him and his granddad with the message: "A truly special day spending time with my Grandad in Grenada yesterday."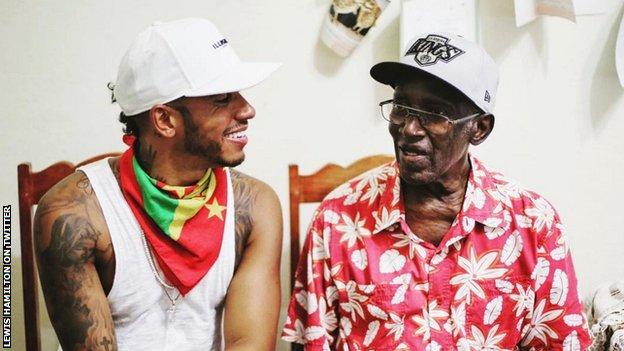 Friday, 5 August
Williams driver Valtteri Bottas is travelling to the Olympics to watch fiancee Emilia Pikkarainen swim for Finland. (Instagram)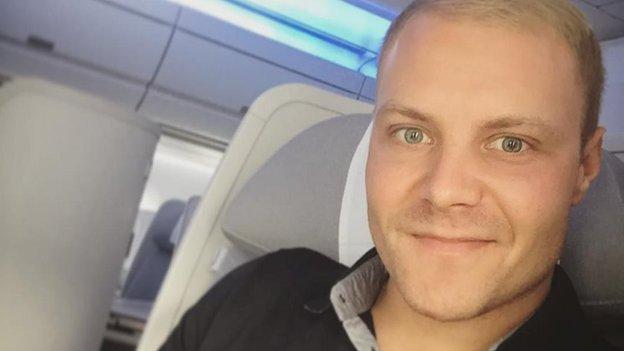 Red Bull chief executive Christian Horner says that his team have "exceeded all expectations" for the first half of the season. The Milton Keynes-based outfit are second in the constructors championship, 14 points clear of Ferrari in third. (NBC Sport)
Daniel Ricciardo says that the Red Bull is "as good" as the championship-leading Mercedes but still lacks "a little bit of power". (The Age)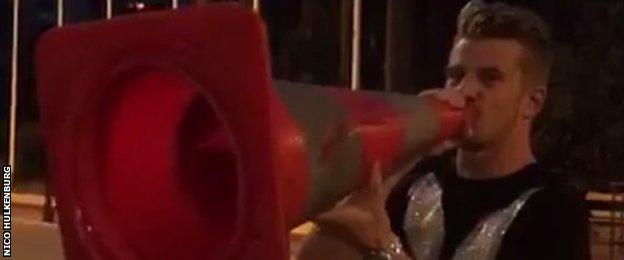 Fernando Alonso insists that he was right to move to McLaren at the end of 2014 despite having two years remaining on his Ferrari contract at the time and despite the Italian outfit's second-place finish in last year's constructors' championship. (F1i)
F1 chief Bernie Ecclestone plans to sell unrestricted access to the teams' radio communications to fans. (Auto Motor und Sport)
Pirelli motorsport director Paul Hembery admits that planning for the 2017 season and the introduction of wider tyres is made difficult by "the wide discrepancy of information" from the teams about their new 2017 models. (GP Update)
Mercedes team boss Toto Wolff says that track limits should be scrapped to allow drivers to find whatever line they choose. (Autosport)
Thursday, 4 August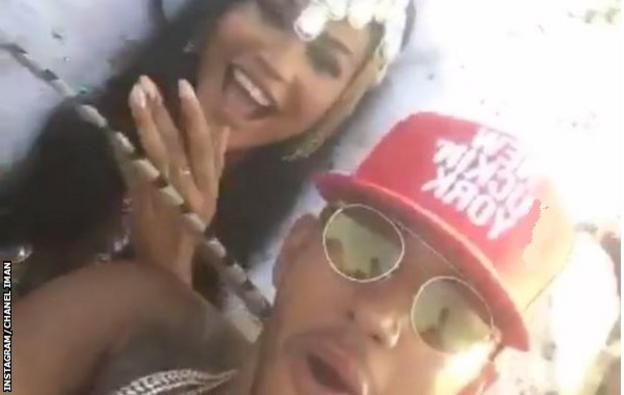 Championship leader Lewis Hamilton's summer break continues in Barbados, where he was filmed partying at the island's Crop Over festival. (Chanel Iman's Instagram)
Meanwhile, Hamilton's Mercedes team-mate Nico Rosberg has travelled to his holiday home on the Spanish island of Ibiza with his wife Vivian and daughter Alaia. (Bild)
Team chairman Niki Lauda says that Rosberg "must believe in himself again" if he is to rediscover his form and maintain his title challenge. (Blick via Autoweek)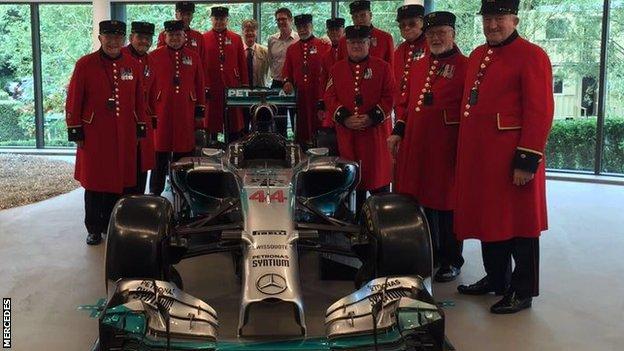 Ferrari chief executive Sergio Marchionne has said that he would be "lying if I said that we were satisfied" with the team's performance this season. (Tuttosport)
Formula 1 legend Sir Jackie Stewart has paid tribute to New Zealand racing driver Chris Amon, who has died aged 73. Stewart said that Amon was "smooth, clean and extremely well mannered on the track" and "much better than his record shows". (New Zealand Herald)
Wednesday, 3 August
Williams are keen to see Jenson Button return to them in 2017, but say they won't 'wait around' for the McLaren driver. Button will be out of contract at the end of the season. (Fox Sports)
Hockenheim will hold the German Grand Prix in 2018 but it is uncertain whether the race will appear on next year's calendar. (Reuters)
Red Bull team principal Christian Horner says the team have "positive things in the pipeline" as they bid to close the gap on Mercedes. (F1i.com)
McLaren are taking legal action after failing to bring in Mercedes' head of vehicle dynamics, Loic Serra. The Woking-based team claim that Serra had signed a binding contract to join them. (Motorsport)
Plans were discussed for six F1 teams to contest an 'independents' championship' but remain in the constructors' standings - but the idea has been shelved. (Autosport)
Lewis Hamilton is the latest driver to jet off on holiday as he posted this photo from Barbados.
Tuesday, 2 August
Mercedes team boss Toto Wolff has called Lewis Hamilton "unbeatable" after his German Grand Prix victory put him 19 points ahead of team-mate Nico Rosberg. (Daily Mail)
However, Rosberg thinks he is at his strongest after "difficult moments" and says he will fight to overturn the points deficit. (Motorsport)
Kimi Raikkonen has said that Ferrari's current form is "painful" for the team after Sebastian Vettel finished 32 seconds behind Hamilton in Germany. (Autosport)
Raikkonen's fellow Finn Valtteri Bottas has received offers from both current team Williams and Renault to drive for them next year. (MTV - in Finnish)
Max Verstappen posted this photo of himself enjoying some down time after finishing third on Sunday.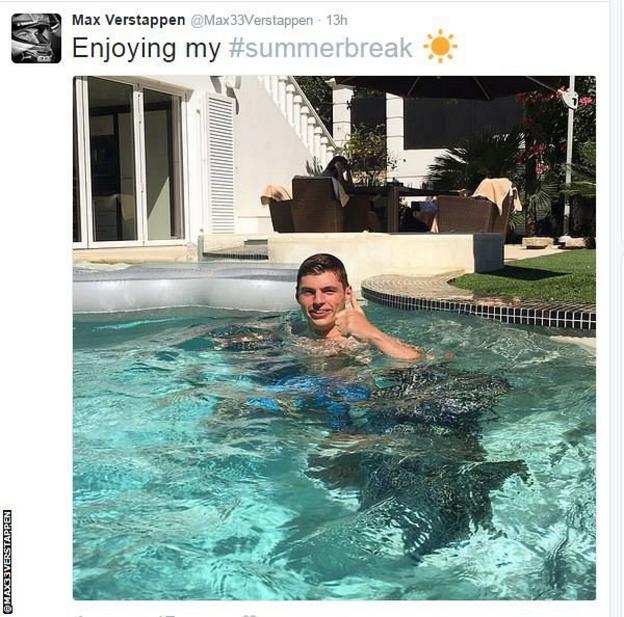 Monday, 1 August
Sebastian Vettel says it was a "mistake" to question Ferrari's strategy over the radio during the German Grand Prix. (Autosport)
Fernando Alonso played down his latest in-race radio comments, after seemingly offering a sarcastic response to a McLaren team engineer. (Motorsport)
"Everything went wrong," says Mercedes' Nico Rosberg after finishing fourth in the German GP despite starting on pole - on his way to boarding a private jet home. (YouTube)
Red Bull's Max Verstappen says he was happy to take "one for the team" after finishing third behind team-mate Daniel Ricciardo at Hockenheim. (Sky Sports)
Ricciardo tries his best Scottish accent - and fails - as he responds to a journalist after the race. "Top o' the morning" to you too, Daniel. (Formula 1)
Also seen at Hockenheim: a "shoey", which is probably best left for the Australian to explain.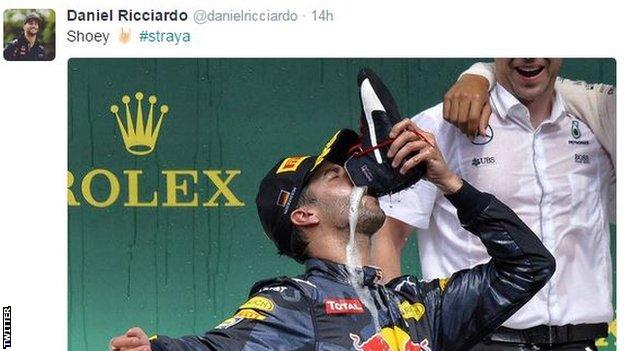 Subscribe to the BBC Sport newsletter to get our pick of news, features and video sent to your inbox.