F1 gossip: Button, Alonso, McLaren, Rosberg, Vettel, Ferrari
Last updated on .From the section Formula 1
Friday, 26 August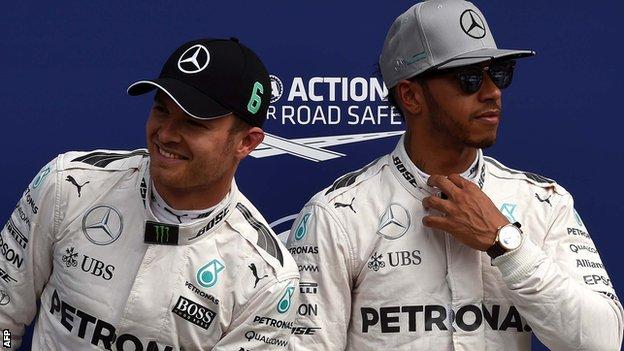 Mercedes should get out of Formula 1 while they are on top, says three-time world champion Sir Jackie Stewart. (Motor Sport)
Nico Rosberg is refusing to take victory in Sunday's Belgian Grand Prix for granted, despite championship leader and Mercedes team-mate Lewis Hamilton's grid penalty. (Reuters)
McLaren's Jenson Button believes next year's F1 cars will scare drivers again. (Autosport)
Button, the 2009 world champion, is close to deciding whether to stay in F1 next year, with his McLaren contract due to expire at the end of the season. (Fox Sports)
Button's team-mate Fernando Alonso has a further year on his McLaren contract, but says that could be his last in the sport. "I think with the new regs everything will change a little bit," said the 35-year-old Spaniard. "I think if the cars are fun to drive, I will probably stay longer and drive more years in F1, and if the cars are still giving me the feeling that I have in the last couple of years probably I will stop." (Fox Sports)
Alonso gave McLaren some encouragement, however, by saying it was "probably the best team I've been with in my career".(Wheels24)
Button, meanwhile, savoured the sun and open countryside as he maintained his fitness before the Belgian Grand Prix. He tweeted: "Nice evening run here in Spa with Mikey Muscles, we also made some new buddies!"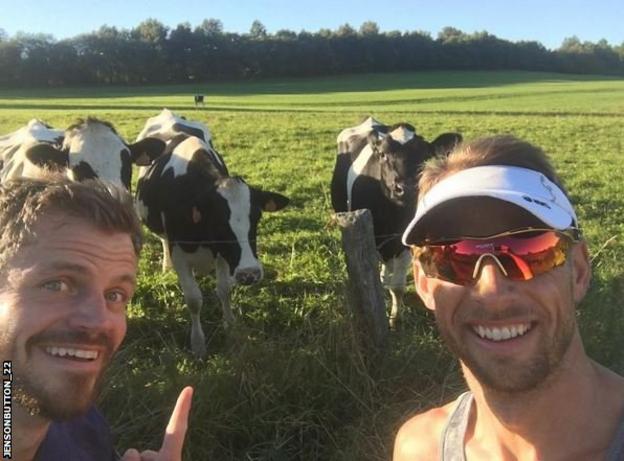 The BBC's chief F1 writer Andrew Benson also took a moment to enjoy the glorious surroundings: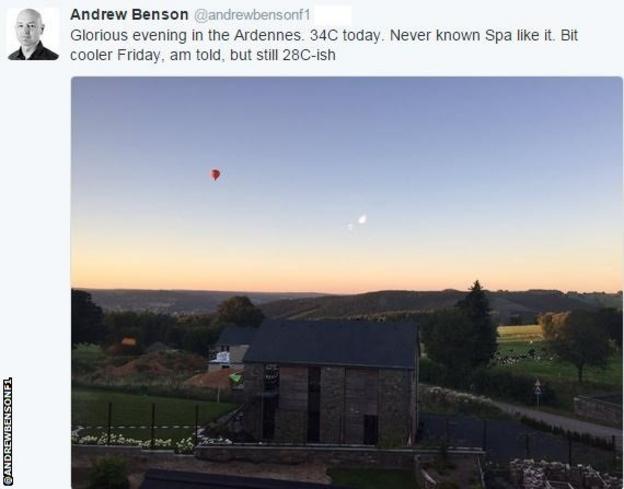 Ferrari's Sebastian Vettel, meanwhile, does not think there will be significant progress with the team's cars until later in the season. (TheCheckeredFlag)
Thursday, 25 August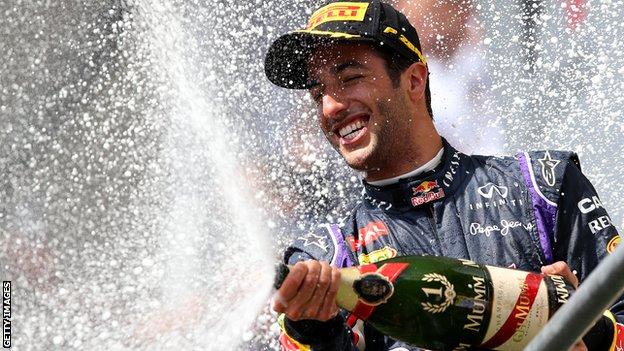 Red Bull's Daniel Ricciardo, who won at Spa in 2014, is hoping a sequence of results will continue at this weekend's Belgian Grand Prix as he targets a first victory of 2016, with his last four finishes before the summer break counting down from fifth to second. The Australian said: "I spoke to a few of the guys in the team and said, 'You know what this weekend's going to be'.''(Fox Sports)
Ross Brawn, who worked with Michael Schumacher at Benetton and Ferrari, says the current drivers do not have the capabilities of the seven-time world champion. "None of them are changing the perception of a racing driver in the way Michael changed people's perception of what a racing driver should be". (Daily Telegraph)
Mercedes boss Toto Wolff does not expect his team's dominance to continue much longer but is determined to see Lewis Hamilton and Nico Rosberg finish the season as the main challengers. (F1today)
The Mercedes team build up their excitement ahead of this weekend's race.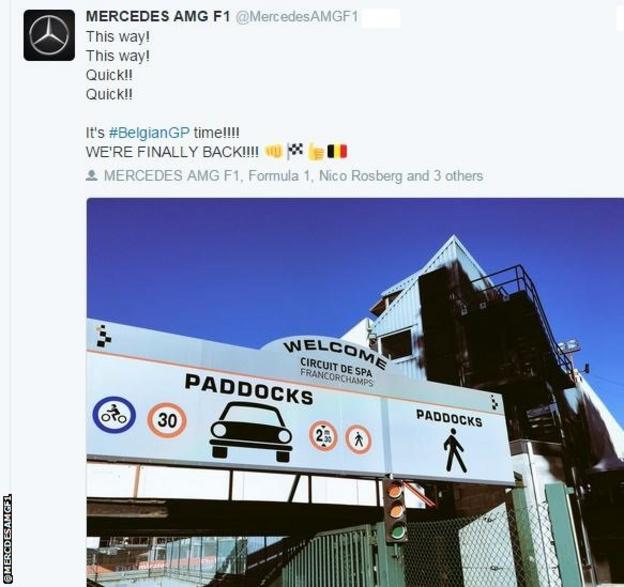 Williams driver Valtteri Bottas says Spa, scene of his GP3 Series victory in 2011, is one of his favourite tracks "mainly because of the high speed corners."(Checkered Flag)
World champion Lewis Hamilton posted on Facebook that he was "absolutely devastated" for the victims of the Italian earthquake and sent his "prayers and deepest condolences".

Wednesday, 24 August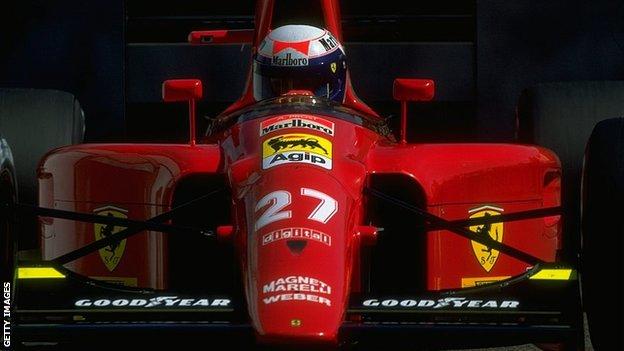 Nico Rosberg says Mercedes team-mate Lewis Hamilton has become a "safety freak all of a sudden" but the pair have respect for each other despite an "up and down" relationship. (ESPN)
Ferraris driven by Frenchmen Jean Alesi and Alain Prost in the 1991 season will be on sale at an auction in Stuttgart, Germany next month. (Classic & Performance Car)
Ross Brawn is to reveal secrets of Formula 1 politics and team management in a new book he has written in co-operation with former Williams CEO Adam Parr. (Motorsport.com)
Bernie Ecclestone is in talks with Hockenheim officials about securing the German circuit's place on the F1 calendar in a five-year deal. (Turun Sanomat, via grandprix.com)
McLaren-Honda's reserve driver Stoffel Vandoorne will be playing taxi driver to some lucky passengers in Brussels on Wednesday evening after he tweeted this picture: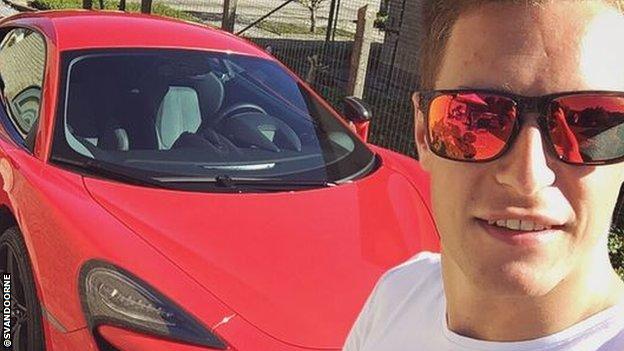 Former F1 priest Don Sergio Mantovani says he knows "more than I want to say" about Michael Schumacher's current condition, adding that the German is "still a fighter". (Bild, via paddocktalk.com)
Kevin Magnussen is confident he will be retained by Renault for the 2017 season and believes they are looking for a "fast driver who can lead the team".(Sky Sports)
Toro Rosso will continue improving its 2016 STR11 chassis in a bid to overcome the deficiencies of having a year-old Ferrari F1 engine. (Autosport)
Monday, 22 August
Red Bull could find it tricky to balance the future ambitions of drivers Daniel Ricciardo and Max Verstappen, says team boss Christian Horner.(Motorsport.com)
Verstappen says he can shoulder criticism from fellow drivers, following complaints from Ferrari's Kimi Raikkonen after the Hungarian Grand Prix. (Autosport)
Carlos Sainz thinks it is unlikely he will be switched from Toro Rosso to Renault next season as part of the engine deal between the teams.(Crash.net)
Mercedes boss Toto Wolff has called for Formula 1 officials to stop policing track limits, saying: "Let them race." (GrandPrix.com)
Toro Rosso team boss Franz Tost is confident technical director James Key will remain at the outfit, despite interest from rivals in luring him away.(Motorsport.com)