F1 gossip: F1's $8.5bn sale, Zika concerns and Monza deal not signed
Last updated on .From the section Formula 1
Saturday, 3 September
The $8.5bn (£6.4bn) sale of Formula 1 to Liberty Media will go ahead next week. (auto motor und sport via Reuters)
F1 teams are holding crisis talks about concerns over the Zika virus in Singapore, before next month's grand prix there. (The Sun)
The contract confirming Monza will continue to host the Italian Grand Prix has not actually been signed yet. (GrandPrix.com)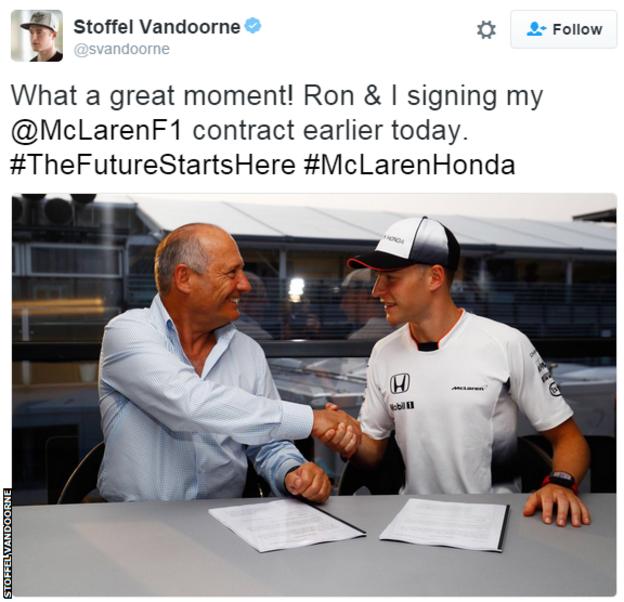 Friday, 2 September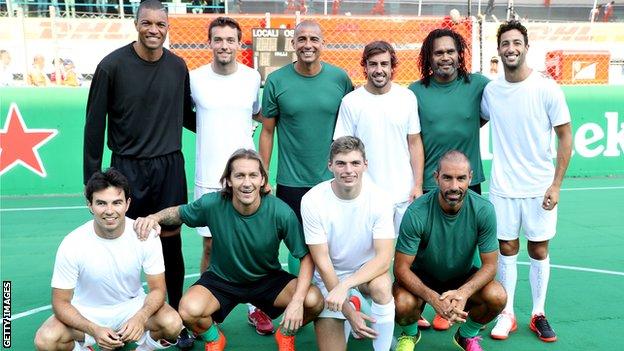 McLaren's Jenson Button will not be given a seat at Williams next season, as the team have tired of the Briton's indecision.(Daily Mail)
Romain Grosjean will remain with Haas for 2017 in the team's second year in Formula 1. (Autosport)
Bosses at the Imola circuit have questioned whether Monza should be re-signed as the host of the Italian grand prix. (Motorsport)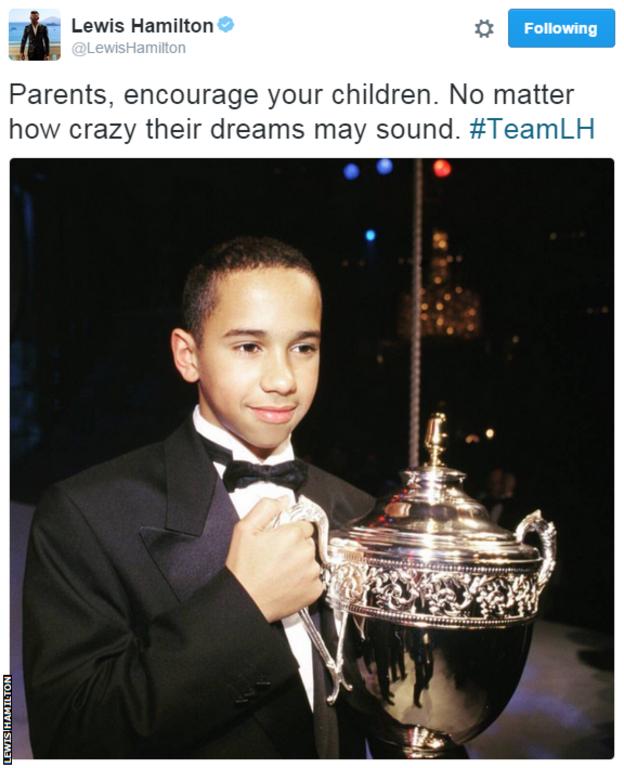 Thursday, 1 September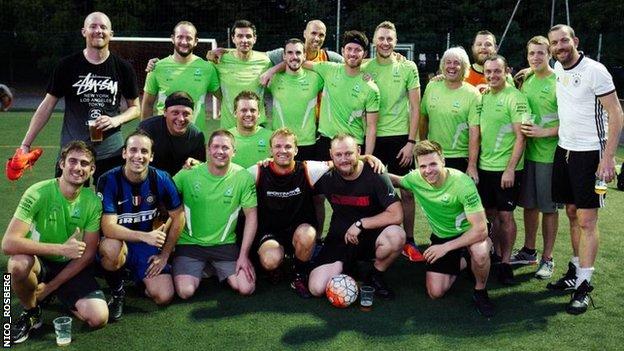 Pirelli has called for "pragmatism" from Formula 1 drivers following their wide-ranging criticisms of the recent hike in tyre pressures. (Autosport)
Mercedes chief Toto Wolff says the team could face a dilemma if it develops a performance upgrade that is available to Nico Rosberg, but not Lewis Hamilton. (Motorsport)
F1's future could be even more lucrative for stakeholders with the potential sale of the sport later this year, says Haas F1 team owner Gene Haas. (Sports Business Daily)
Nico Rosberg enjoyed a game of football with some of his Mercedes colleagues, adding: "Had an awesome time kicking with my boys. You are the best!!"
But Rosberg has his priorities in order, posting on Twitter: "My little princess turned one yesterday. Being a parent changes everything and showed me what is really important."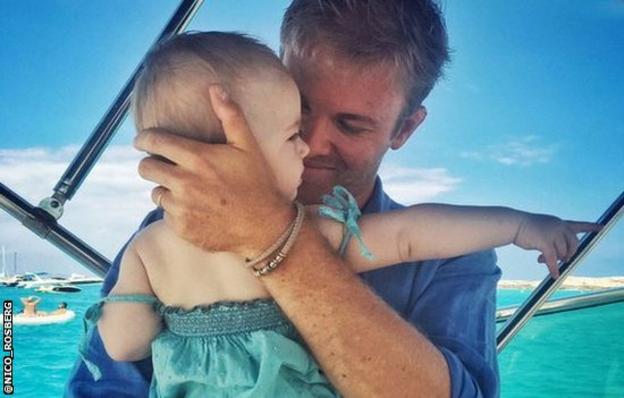 Kevin Magnussen's physiotherapist is confident the Renault driver will race at the Italian Grand Prix, having escaped injury after a major crash in Belgium on Sunday.(BT, via Yahoo)
Force India driver Nico Hulkenberg donned his Germany shirt in support of compatriot Bastian Schweinsteiger, after the footballer played his last game for the national team. (Twitter)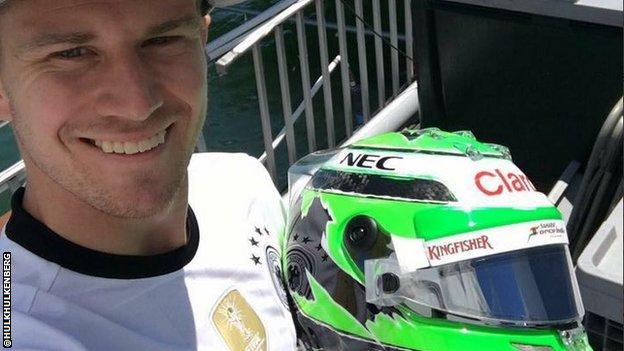 Wednesday, 31 August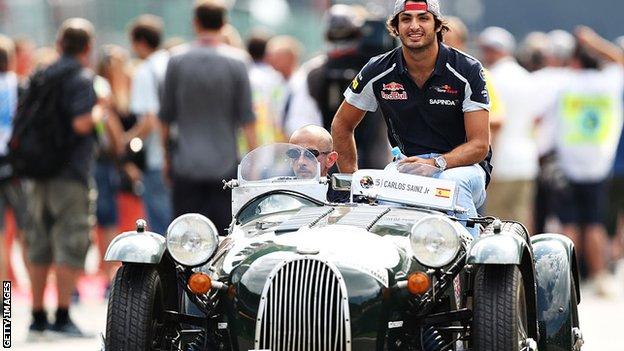 Toro Rosso's Spanish driver Carlos Sainz Jr is excited for 2017's rule changes, that will see cars up to six seconds faster, and dismissed the current situation as "not full F1". (Autosport)
Former world champion Jacques Villeneuve believes that Red Bull's Max Verstappen is being "protected" by the FIA over his alleged dangerous driving, because "they want him to be a star". (Motorsport)
McLaren are approaching a decision over their 2017 driver line-up, with it still undecided whether former world champion Jenson Button or promising youngster Stoffel Vandoorne will partner Fernando Alonso. (Sky Sports)
Ferrari boss Maurizio Arrivabene believes the first lap crash that scuppered both Sebastian Vettel and Kimi Raikkonen's races at Spa masked the improvement in the car. (Autosport)
Former Red Bull driver Mark Webber says that drinking champagne out of fellow Australian Daniel Ricciardo's shoe on the Spa podium was "not very nice" and "didn't taste so good". (Motosport)
Rumours abounded on Tuesday as to whether Fernando Alonso could be set to retire from F1. Could he be swapping four wheels for two come the season's close? (Instagram)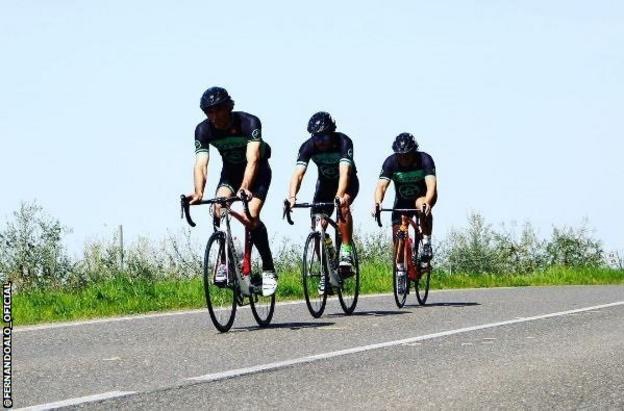 Tuesday, 30 August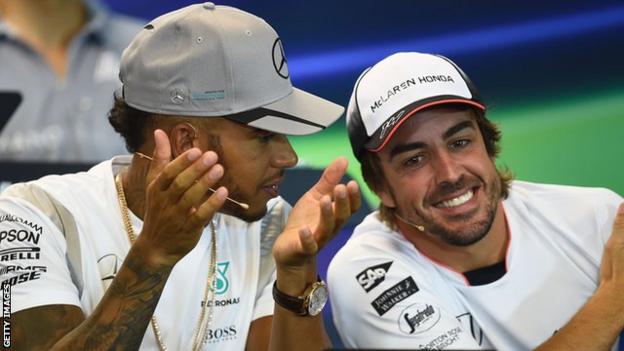 The FIA is investigating Renault driver Kevin Magnussen's crash in Spa by analysing his helmet and cockpit headrest, which came into debate after it failed to stay in place during impact. (Motorsport.com)
Red Bull's Max Verstappen believes he was the "victim" in Belgium after criticism over his "dangerous" driving. (Autosport)
Carlos Sainz bemoans Toro Rosso's struggles and believes it goes beyond a lack of raw pace compared to other teams. (Motorsport.com)
Briton Lewis Hamilton says it's a "real possibility" for Fernando Alonso to retire but hopes the Spaniard carries on racing beyond the end of his McLaren contract next year. (Times of India)
Mercedes' Nico Rosberg has downplayed team-mate Lewis Hamilton's overall advantage following his engine pile-up at the Belgian Grand Prix which saw Hamilton accept a 55-place grid penalty. (Planet F1)
However, Mercedes motorsport boss Toto Wolff is calling for the "ridiculous" engine loophole utilised by Hamilton to now be closed. (Planet F1)
After an eighth-placed finish in Belgium, Williams driver Valtteri Bottas took advantage of some time off before this weekend's Italian Grand Prix...
Monday, 29 August
Mercedes motorsport boss Toto Wolff has likened Max Verstappen to three-time world champion Ayrton Senna, also describing the 18-year-old as "refreshing but dangerous". (Autosport)
Meanwhile, Red Bull's Verstappen has dismissed Kimi Raikkonen's complaints about him turning in or trying to push him off the circuit at the Belgian Grand Prix, saying it is "a big lie". (Planet F1)
Fernando Alonso says finishing seventh in the Belgian Grand Prix is a result that would have been "unthinkable" for his McLaren team a few races ago. (Motorsport.com)
Meanwhile, McLaren chief executive Ron Dennis has reiterated that a decision on McLaren's 2017 driver line-up has yet to be taken. (Sky Sports)
Manor Racing's racing director Dave Ryan has admitted to having mixed emotions following the Belgian Grand Prix at Spa-Francorchamps. (TheCheckeredFlag)
Force India's Nico Hulkenberg says the red flag at the Belgian Grand Prix cost him a chance of finishing on the podium at Spa. (Motorsport.com)
Mercedes' Nico Rosberg conceded that his selfie-taking skills might need some work after this picture with fellow podium finishers Daniel Ricciardo and Lewis Hamilton...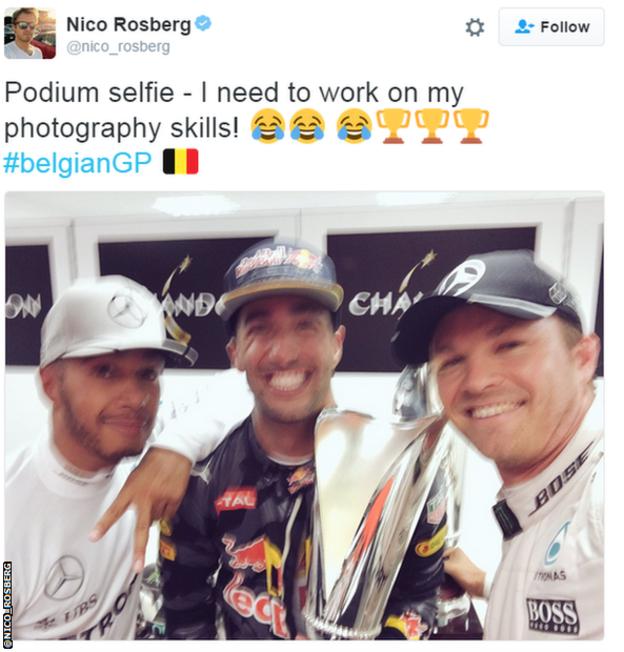 And Rosberg wasn't the only person at Spa-Francorchamps to have their camera operating skills called into question...