F1 gossip: Red Bull, Mercedes, Liberty Media, Force India, Button
Last updated on .From the section Formula 1
Sunday, 11 September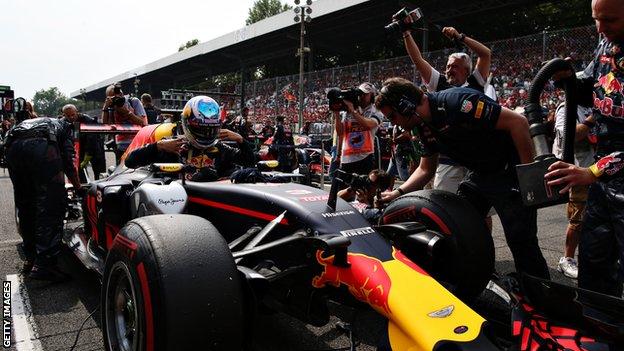 Red Bull motorsport consultant Helmut Marko revealed their intentions of challenging Mercedes next season, with the technical regulation changes set for next year in mind.(PlanetF1.com)
Formula 1's new owners should develop a US-style franchise system in the Championship, according to Force India deputy team principal Bob Fernley.(Motorsport.com)
However, Liberty Media chairman Chase Carey insists the company will not try to "Americanise" F1 following their £6bn takeover.(Sky Sports)
Britain's Jenson Button, 36, says he feels "like a kid again" following his decision to take a sabbatical from Formula 1 in 2017. (Autosport)
Renault boss Frederic Vasseur says much of the progress the team has made this year has not been visible externally but will play a big role in 2017.(ESPN)
Haas driver Romain Grosjean has said his move to the US team was based on the expectation that his former employers Renault would struggle this year. (PlanetF1.com)
Williams driver Antonio Pizzonia receives a birthday tweet from his team.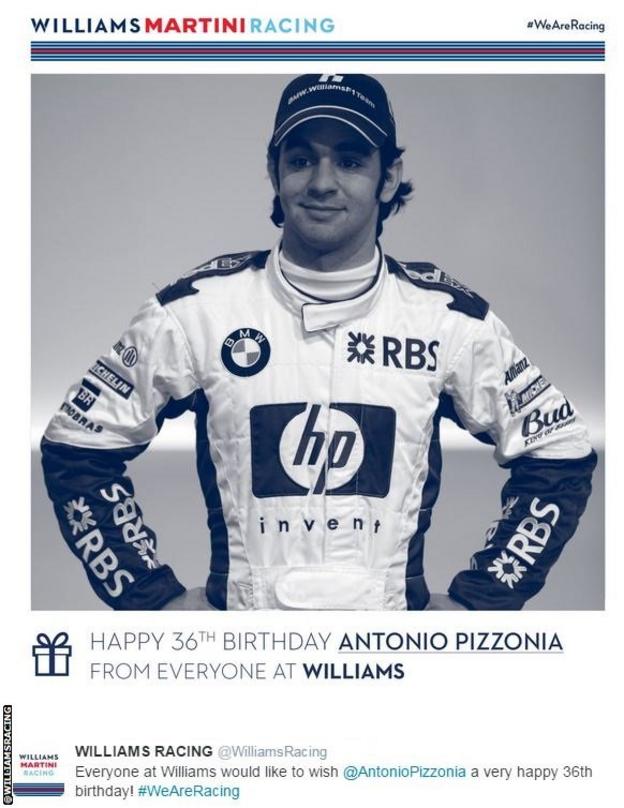 And the Ferrari team look forward confidently to the next race in the F1 calendar, the Singapore Grand Prix, which takes place on 18 September.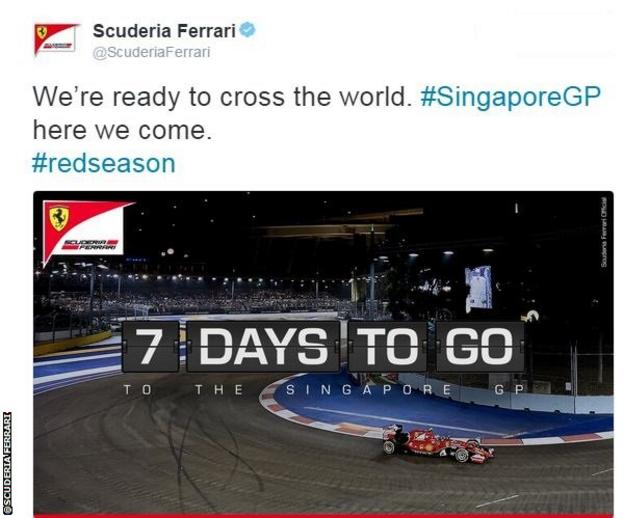 Saturday, 10 September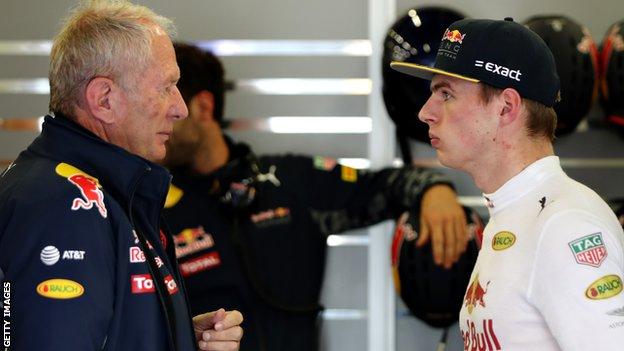 Red Bull adviser Dr Helmut Marko believes that Max Verstappen is the most popular driver in Formula 1 and that the recent criticism levelled at him by former world champions Sebastian Vettel and Kimi Raikkonen is a result of them feeling threatened by the Red Bull driver. (F1 Today)
Williams driver Felipe Massa, who will retire at the end of the season, has revealed that he considered quitting F1 in 2013 when Ferrari chose to replace him with Kimi Raikkonen. (Autosport)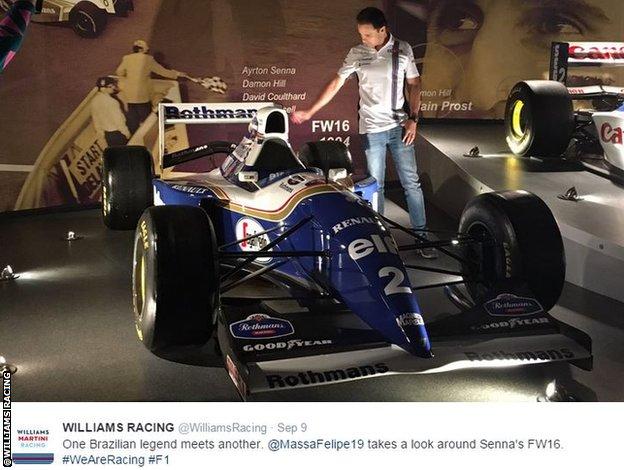 McLaren driver Fernando Alonso has tipped incoming team-mate Stoffel Vandoorne to be the team's No.1 driver in the future. (Planetf1.com)
Williams have signed ex-Ferrari F1 tyre chief Antonio Spagnolo as competitor analysis and performance concept team leader. (NBC Sports)
Force India's chief operating officer Otmar Szafnauer is surprised Williams have not yet confirmed Valtteri Bottas as one of their drivers for 2017. (Chequered Flag)
Friday, 9 September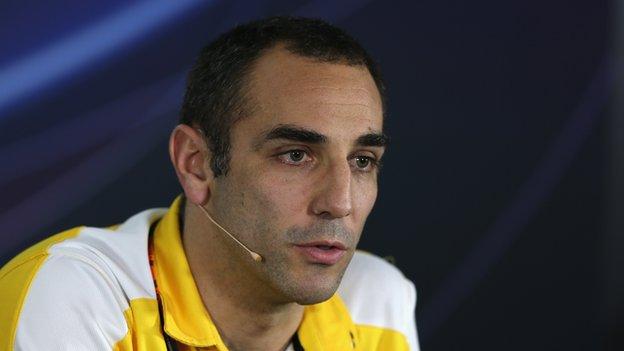 Renault's managing director Cyril Abiteboul has told the team that he wants the drivers' line-up confirmed by the end of September. (Planet F1)
Governing body the FIA has welcomed Liberty Media's acquisition of Formula 1, but has called for further information to be provided before assessing the consequences of the deal. (Autosport)
Force India deputy team principal Bob Fernley has denied that the team has held any talks with Mexican billionaire Carlos Slim about a takeover. (Motorsport)
Red Bull motorsport consultant Helmut Marko says that Max Verstappen, 18, is of 'a different calibre' and has the traits of a future world champion. (F1.com)
Jenson Button, 36, says his "dream" new McLaren contract will allow him to engage in some of his original motorsport passions - including go-karting - in 2017. (Sky Sports)
Felipe Massa, 35, who will retire at the end of the season has taken to Twitter to share this selfie from the Williams team race simulator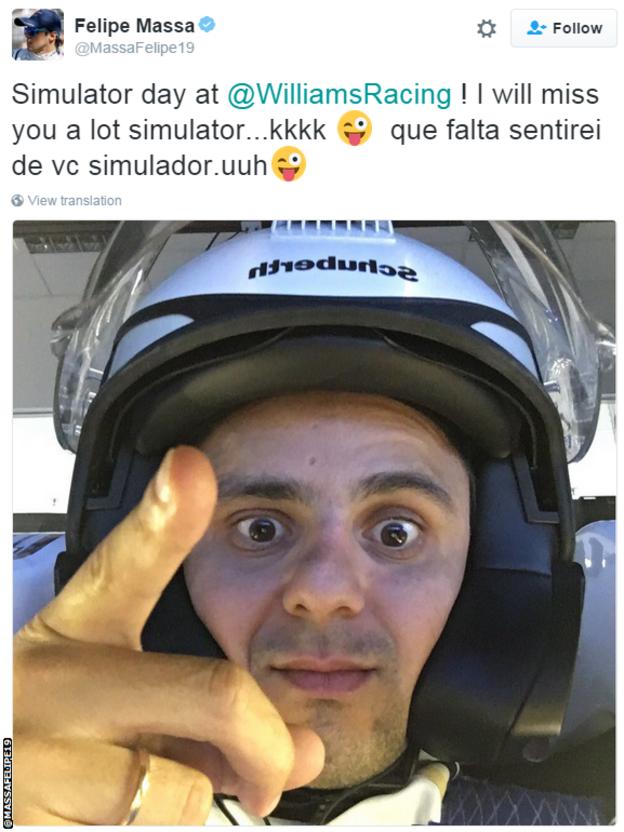 Thursday, 8 September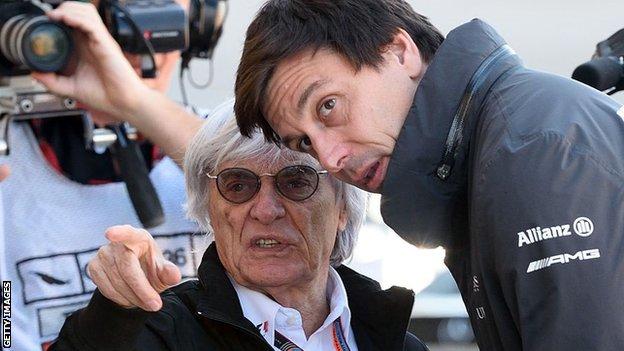 Mercedes boss Toto Wolff says it may be a "good thing" Formula 1 is bought by an American media company as the sport "can learn" from its new owners. (Reuters)
F1 teams will be given the chance to claim their own stake in the championship as part of Liberty Media's takeover. (Autosport)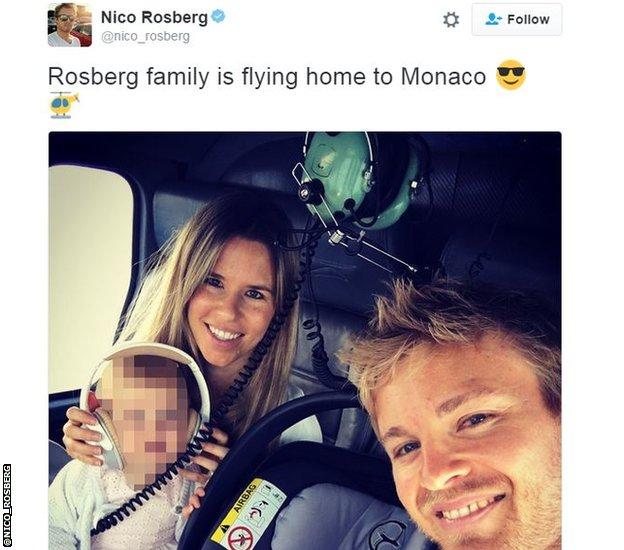 Manor's French driver Esteban Ocon, 19, says he hopes to return to Renault in 2017 with the aim of earning a full-time seat. (F1.com)
Red Bull boss Christian Horner says recent controversies involving driver Max Verstappen are like "water off a duck's back" to the 18-year-old. (Motorsport.com)
McLaren driver Jenson Button has taken to pairing his soup and car choices, he posted this picture on Instagram and said: "When your pea soup matches a colour of a car at the Sotheby's RM Auction!!"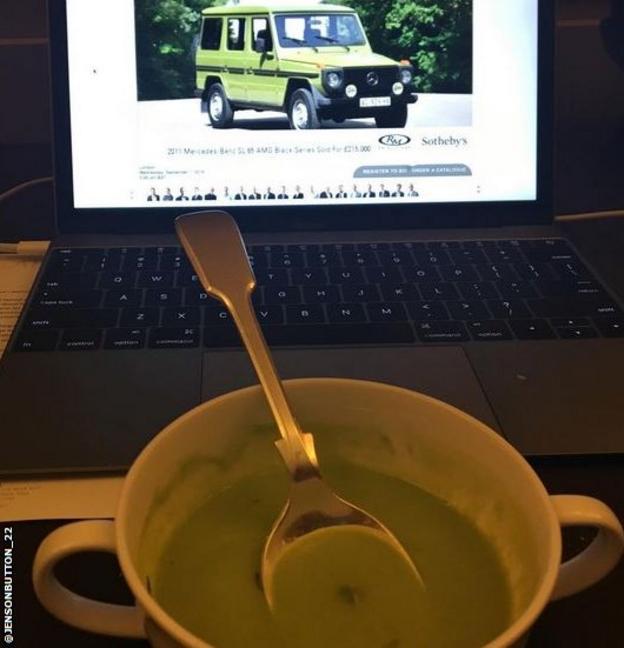 Wednesday, 7 September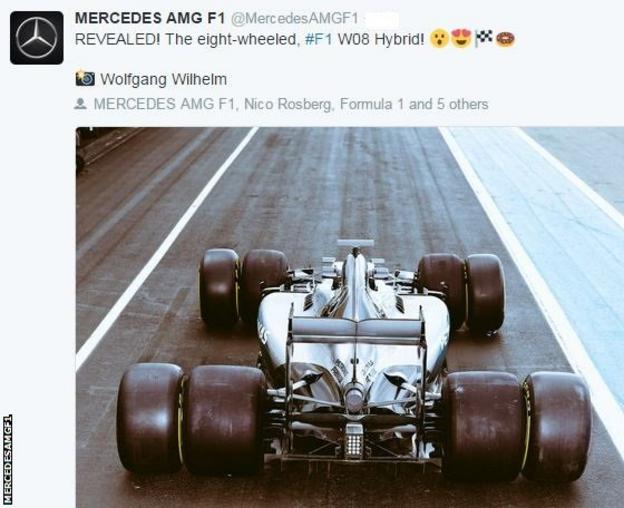 Mercedes have run Pirelli's wider Formula 1 tyres for the first time at the Paul Ricard circuit in France. The tyres are being developed for 2017 and Manor's Pascal Wehrlein drove the modified 2015 car, which also simulates increased downforce levels. (Autosport)
McLaren's Fernando Alonso will be among the drivers testing Halo during free practice for the Singapore Grand Prix. (ESPN)
Valtteri Bottas says his team Williams need "to get everything perfect" over the remaining seven races of the season to see off Force India for fourth in the Constructors' championship. Williams hold a slender three-point advantage in fourth-place, 168 points behind Ferrari in third.(F1i.com)
Officials at Imola are taking legal action regarding government backing of the deal to keep Formula 1's Italian Grand Prix at Monza.(Autosport)
Toro Rosso posted a motivational fitness tweet showing their drivers Daniil Kvyat and Carlos Sainz working hard.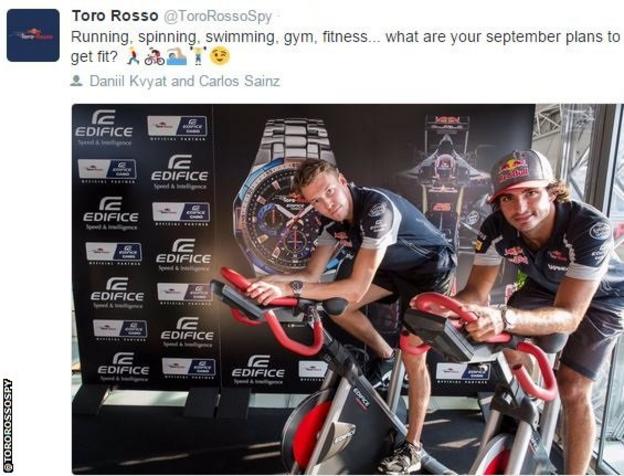 Tuesday, 6 September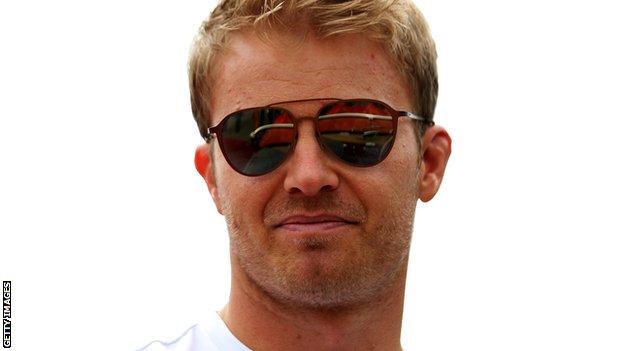 Nico Rosberg has asked Mercedes for medical advice before this month's Singapore Grand Prix, where the risk of catching the Zika virus - which is linked to brain deformities in new-born babies - is rated 'very high' by the Foreign Office. Rosberg, who has a one-year-old daughter, said: "As a family man now, I am very interested and am looking into it." (Daily Mail)
A later start to 2017's F1 season is being pencilled in to allow teams more time to prepare for next year's rules overhaul, with the season-opening Australian GP possibly staged on March 26, one week later than this season. (Sky Sports)
Mercedes boss Toto Wolff believes potential new American investors could be "good news" for Formula 1 as it nears an $8.5bn takeover. (ESPN)
Ferrari has given GP2 title contender Antonio Giovinazzi his first taste of a Formula 1 simulator at its base in Maranello. (Autosport)
Ferrari team principal Maurizio Arrivabene believes his team is now on the right path to return to the top of Formula 1 following its recent technical reshuffle with the departure of technical director James Allison. (Motorsport.com)
Williams driver Valtteri Bottas was up early to prepare for the next two races in an attempt to add to his 70 points this season.

Monday, 5 September
With the sale of Formula 1 to the owner of Virgin Media, Liberty Media Corporation, set to go through for $8.5bn (£6.5bn) on Tuesday, current supremo Bernie Ecclestone, 85, says he will decide what role he takes under any new regime. (auto motor und sport - in German)
Alternatively, LMC's purchase is not yet guaranteed, with two other parties in the running to make a deal. (Autosport)
On the track, Fernando Alonso, 35, believes that "the good times are coming" for McLaren-Honda, and hopes that his team will be battling Ferrari and Red Bull for top-five finishes before the season's end. (Autosport)
Williams development driver, 17-year-old Canadian Lance Stroll, is in pole position to take retiring Felipe Massa's seat at the team next season. (Motorsport)
British Renault driver Jolyon Palmer, 25, has accused Sauber's 24-year-old Brazilian Felipe Nasr of "unfair driving", after an early crash between the two retired both of their races, saying that there's "better racing in GP2 and GP3 at the minute". (Sky Sports)
Toro Rosso driver Daniil Kvyat will not be replaced by GP2 leader, 20-year-old Frenchman Pierre Gasly, says Red Bull boss Dr Helmut Marko. Russian Kvyat, 22, has struggled since being demoted from the senior Red Bull team in favour of 18-year-old Belgian Max Verstappen. (Autosport)
Mercedes boss Toto Wolff did his best Jack Nicholson impression to prevent Nico Rosberg's plane from taking off after his Monza victory...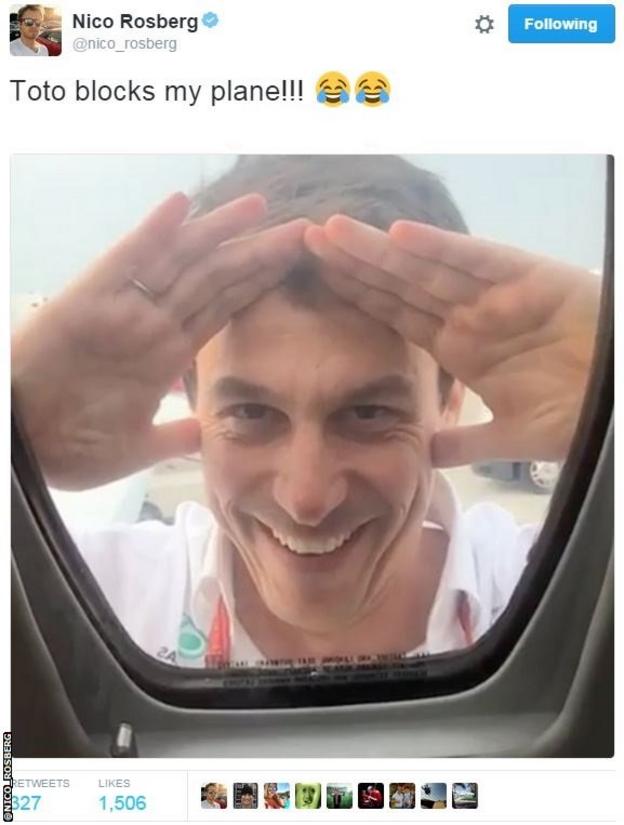 Stoffel Vandoorne will take on his first F1 season with McLaren next year, but with Fernando Alonso and Jenson Button on-side, he has plenty of experience to draw on.